Church of England in crisis: Archbishop of Canterbury attacks members for voting against women bishops
Dr Rowan Williams admitted that the Church of England loses credibility every day it fails to approve women bishops
Jerome Taylor
Wednesday 21 November 2012 13:09 Comments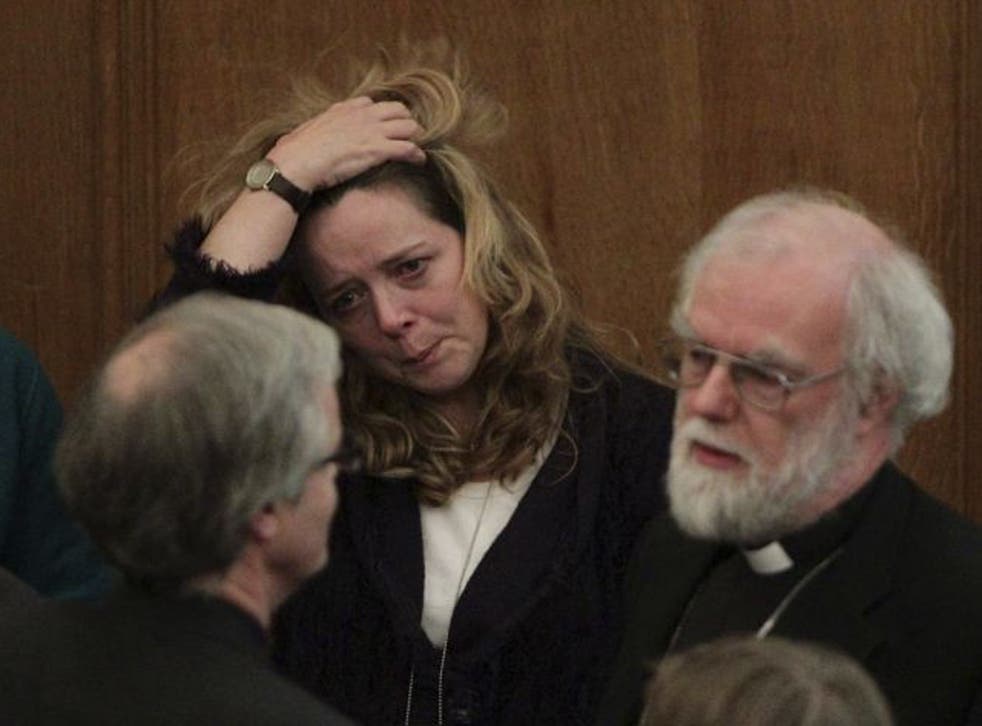 The Archbishop of Canterbury has launched a scathing attack on those within his own church who voted down legislation to approve women bishops accusing them of being "unrealistic".
In an impassioned speech at the General Synod this morning that vividly illustrates the depth of the current crisis facing his organisation, Dr Rowan Williams admitted that the Church of England loses credibility every day it fails to approve women bishops.
During yesterday's vote the Archbishop, who leaves his post at the end of the year, pleaded with members to approve legislation which would have allowed women to reach the top posts in the church.
The bill needed to pass by a two thirds majority in the three houses that make up synod. Although 74% of members voted in favour of the legislation, it was dramatically defeated by six votes in the house of laity.
Speaking in the aftermath of that decision this morning, Dr Williams said the church risked being seen as "willfully blind" to the demands from wider British society that it must do away with institutional and theological sexism.
"We have, to put it very bluntly, a lot of explaining to do," he told the General Synod. "Whatever the motivation for voting yesterday, whatever the theological principle on which people acted and spoke, the fact remains that a great deal of this discussion is not intelligible to our wider society. Worse than that, it seems as if we are wilfully blind to some of the trends and priorities of that wider society."
He added: "We have some explaining to do, we have as a result of yesterday undoubtedly lost a measure of credibility in our society."
He called on both sides of the theological divide to keep up the momentum and continue trying to find a way through an issue which has come to dominate the Church for much of the last decade.
"After all the effort that's gone into this process over the last few years, after the intense frustration that has been experienced in recent years… it would be tempting to conclude that it's too difficult, that perhaps the issue should be parked for a while," he said. "I do not believe that is possible because of… the sense of credibility in the wider society. Every day that we fail to resolve this to our satisfaction…is a day when our credibility in the public eye is likely to diminish."
The majority of Anglicans are strongly in favour of women bishops with 42 out of 44 of England's dioceses approving the legislation earlier this year. Yet and small but vocal group of conservative evangelicals and Anglo-Catholics are opposed to female headship for a variety of theological reasons. They have lobbied for provisions which would allow them to be catered for by a male bishop – something the pro-women lobby believes would create a two-tier bishop system.
The legislation which was voted down yesterday would have provided a "code of practice" for dissenters that would have placed a legal obligation on bishops to cater to those parishes who cannot accept a woman. But the dissenters felt this did not go far enough and managed to persuade enough people in the house of laity to vote against the legislation.
But Dr Williams condemned the "unrealism" of those who had voted the legislation down out of the hope they could find a better solution, Williams said: "The idea that there is a readily available formula just around the corner is in my view an illusion. There is no short cut here; there is no simple God-given, dare I say, solution to a problem which brings people's deepest convictions into conflict in the way in which they have come into conflict in the Synod and previously."
Register for free to continue reading
Registration is a free and easy way to support our truly independent journalism
By registering, you will also enjoy limited access to Premium articles, exclusive newsletters, commenting, and virtual events with our leading journalists
Already have an account? sign in
Join our new commenting forum
Join thought-provoking conversations, follow other Independent readers and see their replies