Church of England: Bishop of Gloucester says people should stop referring to God as a 'He'
Instead of using either 'He' or 'She', the Rt Rev Rachel Treweek said she prefers simply to use the word 'God'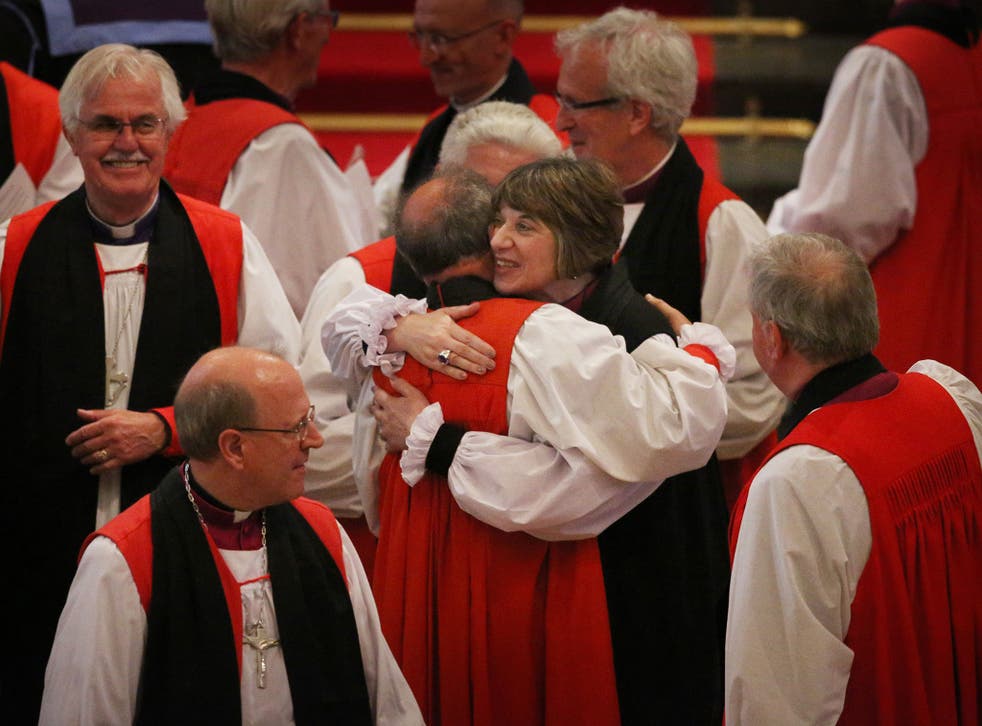 The Church of England should stop using male pronouns when referring to God in order to counter the erroneous belief that the Almighty has a gender, the first female bishop to sit in the House of Lords has said.
The Bishop of Gloucester, the Rt Rev Rachel Treweek, the Church's most senior clergywoman, was being introduced to the Upper House today as one of Parliament's 26 Lords Spiritual.
Speaking before the event, the bishop raised the issue of God's gender, saying: "We're told that God created human beings in God's likeness... If I am made in the image of God, then God is not to be seen as male. God is God."
Instead of using either "He" or "She" to describe God, Bishop Treweek said she prefers simply to use the word "God".
"Sometimes I lapse, but I try not to," she told The Observer, reigniting a long-running debate in the Church of England about inclusion and gender equality. She added: "I am not in the business of wanting to offend anyone, but I do want to gently challenge people."
Reverend Dr Miranda Threlfall-Holmes, vicar of Belmont and Pittington in Durham, who is a member of the General Synod and also vice-chair of pressure group Watch – Women and the Church – which promotes inclusive language in the Church of England, welcomed the bishop's comments.
"This argument's been going on for 20 to 30 years," she told The Independent. "Recently the Church has been concentrating so much on whether we should have women bishops we took our eye off the ball about God. Theologians have always argued that God is neither male nor female. We are created in God's image. God doesn't have a gender – God is beyond gender."
She added: "We don't have a non-gendered pronoun to use to refer to God here, but in some other countries they don't have that problem – in Sweden they don't have male or female pronouns. Our pronouns and our language really do affect what we believe.
"I'm pleased that Rachel is using her position to make these points. I'd quite like to see some male bishops do so, too – I am sure they would agree with her."
In January the Church consecrated its first female bishop, the Rt Rev Libby Lane, the Bishop of Stockport. However, Bishop Treweek, the Church's third female bishop – the Rev Canon Alison White was named the Bishop of Hull in March – will be the first to join the House of Lords, as hers is the more senior bishopric.
A former speech therapist and long-time champion of women's ministry, Bishop Treweek was previously the archdeacon of Hackney.
On the question of whether she is a feminist, she said: "It's a word that's heavily loaded. If it means I believe that men and women were created by God as equal but different, then yes I'm a feminist.
"But if it means women wanting to be men – and sometimes that's a slight feeling of being loud and domineering – then I would reject that."
She plans to use her position in the House of Lords to speak out on social justice, refugees, homelessness and domestic violence.
Register for free to continue reading
Registration is a free and easy way to support our truly independent journalism
By registering, you will also enjoy limited access to Premium articles, exclusive newsletters, commenting, and virtual events with our leading journalists
Already have an account? sign in
Register for free to continue reading
Registration is a free and easy way to support our truly independent journalism
By registering, you will also enjoy limited access to Premium articles, exclusive newsletters, commenting, and virtual events with our leading journalists
Already have an account? sign in
Join our new commenting forum
Join thought-provoking conversations, follow other Independent readers and see their replies