Clampdown on hidden airline fees announced by aviation watchdog
The Civil Aviation Authority will assess whether airlines present costs in an 'open and clear' way
Katie Forster
Thursday 23 June 2016 15:29 Comments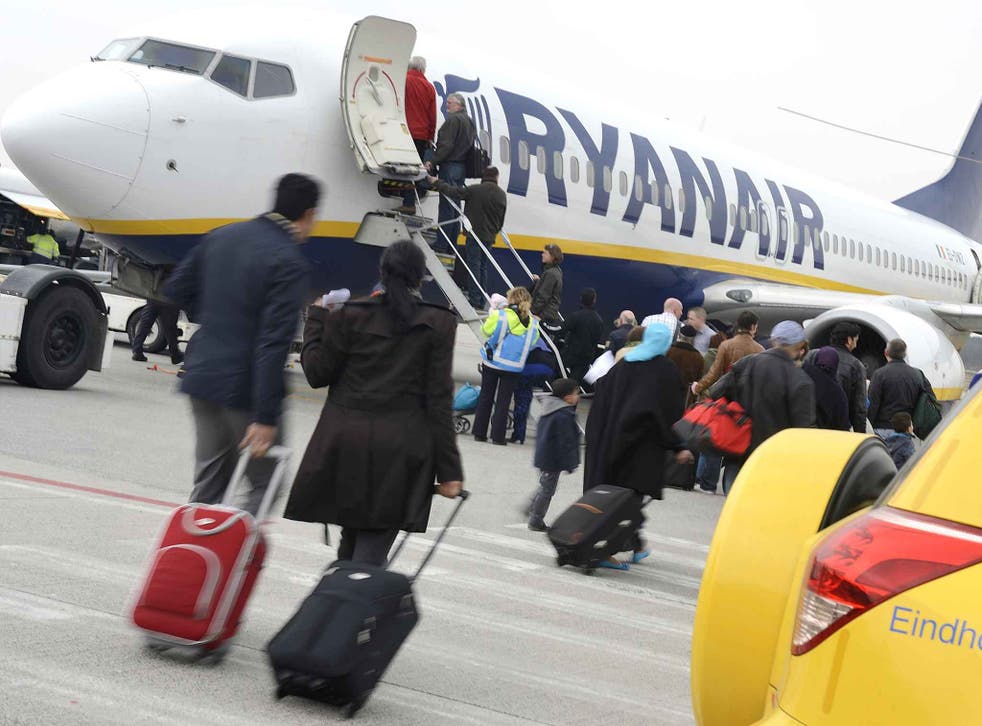 Hidden fees charged by airlines for services such as changing a name on a ticket or checking in at the airport rather than online are set to be clamped down on by the Civil Aviation Authority (CAA).
The watchdog will assess whether costs are presented to customers in an "open and clear" way in its review of every airline selling tickets in the UK.
This is so "people understand what they are actually paying for" and avoid being stung by extra charges not made clear from the outset, said a CAA spokesperson.
Budget airline Ryanair announced earlier this month it would reduce baggage fees for the majority of its customers – the latest in a series of changes designed to "stop unnecessarily p***ing people off," the airline's chief executive Michael O'Leary said amid profit warnings in 2013.
But transparency around additional fees when booking flights remains a common complaint made towards the Irish airline and other low-cost carriers such as Easyjet and Jet2.com.
Earlier this month, northern Irish MP Jim Shannon raised the issue in parliament following claims European airlines made almost £13 billion last year through additional charges and the sale of extras including food and insurance, according to The Daily Telegraph.
These are the 20 safest airlines in the world
Changing the name on a flight ticket currently costs £110 with Ryanair and up to £50 with Easyjet or Thomas Cook.
And choosing to check in for a Ryanair flight at the airport instead of through its website can set each passenger back £45 per flight – a figure reduced from £70 last summer.
"The Government and the CAA continue to emphasise to the airlines the importance of compliance with ticket transparency obligations," transport minister Robert Goodwill told MPs this week.
He said airlines should ensure "terms and conditions – including any administration fees and charges – are clear to passengers when they choose between airlines."
Last month, more than 5,000 disgruntled Ryanair passengers launched a landmark £400 million class action suit against the budget airline over alleged unfair hidden air ticket charges.
The lawsuit was set up by online claims firm CaseHub, whose founder Michael Green said it will claim charges to check in at the airport, re-issue boarding passes and name-fee changes are unlawful.
The strangest airplane patents

Show all 4
In May, The Independent revealed Easyjet would turn away passengers who arrived at security at Gatwick Airport less than 30 minutes before take-off in a crackdown on late arrivals.
The airline sells "missed flight cover" ahead of travel for £7.50, which provides the option of a full refund or a seat on the next available flight for latecomers, but those who do not choose this option are charged £80 to switch to another flight.
"To enhance consumer protection in this area, the CAA will start work on unfair contract terms with the airlines this summer, in accordance with the CAA's Strategic Plan 2016-2021," said Mr Goodwill.
"The work will include a review of the airlines' terms and conditions with the aim of ensuring the rights and obligations of the consumers and businesses are fair and balanced and consumers are not being penalised by unfair contract terms."
Ryanair said in a statement: "All Ryanair charges and fees are clearly outlined on the Ryanair.com website and throughout the entire booking process. Customers are asked to ensure that the details they enter at the time of booking are correct before completing their booking and we offer a 24 hour 'grace period' to correct minor booking errors.
"A €110 name change fee is charged in order to discourage and prevent unauthorised online travel agents, such as eDreams and Opodo, from 'screenscraping' Ryanair's cheapest fares and reselling them on to unwitting consumers at hugely inflated costs."
Register for free to continue reading
Registration is a free and easy way to support our truly independent journalism
By registering, you will also enjoy limited access to Premium articles, exclusive newsletters, commenting, and virtual events with our leading journalists
Already have an account? sign in
Join our new commenting forum
Join thought-provoking conversations, follow other Independent readers and see their replies