Climate-change sceptic Viscount Monckton of Brenchley claims tombstone artwork critical of his position is a 'death threat'
Lord Monckton is one of several names featured under the line 'Lest We Forget Those Who Denied' on the artwork at Angela Ruskin University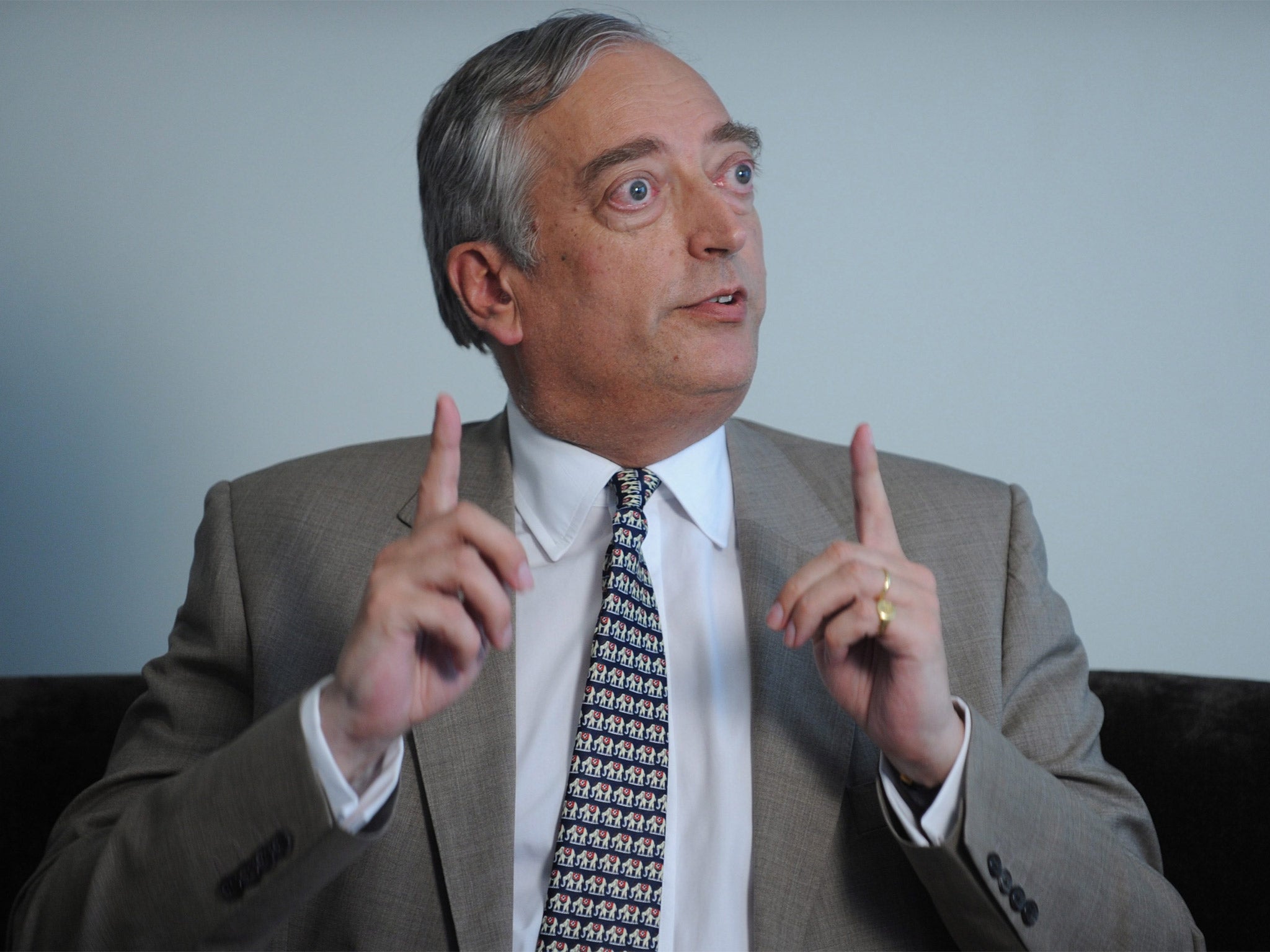 The prominent climate change sceptic Viscount Monckton of Brenchley has complained to police after a tombstone engraved with his name was exhibited at Anglia Ruskin University.
Lord Monckton claims that the artwork – which features his name alongside those of other prominent sceptics such as Lord Lawson, the former Environment Secretary Owen Paterson and journalist James Delingpole – amounts to a death threat.
The piece comprises a tombstone with the names of six sceptics chiselled under the words "Lest We Forget Those Who Denied". A constant stream of engine oil runs over the memorial.
The exhibit won this year's Anglia Ruskin Sustainability Art Prize for "bringing together a powerful message with a beautiful piece of art", according to a university press release.
Viscount Monckton was far from impressed, saying the prize had been awarded by a "jumped-up polytechnic".
He outlined his thoughts on the right-wing American website WorldNetDaily after visiting the exhibition "to gather evidence for the courts".
"To put one's name on a tombstone while one is still alive is to make a death threat, the nastiest and most repellent form of hate speech. The implication was that, if we were not already dead, the 'artist' and the 'university' that promoted his 'work' would very soon see to it that we were," he wrote.
He went on to draw comparisons with the Third Reich.
"A death threat is a death threat. It is no laughing matter… It is plain that the long, relentless campaign of intimidation by the Nazis of their opponents, with name-calling and death threats very similar to that perpetrated by the 'university', was an essential part of the process," he wrote.
In pictures: Changing climate around the world
Show all 15
Lord Monckton also took issue with the vice-chancellor of the university for painting him as a climate change "denier".
"It mattered not to the vice-chancellor, nor to the "artist", that I do not deny the existence of climate change… I do not even deny that man may have some as yet unquantified but probably insignificant and even net-beneficial influence on the climate," he said.
A spokesman for the viscount said that a complaint had been made to police about the university press release, which he says reinforced the representation of the death threat in the art work.
The work is by third year BA fine art student Ian Wolter, who lives in Saffron Walden. He told The Independent that the viscount's reaction was "nonsense".
"I don't think any reasonable person would think of my plywood sculpture as a death threat," he said, adding: "His extreme reaction is a great example of the power of political art."
A spokesman for the university declined to comment.
Join our commenting forum
Join thought-provoking conversations, follow other Independent readers and see their replies