Stop eating cod and tuna in favour of more sustainable fish, Britons told
Choosing from wider range takes pressure off individual fisheries and encourages demand for most sustainable and local seafood, marine charity urges
Lucy Pasha-Robinson
Thursday 15 March 2018 14:24 Comments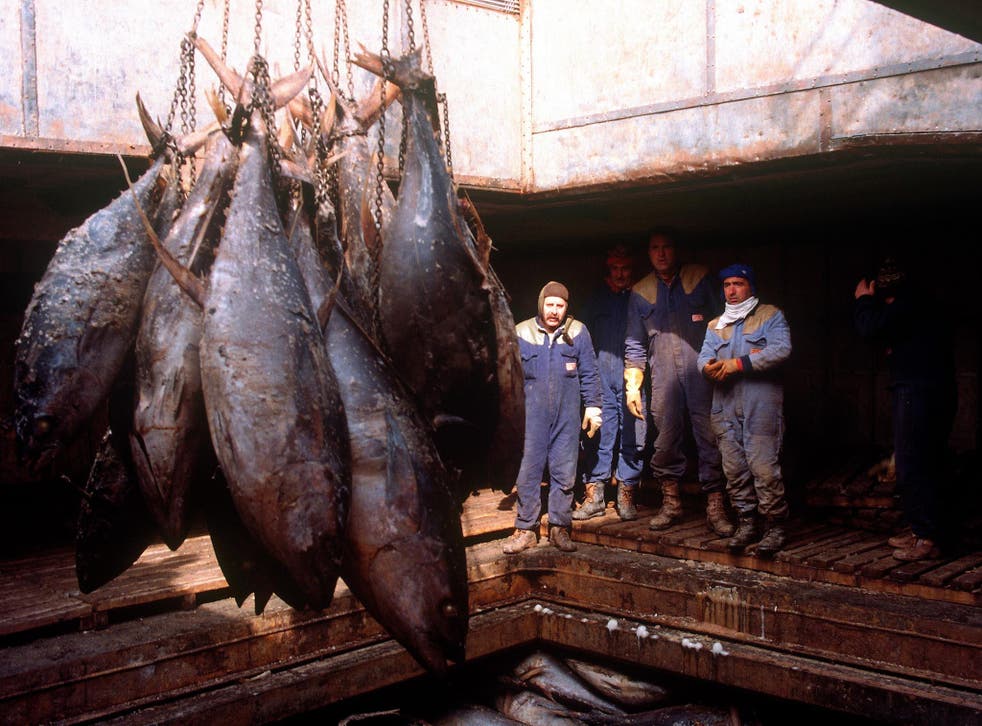 Consumers should avoid eating cod and tuna in favour of more sustainable fish, a leading marine charity has urged.
The Marine Conservation Society (MCS) has issued an updated Good Fish Guide to encourage consumers to choose more sustainable options and verge away from the "big five".
Britons tend to favour cod, salmon, haddock, tuna and prawns, but the MCS said Britons should try more unusual options to help the seas and UK fishing industry.
As the UK prepares to leave the EU and fisheries talks are expected to try to secure a bigger share of the fishing industry post-Brexit, now may be the time to swap out the big five for new options, the charity said.
Choosing from a wider range takes pressure off individual fisheries and encourages demand for the most sustainable and local seafood, reducing the amount of fish exported in favour of developing UK markets, the MCS said.
The "best choice" top 10 includes dab, seine netted in the North Sea, Marine Stewardship Council (MSC) certified hake from Cornwall and MSC certified herring from the Irish, Celtic and North seas, south west Ireland and eastern English Channel.
Also on the list are some types of sustainably caught mackerel, megrim, UK rope-grown mussels, Devon brown crab, traditionally caught queen scallops, pollack and Dover sole.
The biggest issues facing UK on leaving EU

Show all 8
Bernadette Clarke, MCS Good Fish Guide programme manager, said: "Although they may not trip off the tongue like cod, mackerel and plaice, these could, and should be, the fish supper of the future.
"UK consumers tend to stick to their tried and tested top five - both in taste and familiarity but not always sustainability.
"Cod, tuna, salmon, haddock and prawns, from the right sources are all OK, but there's so much more to explore and the new additions to the best choice list are a good place to start."
Red mullet, wild seabass from Biscay and Atlantic bigeye are among the fisheries sliding down on to the red list of fish to avoid, while undulate ray from the English Channel, albacore from the Mediterranean and bigeye from western central Pacific Ocean have moved off the red list.
The MCS Best Choice Top 10 are:
Dab, seine netted in the North Sea;
Marine Stewardship Council (MSC) Certified hake from Cornwall;
MSC certified herring from Irish, Celtic and North Seas, SW Ireland and Eastern English Channel;
Mackerel, handlined in the south-west of England, and Minsa (Mackerel Industry Northern Sustainability Alliance) North East Atlantic MSC certified;
Megrim from the Northern North Sea and West of Scotland;
UK rope-grown mussels;
Brown crab from Devon Inshore Potting Area, Western Channel;
Queen scallops from the Fal Estuary, fished by traditional sail and oar method;
Pollack handlined from the Celtic sea;
Sole, Dover from the Western Channel.
Additional reporting by PA
Register for free to continue reading
Registration is a free and easy way to support our truly independent journalism
By registering, you will also enjoy limited access to Premium articles, exclusive newsletters, commenting, and virtual events with our leading journalists
Already have an account? sign in
Join our new commenting forum
Join thought-provoking conversations, follow other Independent readers and see their replies