Community fridge opens in South London to reduce food waste
People in Lambeth waste £9 in grub every week, and wastage costs UK families £700 per year, according to think tank experts
Peter Walker
Thursday 16 February 2017 21:27 Comments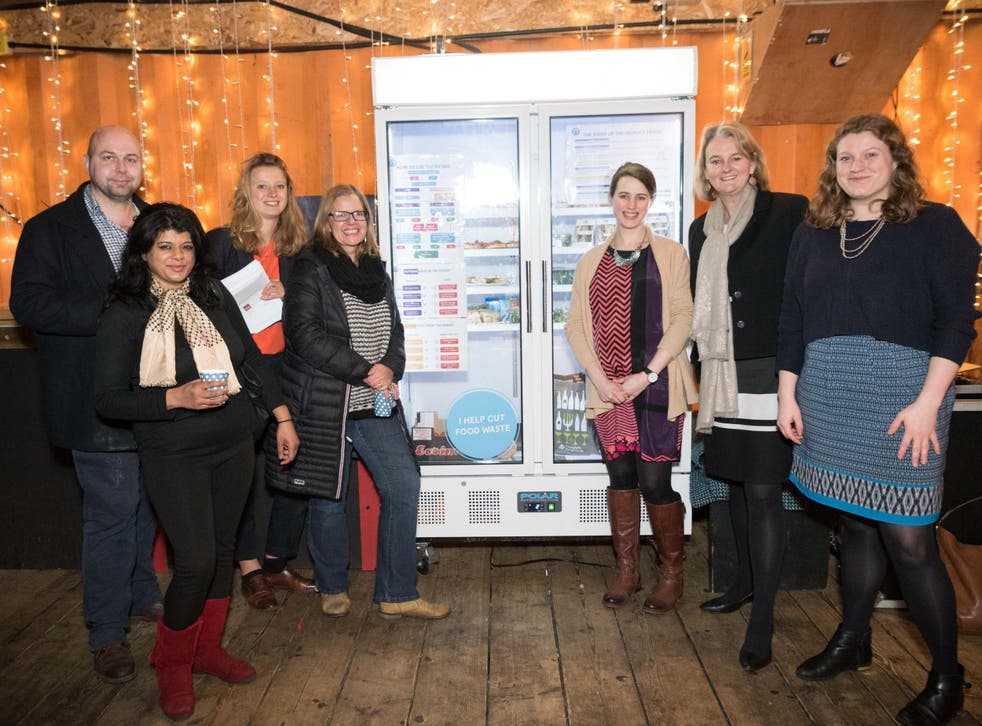 A community fridge has been installed in south London to ensure that unwanted food goes to people who might need it.
A crowd-funding campaign raised more than £2,000 to pay for The People's Fridge in Brixton, which allows small traders and members of the public to donate any food they have leftover.
Then they sign a book to confirm what they are giving away.
"We're so excited," said co-founder Olivia Haughton, a 29-year-old working in food sustainability from nearby Sydenham. "The launch was absolutely fantastic. We were not sure if 30 or 300 people would turn up but there was a huge turnout."
She added: "The comments have been almost exclusively positive and we've have messages from people across the country wanting to set one up."
There are a few rules for the fridge.
It does not accept raw meat, raw fish or opened milk, and only registered food traders can donate produce that is prepared or cooked.
Other residents can only leave food that is still in packaging, or fresh entirely uneaten produce.
The fridge, inspired by similar ideas in Spain, Germany and India, is not manned but is overseen and checked at least twice a day, and food no longer fit for consumption is binned at the end of the day.
When the team crowdfunded in the summer, the only other such fridge Ms Haughton had heard about in the UK was in Frome, Somerset.
She added: "We're working to a strict food safety procedure and so are hoping to follow in the footsteps of the Community Fridge in Frome where they've achieved a 5* food safety rating. We operate as if we are a food business so that any concerns of ill health would be dealt with in the same way a market trader or restaurant would deal with them, i.e. immediately and thoroughly.
"If there is any uncertainty about the safety of an item in the fridge it will be removed during our regular checks."
Think tank Wrap (Waste and Resources Action Programme) estimates that one person in Lambeth wastes £9 per in food each week.
Its data also shows that the UK's food wastage increased by 4.4 per cent between 2012 and 2015, despite a target to cut it by five per cent before 2015.
That means 7.3 million tonnes in food was sent to landfill in 2015 at a cost of £700 per year for the average UK family.
Register for free to continue reading
Registration is a free and easy way to support our truly independent journalism
By registering, you will also enjoy limited access to Premium articles, exclusive newsletters, commenting, and virtual events with our leading journalists
Already have an account? sign in
Register for free to continue reading
Registration is a free and easy way to support our truly independent journalism
By registering, you will also enjoy limited access to Premium articles, exclusive newsletters, commenting, and virtual events with our leading journalists
Already have an account? sign in
Join our new commenting forum
Join thought-provoking conversations, follow other Independent readers and see their replies