Commuters in Kent to be hit with 6.46% fare rise as part of a programme of above-inflation ticket price increases
Ticket price increases were criticised by MPs, commuter groups and unions, who said that people were being priced out of using public transport
Kevin Rawlinson
Wednesday 28 November 2012 14:42 Comments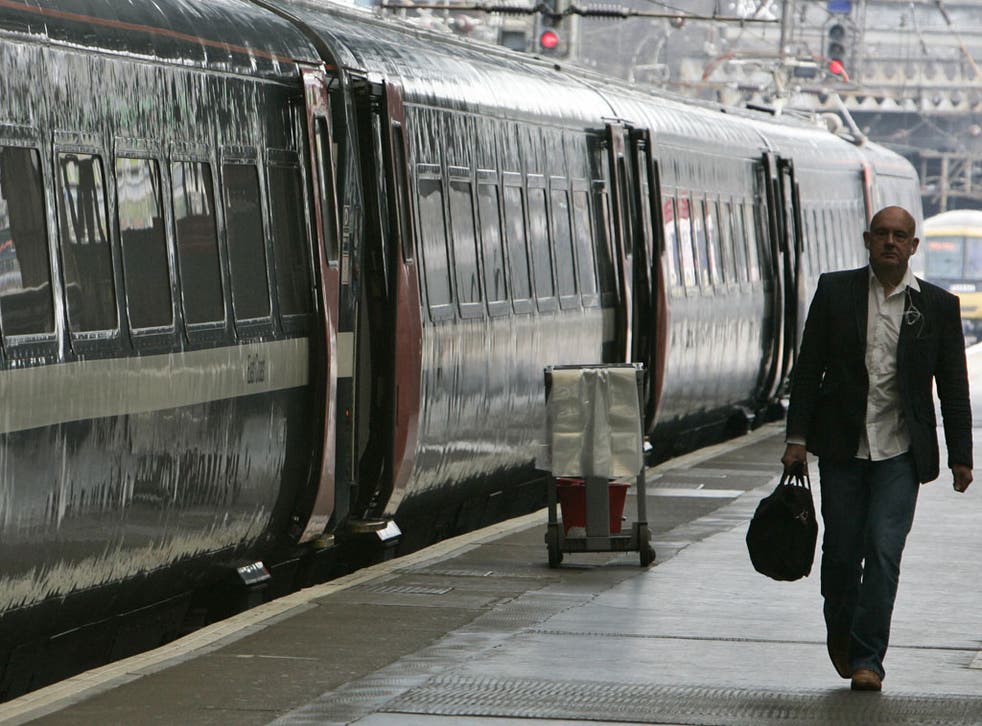 Rail passengers are in for price rises of up to nearly 6.5 per cent in the new year, it has been announced.
Commuters in Kent will see the cost of travelling to London rise to £4,940 per year as part of a programme of above-inflation ticket price increases.
The ticket price increases were criticised by MPs, commuter groups and unions, who said that people were being priced out of using public transport.
"Passengers will feel this pain. After years of above-inflation fare rises, fresh increases are piling pressure on already high fares," said Passenger Focus chief executive Anthony Smith.
The government intervened to keep prices down to below the average of the rate of inflation, plus three per cent. Instead, rail operators were allowed to increase prices by RPI plus one per cent, meaning that some tickets could cost as much as 6.46 per cent more as long as the cost increase across their range of fares was no more than 4.2 per cent.
Season tickets from Ramsgate, Dover Priory and Deal in Kent will see the biggest rises, going up to £5,000 from January 2. A season ticket to London from Folkestone, will rise to 5.98 per cent to £4,888, while a Canterbury-London season will rise 5.93 per cent to £4,860.
The increases relate to regulated fares, which include season tickets and which account for around 40 per cent of all fares.
Richard Hebditch, campaigns director for Campaign for Better Transport, said: "Come January, the millions who rely on the trains will yet again find themselves out of pocket.
"Pricing people off the railways is bad for passengers, bad for the environment and bad for the economy. The Government must act on its promise to stop above-inflation rises.
"The Government backed down on its plans for even-higher fare rises from January, but this hike is still twice as big as average wage rises. After 10 years of above-inflation increases, train fares are simply too expensive for many people."
While many prices have risen, others have fallen. A season ticket from Shenfield in Essex to London will decrease by £16 to £2,704. Train operators are allowed to raise non-regulated fares as far as they want and further price rises are expected in the coming days.
"David Cameron claimed he had taken action to limit January's fare rises to no more than 1 per cent above inflation. The reality facing commuters in the new year is season tickets costing hundreds of pounds more thanks to the Government's decision to give back to train companies the right to hike fares by up to another five per cent on top of the so-called cap," said Shadow transport secretary Maria Eagle.
A spokesman for the Association of Train Operating Companies said: "It is the Government, not train companies, that decides how much season tickets should rise on average each year.
"Successive governments have instructed train companies every year to increase these regulated fares on average by more than inflation.
"In doing so, ministers have been seeking to cut the contribution from taxpayers towards the running costs of the railway and increase the share that comes from passengers."
Manuel Cortes, leader of the TSSA rail union, said: "Thousands of commuters across south east England will be paying more than £5,000 a year for their season tickets because of the Government's unfair annual inflation-plus fare rises.
"From Bedford in the north to Battle in the south, these are the huge sums hard-pressed families have to find just to get to work each day.
"Conservative and Lib Dem MPs have their own fares paid for by the taxpayer. If they didn't, they would not be so willing to vote for such intolerable fare hikes."
Rail Minister Norman Baker said the government has forced a cut in planned fare rises. He said: "This decision puts an average of £45 per year back into the pockets of over a quarter of a million annual season ticket holders. Many more holders of weekly and monthly season tickets could also see lower fare rises and some commuters could be over £100 better off.
"It is misleading to search for the highest increase and then imply that represents the average, as some I am afraid will do. It's worth noting that some fares, such as the season ticket from Shenfield to London, are actually going down."
ROUTE; 2013 FARE; PERCENTAGE RISE on 2012
Ramsgate-London £4,940 6.46%
Dover Priory-London £4,940 6.46%
Deal-London £4,940 6.46%
Folkestone-London £4,888 5.98%
West Malling-London £3,904 5.17%
Gillingham-London £3,672 4.2%
Canterbury-London £4,860 5.9%
Tonbridge-London £3,796 5.2%
Guildford-London £3,224 4.3%
Portsmouth-London £4,668 4.2%
Bournemouth-London £5,988 4.2%
Reading-London £3,960 4.2%
Oxford-London £4,532 4.2%
Hove-London (Victoria) £3,860 4.1%
Eastbourne-London (Victoria) £4,228 4.1%
Aylesbury-London £3,632 3.2%
Colchester-London £4,556 4.1%
Shenfield-London £2,704 minus 0.6%
Huntingdon-London £4,700 4.2%
Cambridge-London £4,400 3.8%
Morpeth-Newcastle £1,008 5%
Peterborough-London £6,888 4.2%
North Berwick-Edinburgh £1,604 3.9%
Ellesmere Port-Chester £720 2.3%
Tain-Inverness £1,204 3.8%
Stirling-Glasgow £1,916 3.9%
Llanelli-Swansea £624 5.4%
Bangor-Llandudno £1,140 5.2%
Ludlow-Hereford £1,992 5.3%
Register for free to continue reading
Registration is a free and easy way to support our truly independent journalism
By registering, you will also enjoy limited access to Premium articles, exclusive newsletters, commenting, and virtual events with our leading journalists
Already have an account? sign in
Join our new commenting forum
Join thought-provoking conversations, follow other Independent readers and see their replies