Commuters plead with Osborne to prevent 10 per cent rise in rail fares
Protests at stations after shock inflation rise means annual hike will be bigger than expected
Oliver Wright
Tuesday 14 August 2012 23:40 Comments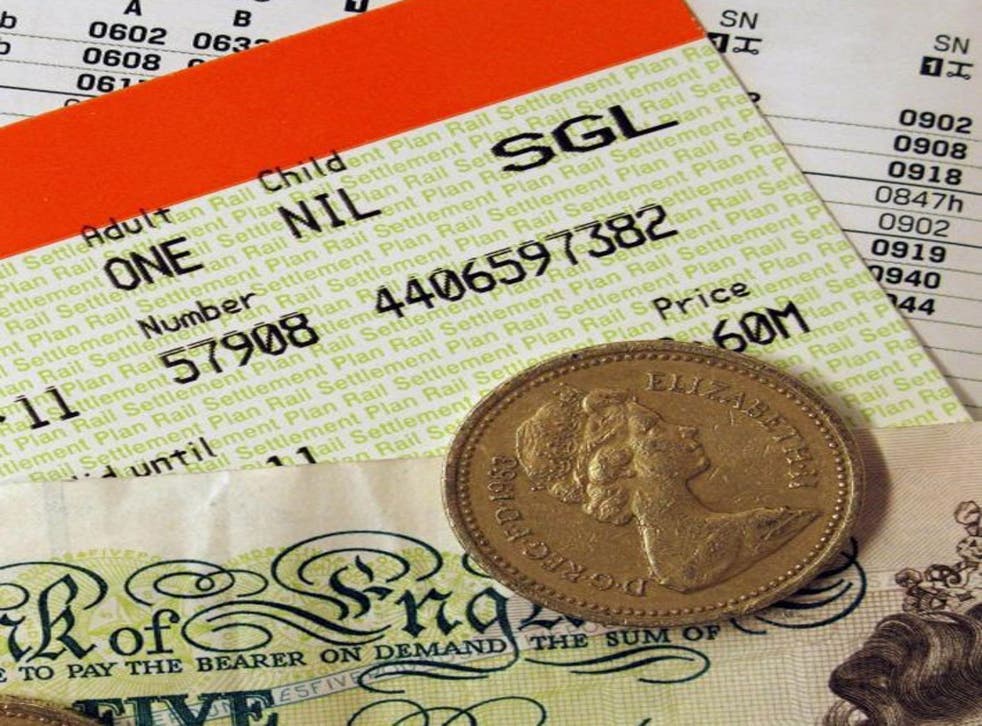 George Osborne was under growing pressure today to step in cap rail fare price rises after it emerged that the cost of a train ticket could go up by more than 10 per cent in the New Year.
Click HERE to view graphic
Fares are due to rise on 1 January 2013 by three percentage points above the July's inflation figure which was announced today. An unexpected rise in inflation to 3.2 per cent means train fares will increase on average by 6.2 per cent.
But with train operators allowed to raise some fares by an additional 5 per cent, some commuters could be paying 11.2 per cent more for their tickets next year.
Last year Mr Osborne announced that ticket price rises would be capped at six per cent – compared to a planned eight per cent rise.
He is now under growing political pressure – not least from his own Transport Secretary - to do the same again.
Justine Greening, said on Monday she would ask for additional government money to keep fares down.
"I am keen to see what we can do to keep fares down to something affordable," she said.
"I will be looking at whether there is a way of doing this in the autumn."
She added that she did not know if the Treasury would make funds available to do this, but said: "If you don't ask, you don't get, so I'll make sure to ask."
The Liberal Democrat MP Julian Huppert, who co-chairs the party's transport committee, warned that Lib Dems could not support fare rises on what was already the most expensive railway in Europe.
"People are struggling to make ends meet against a backdrop of wage freezes and rising utility bills. George Osborne has to realise that people cannot be expected to pay huge rises in rail fares on top," said Mr Huppert.
However Treasury sources played down the chance of more public money being found to reduce the increases – which are supposed to fund extra investment in the railway network.
They said their primary aim was to reduce the deficit and that already public money had been spent on capping petrol rises and increasing the amount people earn before paying tax.
Today consumer campaigners joined rail unions and passenger groups in a day of action to protest at "massive" fare increases and cuts to jobs and services.
They warned that some people travelling into London from the home countries to work will have to spend more than £100 a week after the increases just to get to work.
Stephen Joseph, chief executive of the Campaign for Better Transport, said: "If the Government sticks by its policy, rail fares will rise three times faster than salaries. With the economy flat-lining, this is untenable.
"The Government knows they can't continue to hit commuters - that's why they've postponed the fuel duty increase. Now they need to give the same help to rail users."
The Transport Salaried Staffs Association (TSSA) leader Manuel Cortes said: "It is complete nonsense to say fares have to rise above inflation every year to pay for new rail projects.
"Air travellers don't pay higher taxes to get new runways built, and motorists certainly don't pay more for new roads.
"This is all about squeezing a captive audience, the commuter, until the pips squeak. It is little more than daylight robbery."
Protests were being held today at more than 40 stations today, including Waterloo, Euston and Kings Cross in London, Birmingham New Street, Newcastle upon Tyne, Liverpool Lime Street, Crewe, Glasgow Central and Edinburgh Waverley.
Campaigners held up a huge banner at London's Waterloo station, which read: "Cut rail fares, not rail staff."
They handed out leaflets, in the shape of train tickets, urging passengers to take action against rising fares and cuts to jobs and services.
Richard Lloyd, Which? executive director, said: "Price rises well above inflation will be a nasty shock for many households who are already struggling with rising bills. Half of British consumers have told us that unexpected costs could tip their budgets over the edge.
"The Government should think again about allowing these fare rises, and instead put consumers first if they want to do more to support the economy."
Rail Minister Theresa Villiers said: "We are pressing ahead with a massive programme of rail improvements to tackle crowding and improve services and rail fares are making an important contribution to delivering this at a time when taxpayer funds are limited by the pressing need to tackle the deficit."
But Maria Eagle, Labour's Shadow Transport Secretary, said: "At a time when people are struggling to make ends meet, Ministers have decided not only that fares should rise by three per cent above inflation, but also told the train companies that they can add up to another five per cent on top. That means many fares will rise by as much as eleven per cent - for three years in a row.
"Labour would be putting passengers first by banning train companies from increasing fares above a strict cap of one per cent above inflation across all routes."
Register for free to continue reading
Registration is a free and easy way to support our truly independent journalism
By registering, you will also enjoy limited access to Premium articles, exclusive newsletters, commenting, and virtual events with our leading journalists
Already have an account? sign in
Join our new commenting forum
Join thought-provoking conversations, follow other Independent readers and see their replies