Tory manifesto: Conservatives proposing 'Frankenstein's monster of a plan' for social care, pensioners warn
'The Conservative's manifesto pledge on social care offers the worst of all possible worlds for millions of older people and their families,' says National Pensioners Convention
May Bulman
Wednesday 04 October 2017 10:24 Comments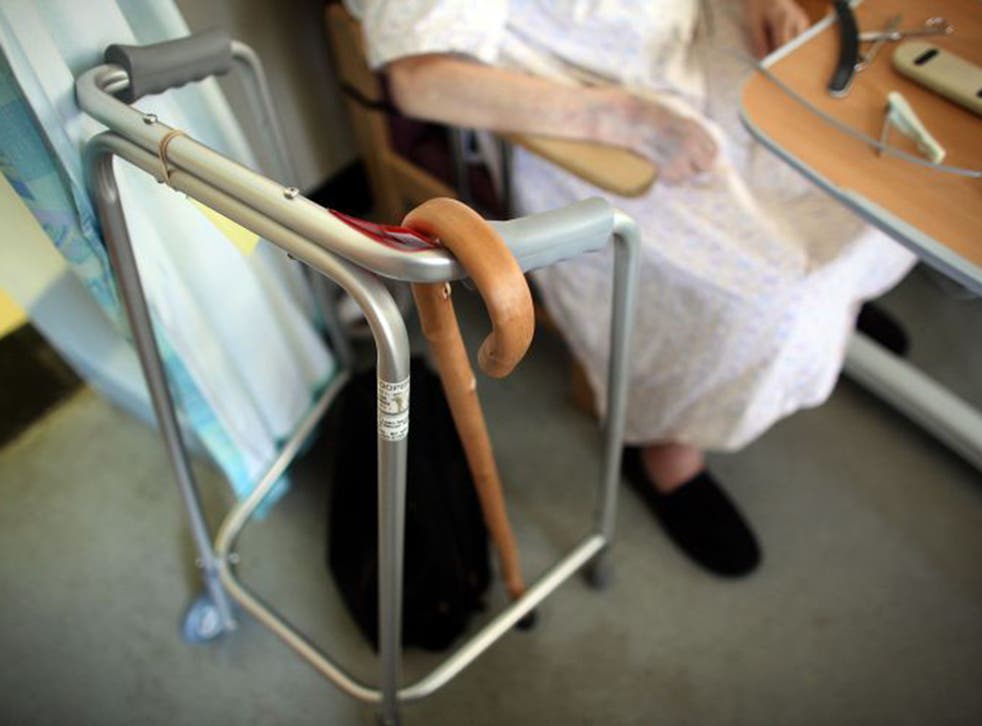 Theresa May has been accused of proposing a "Frankenstein's monster of a plan" for millions of pensioners after announcing a flagship policy that would see more elderly people having to pay for social care in their own home.
The Conservative Party's plans for social care, outlined in their manifesto on Thursday, will offer protection from costs for elderly people with assets of £100,000 or less — an increase from the current £23,250 level in England — and pledge that no one will have to sell their property in their lifetime to fund residential or home care.
But in order to make the system sustainable, the party will drop plans for an overall "cap" on costs payable by those receiving care, and reduce the value of estates that many people hope to pass on to their children.
Jan Shortt, general secretary of the National Pensioners Convention, accused the Tories of offering the "worst of all possible worlds" for millions of elderly people, warning that it would force every pensioner needing care at home to pay, regardless of their income.
She said: "The Conservative's manifesto pledge on social care offers the worst of all possible worlds for millions of older people and their families. It's a Frankenstein's monster of a plan which bolts lots of bad policies together and still fails to tackle the real unfairness in the care system.
"Every single pensioner needing care at home will now be forced to pay, regardless of their income, because for the first time ever the value of their home will be taken into account, whilst the number of those in care homes that will benefit will be relatively small by comparison.
"What makes it worse is that to pay for this proposal, around nine million pensioners are going to lose their winter fuel allowance and all pensioners will see the value of their state pension fall once the triple lock is removed.
"This plan has completely failed to spread the risk and cost of social care across society as a whole, and in effect has left the burden on the shoulders of millions of older people and their families."
The Prime Minister also argued that a pledge made by David Cameron to propose a cap of £72,000, delayed until 2020 - which would see what is in effect a social insurance covered peoplefor care costs beyond the capped amount - was no longer needed.
Sir Andrew Dilnot, who proposed the cap in an independent review in 2011, told The Independent he was "disappointed" about the Tories' proposal to get rid of the cap, saying it would see elderly people who develop serious conditions potentially losing all of their accumulated wealth.
"This proposal to get rid plans for the cap would affect all of us, because we're failed by a set of proposals that doesn't try to tackle this terrible market failure," he said.
"If the Tories get into power, we're going to end up with a world where we have a sort of inheritance tax that is social care specific, so if you're unlucky enough to get dementia, all of your accumulated wealth will be taken away.
"I am really disappointed. These proposals are a missed opportunity."
As part of the plans, Ms May put forward a policy that would effectively mean lending elderly people the costs of their social care and getting the money back when they die, from the sale of their home.
Adam Hillier, development adviser at the Elderly Accommodation Counsel, raised potential concerns that unless disregards were put in place, this could see spouses or relatives forced to sell their homes following the death of the person being cared for.
"Using your home to pay for domiciliary or home care is a huge change. Up until now the property you live in is disregarded for as long as you live there if you're getting care and support at home," Mr Hillier told The Independent.
UK General Election 2017

Show all 47
"Currently, if you have a spouse, relatives over the age of 60 or carers living there then the property is ignored completely while that person is living there.
"So it will be important to see whether those disregards are going to come into play, or whether they'll say no as soon as you need that care, your property is going to be looked at to pay for your care.
"The manifesto is saying no one will have to sell their home during their lifetime to pay for care, but when that person dies, if there isn't this disregard, then you've potentially got their spouse or partner who's going to be forced to sell the home and move."
Mr Hillier added that it was impossible at this stage to comment on the plans, saying: "I think everyone agrees that the social care system does need to change. This seems to be a different way of the Government allowing people to pay for their care," he said.
"We can't say yet how it's going to affect people. It certainly looks like this is going to save money – particularly when combined with the fuel payment changes – but whether these are the right changes to make, I wouldn't want to say until we know exactly what it's going to look like."
The plans also propose that the value of someone's property is included in the means test for care in their own home, meaning more people would be liable to contribute to the cost of being looked after.
Chief executive of think tank Demos, Claudia Wood, said this would ultimately be a positive move, saying that while it appeared "unfair", it would mean thousands of poor people have access partially or fully funded residential care.
"The Conservative manifesto pledges to change the means testing element of this – shifting the benchmark upwards so that those with assets worth more than £100,000 have to pay for all of their care." Said Ms Wood.
"This calculation includes the value of a person's home, so the vast majority of home-owning older people will find they have to pay. This may seem unfair, but the current asset threshold is already very low (£23,250) – meaning not only all homeowners, but many social renters with modest retirement savings also have to pay for all of their residential care.
"The large jump in the threshold will means hundreds of thousands of the poorest older people will have access to partially or fully funded residential care for the first time."
Barbara Keeley, Labour's Shadow Mental Health Minister, accused the Conservatives of offering "reheated broken promises" with "little detail" of how they would be delivered.
"You can't trust the Tories' promises on social care. In their last manifesto they promised a cap on care costs. But they broke their promise, letting older and vulnerable people down," she said.
"It's the Tories who have pushed social care into crisis; their cuts to councils have meant £4.6bn axed from social care budgets between 2010-2015, leaving 1.2 million people struggling to get by without care.
"We need real action to fix the system, not reheated broken promises with little detail about how they'll be delivered."
Liberal Democrat Shadow Health Secretary Norman Lamb, who introduced a cap on care as Care Minister, accused Ms May of "betrayal" for abandoning the pledge, which he said would leave people "saddled with catastrophic costs" to pay for their care.
Mr Lamb said: "The Conservatives claimed that they had merely delayed the cap on care costs, now they have abandoned it. It is a betrayal of people who work hard all their lives, end up with a condition like dementia and will now be saddled with catastrophic costs to pay for their care."
Labour has pledged to increase social care budgets by £8 billion over the lifetime of the Parliament, including an additional £1 billion for the first year, as well as setting up a National Care Service.
The Lib Demss have said they would invest an extra £6 billion per year in the NHS and social care, funded for a 1p rise on all rates of income tax, with the revenue ring-fenced to be spent only on health and social care.
Introducing the Conservative Party's election manifesto, Ms May said she was finally getting to grips with what she called the "fundamental unfairness" of Britain's social care system, adding that it was the "responsibility of leaders to be straight with people about the challenges ahead".
She also announced plans to means-test annual fuel payments, which have been highly popular with the pensioners who are the bedrock of the party's support, with the cash diverted to social care.
UK news in pictures

Show all 50
It comes as research in the open access journal BMC Medicine revealed the number of people requiring palliative care in England and Wales over the next 25 years is likely to increase by at least 42 per cent, with at least 160,000 more people each year are likely to have palliative care needs.
Currently, one in 10 older people face future lifetime costs of over £100,000 for their social care needs. Due to falling funding and local authorities being forced to tighten the eligibility criteria for free social care, 400,000 fewer people received publicly funded care in 2012/13 than in 2009/10.
The number of people aged 65 and over living in England increased by 2 per cent (around 170,000 people) in 2015/16 ,yet the number of them receiving social care fell by 2 per cent. The social care funding gap is projected to reach £2.1bn by 2019/20.
Register for free to continue reading
Registration is a free and easy way to support our truly independent journalism
By registering, you will also enjoy limited access to Premium articles, exclusive newsletters, commenting, and virtual events with our leading journalists
Already have an account? sign in
Join our new commenting forum
Join thought-provoking conversations, follow other Independent readers and see their replies