Couple unable to sell home after discovering public footpath running though living room
"It's totally ridiculous. We're stressed to hell," says home-owner
Colin Drury
Wednesday 13 March 2019 18:59 Comments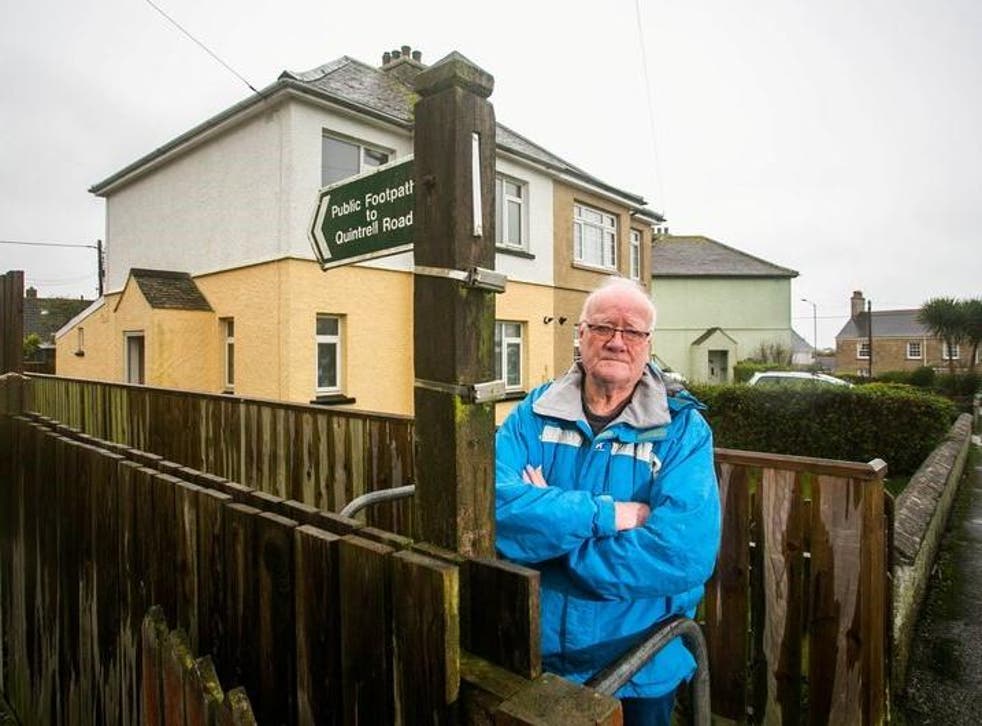 An elderly couple cannot sell their home of 50 years after it emerged there is a public footpath running through the front room.
Great grandparents Frank and Patricia-Anne Barrett put the three-bed house up for sale for £210,000.
But soon after they accepted the first offer, it was withdrawn when the potential buyer's solicitor checked the land registry – and noticed a footpath running straight through the property, in Newquay, Cornwall.
The walking route was there before the property was built and got diverted when the home, in Leader Road, was constructed in the mid-forties. It now runs around the house instead.
But an administrative error means council documents were never updated.
What to see in Cornwall

Show all 26
Now, the couple have been told they cannot sell as buyers are unable to secure a mortgage on it because of the path.
Council officials, meanwhile, have told them they will need to stump up £1,500 to have the documents changed to reflect real life.
Mr Barrett, 74, said: "It's totally ridiculous. We're stressed to hell."
The retired builder added: "The path doesn't exist, all it is a line on a map [but] we've lost two buyers now. They can't get the money so we can't sell.
"On the map, it goes straight through our house, straight out the front door, straight across the garden and straight through next door's house.
"They told us it will cost £3,000 to redirect the path but the idiot at the council wasn't listening, I've already told him that the path has been redirected.
"When he got that bit they offered to charge us half just to get it off the map."
He said the couple had already moved into a new home nearby but were still having to keep up payments on the unsellable property.
He said: "Patricia's had to go back to work. She's coping badly, she's suicidal half the time. She's got two bad hips, she shouldn't be at work at all.
"It's costing us £350 a month, my pension is only £544 a month so you can see how tight it is. How are we supposed to live on that?"
Support free-thinking journalism and attend Independent events
His wife, 67, an assistant nurse who grew up in the property, said: "I've been crying, my husband's been crying, we shouldn't be going through this."
A spokesperson for Cornwall Council said the authority was "working to try and put right a wrong that happened decades ago that has only recently been brought to our attention again."
Register for free to continue reading
Registration is a free and easy way to support our truly independent journalism
By registering, you will also enjoy limited access to Premium articles, exclusive newsletters, commenting, and virtual events with our leading journalists
Already have an account? sign in
Join our new commenting forum
Join thought-provoking conversations, follow other Independent readers and see their replies