Coronavirus: Dozens of asylum seekers forced to eat in communal area in breach of Covid-19 measures
Exclusive: Campaigners raise alarm after video footage emerges from asylum accommodation centre showing more than 60 people eating and queueing for food in one room with little distance between them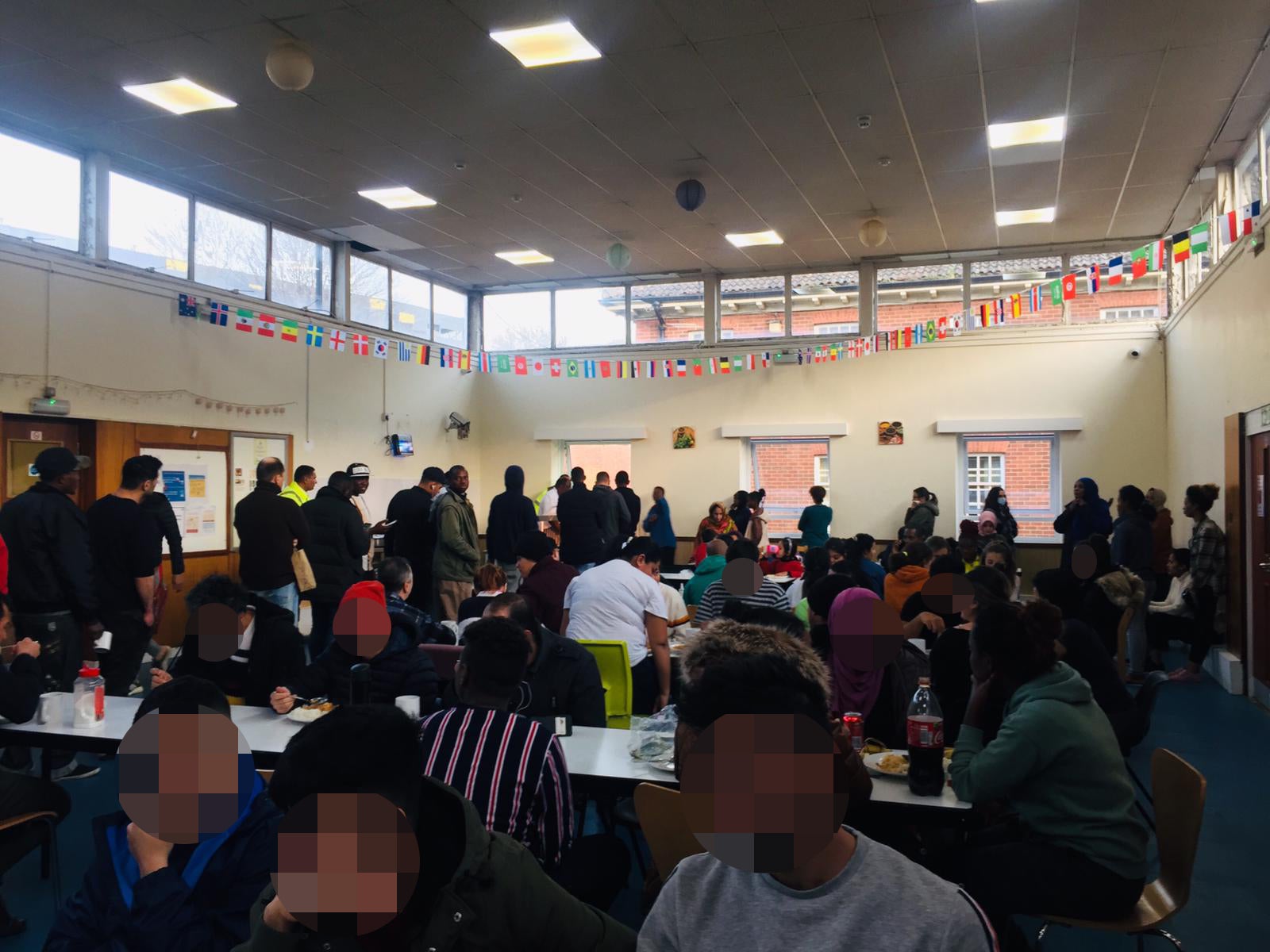 Dozens of asylum seekers living in shared accommodation are being forced to eat in communal spaces in close proximity to one another in breach of social distancing guidelines during the coronavirus pandemic.
Campaigners have raised alarm after video footage emerged from an accommodation centre in Wakefield showing more than 60 people eating and queueing for food in one room, with little distance between them.
The Independent understands no measures have been taken in Urban House, which is run by housing and care provider Mears Group under a Home Office contract and holds up to 330 people, to prevent residents from having to eat meals in one room and share washing facilities.
One asylum seeker who was living in the facility said he decided to leave the centre on Wednesday to move in with a friend because he felt so at risk of contracting the virus.
The man, who asked not to be named for fear it would jeopardise his asylum claim, told The Independent he had been sharing a room with two others, whom he slept only one metre away from.
"A lot of people live there altogether. People sit in the lounge together. Around 100 people eat together in one room. It's very busy. If one person had coronavirus, everyone would get it. It feels very dangerous in there," he said.
Labour's shadow home secretary Diane Abbott said the conditions were "simply unacceptable", adding: "Everyone needs to take social distancing measures seriously, and those in authority need to ensure social distancing is possible for everyone in their care."
John Grayson, of campaign group South Yorkshire Migration and Asylum Action Group (SYMAAG), which supports asylum seekers living in centre, said: "We've been hearing concerns from people in Urban House about poor hygiene in the centre, such as there being no soap and uncleaned toilet facilities, for ages. This was before coronavirus.
"When people start sending videos and pictures out of people eating together during the pandemic, it started to paint a very disturbing picture.
"The fact that they're doing absolutely nothing to introduce social distancing is shocking. It's also neglect by the Home Office, which is responsible for the contracts. A lot of issues have been reported to them on this, and there's no evidence they've intervened at all.
"The Home Office is ultimately responsible for everything that happens in there and it's a disgrace that they've not seen the health and wellbeing of asylum seekers as a priority of any kind."
It comes amid wider concerns that migrants in the UK face higher risk of harm from coronavirus because many are unable to access healthcare or housing because they have no recourse to public funds (NRPF) and benefit restrictions.
Campaigners called for a halt on evictions from Home Office asylum support accommodation – which often take place after people have been granted their refugee status – and for everyone to be able to access self-contained accommodation so they can self-isolate safely, regardless of immigration status.
A spokesperson for Mears, the company subcontracted by the Home Office to run the facility, said it was "working closely with the Home Office and health colleagues to ensure the safety of its staff, residents and the communities in which they live.
"Mears has ensured that all service users have translated guidance on how to respond to Covid-19 and what is required of them. Mears is also providing direct assistance in shared accommodation to any person who presents with Covid-19 symptoms in order that they can self-isolate successfully."
A Home Office spokesperson said: "The safety and health of people in our accommodation services is of the utmost importance and new asylum seekers, who display coronavirus symptoms, are completing a minimum of seven days in self-isolation before entering mainstream asylum accommodation.
"Asylum accommodation providers are applying Public Health England guidance and staff will instruct any symptomatic service user to self-isolate. Service users inside hostels who do not have symptoms can still move around the hostel and interact with each other."
Join our commenting forum
Join thought-provoking conversations, follow other Independent readers and see their replies