Coronavirus: Care homes building sealed-glass pods for safe face to face visits
'Covid-19 isn't going away so we had to come up with long-term solution,' says one director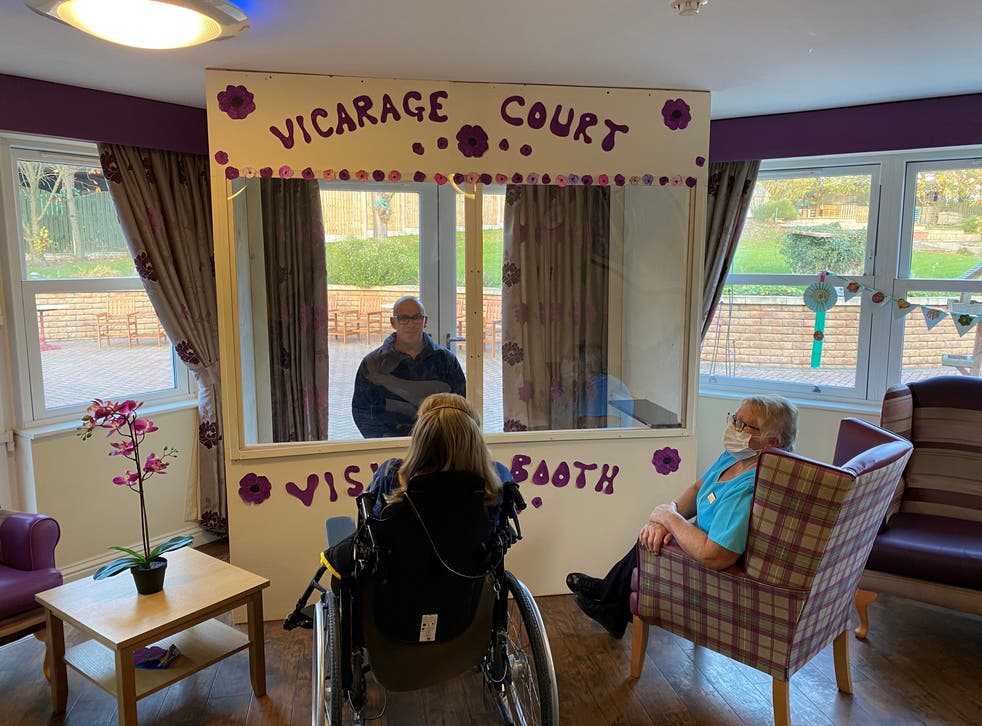 Necessity is the mother of invention, as the saying goes — and so it is proving at care homes across the UK.
Glass pods have been installed at facilities around the country in a bid to ensure residents can continue to see friends and family face-to-face as the second coronavirus lockdown kicks in.
The booths vary from home to home but typically allow visitors to sit inside the home while remaining entirely separated from vulnerable loved ones by glass or Perspex. Speaker systems ensure they can talk clearly to each other.
Because the pods have their own doors, there is no risk of infection while the guests go in and out of the pods — which are deep cleaned between visits.
Nicola Richards, director of Palms Row Health Care, which runs two such homes in Sheffield, South Yorkshire, said the company had spent £20,000 installing the booths which are furnished with sofas and flowers.
She said: "As we feel Covid-19 is not going away anytime soon we made the decision to invest in a long-term solution for safe visiting."
Speaking to the BBC, she added: "This year has been extremely difficult for all of us but we are conscious of the effects of our elderly not seeing their loved ones.
"We sadly lost residents during the first peak of this pandemic and we know we're working with a particularly vulnerable group of people, so visits inside the home are not possible."
Such innovations are seen as much-needed across the industry in that they will allow residents to keep close contact with loved ones while protecting them from a virus that is especially deadly for older people.
Another care home, Vicarage Court, in Featherstone, West Yorkshire, saw photos of its own pod go viral after placing them on Facebook.
Director Jagjit Singh said: "We're a family-run home and have always prided ourselves on our attention to detail.
"The new national guidelines have meant that only very limited visits are allowed for palliative care and the majority of residents can only have Zoom calls.
"But that's just not the same. We thought we could come up with a better solution."
He added the pod could be booked out by families for 30-minute slots, and had proven so popular, there were plans to build and open another next week.
He said: "All the messages on Facebook show what a massive issue this is. It's an ideal solution and the reaction has been fantastic."
Register for free to continue reading
Registration is a free and easy way to support our truly independent journalism
By registering, you will also enjoy limited access to Premium articles, exclusive newsletters, commenting, and virtual events with our leading journalists
Already have an account? sign in
Register for free to continue reading
Registration is a free and easy way to support our truly independent journalism
By registering, you will also enjoy limited access to Premium articles, exclusive newsletters, commenting, and virtual events with our leading journalists
Already have an account? sign in
Join our new commenting forum
Join thought-provoking conversations, follow other Independent readers and see their replies