Coronavirus: Robot cleaners deployed in bid to keep city centre Covid-free
Autonomous machines identify street furniture and high risk touch points - then spray them with alcohol dilute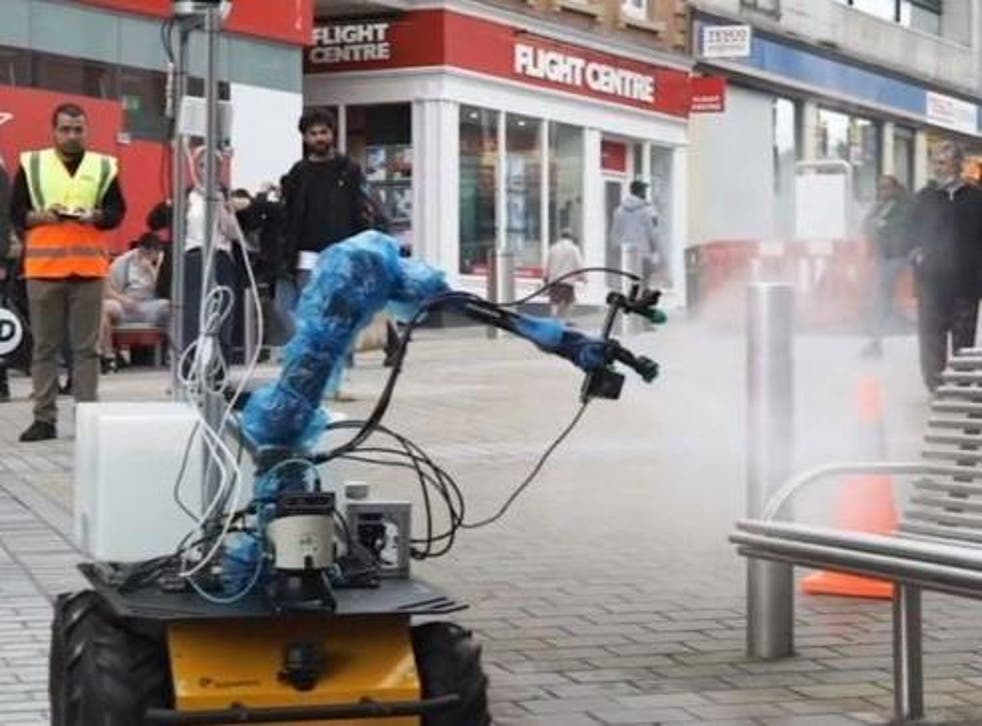 The robots are coming – to save us from coronavirus.
Autonomous droid-style machines are being trialled as Covid-19 cleaners in Leeds in a bid to keep the West Yorkshire city centre Covid-free.
The pilot scheme – the first of its kind in the UK – has seen the creations disinfecting street furniture and sanitising high-risk touch points in public areas.
It is hoped the initiative - which is also being tried at Leeds Bradford Airport - will reduce risk of contagion to both visitors and cleaning staff.
And developers at Self Repairing Cities – a Leeds University-led research project – say the results so far are highly encouraging.
Dr Bilal Kaddouh, assistant professor at the centre's school of mechanical engineering, said: "The robots were able to identify the objects that they needed to clean, and they were able to manoeuvre in the public spaces. The robotic arms effectively delivered the disinfectant on to the target surfaces."
The machines themselves are fitted with navigation tools, computer vision and artificial intelligence which combine to help them identify surfaces in need of cleaning and clear of humans. They then spray a mist of diluted alcohol onto the objects.
They are an adaption of an existing machine which was originally designed to inspect, and conduct repairs on, major infrastructure such as pipes and bridges.
But while the innovation is a first for a UK city, the coronavirus-killing droids are not the only ones in use here.
Heathrow Airport in London introduced UV cleaning robots to minimise the risk of travellers contracting Covid-19 last month.
Register for free to continue reading
Registration is a free and easy way to support our truly independent journalism
By registering, you will also enjoy limited access to Premium articles, exclusive newsletters, commenting, and virtual events with our leading journalists
Already have an account? sign in
Register for free to continue reading
Registration is a free and easy way to support our truly independent journalism
By registering, you will also enjoy limited access to Premium articles, exclusive newsletters, commenting, and virtual events with our leading journalists
Already have an account? sign in
Join our new commenting forum
Join thought-provoking conversations, follow other Independent readers and see their replies