Coronavirus poses 'very real' risk to life, say public health officials after anti-vax leaflets distributed in London
Second wave 'devastating', says top official
Jon Sharman
Tuesday 12 January 2021 15:18 Comments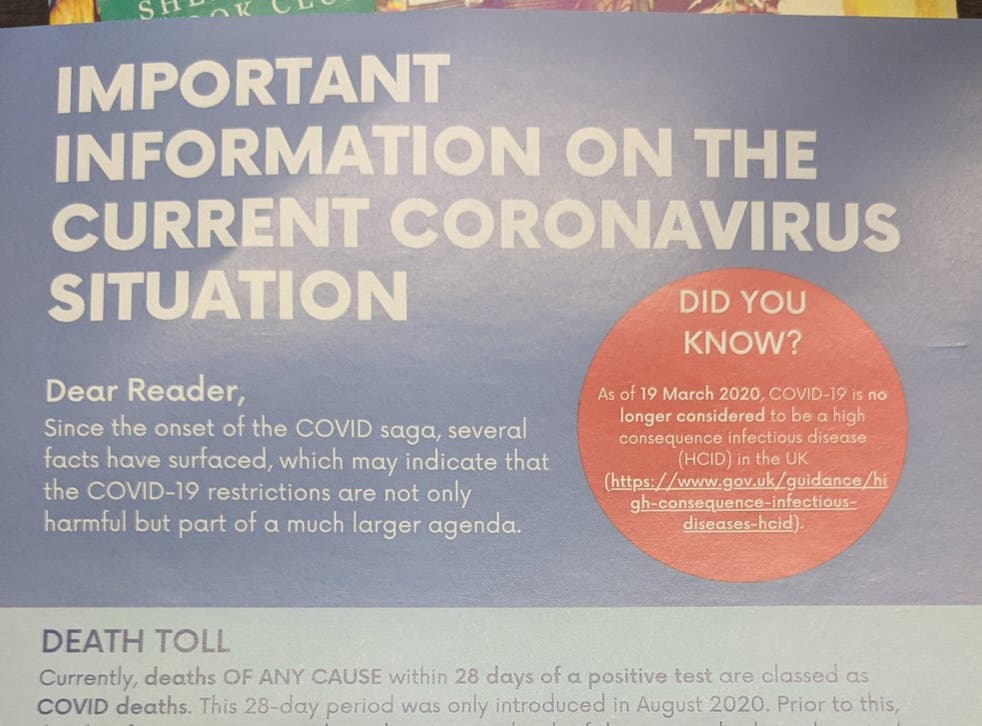 Public health officials have urged people to take up their Covid-19 vaccine appointments after conspiracy leaflets were posted through letterboxes in east London, with a reminder that the virus poses a "very real" risk to life.
The flyers were distributed to residents in Newham and claim to provide "important information on the current coronavirus situation".
However, they are filled with conspiracy-style fearmongering about vaccines, including murky references to Bill Gates' involvement in pandemic research – a common trope in such material.
The slickly produced leaflets also point readers to unreliable sources of information such as the campaign website of anti-lockdown campaigner Piers Corbyn, and another group that pushes the discredited claim that vaccines are linked with autism.
Jason Strelitz, Newham Council's director of public health, told The Independent in a statement: "In the first wave of the pandemic, Newham was extremely hard hit, with very high infection and death rates.
"Now, in this devastating second wave, we are again seeing some of the highest infection and transmission rates. The risk to life in our borough from Covid-19 is very real and remains very high."
Residents should attend their vaccination appointments when invited, he added, calling the work that had gone into verifying their safety "robust".
The Metropolitan Police said the leaflets' content was not a matter for officers. But in a statement, a spokesperson added: "London is dealing with an unprecedented number of Covid-19 cases and our NHS counterparts are working tirelessly in the most challenging circumstances.
"We would urge Londoners to keep up to date with the regulations and with the steps they can take now to keep themselves safe and prevent any further spread of the virus."
It comes a day after the Wetherspoon pub chain said it would remove old flyers in its venues that it had used to campaign against the government's lockdown restrictions.
A spokesperson admitted the window posters, which cast doubt on scientists' grim predictions about the second wave of Covid-19, were now out of date.
Register for free to continue reading
Registration is a free and easy way to support our truly independent journalism
By registering, you will also enjoy limited access to Premium articles, exclusive newsletters, commenting, and virtual events with our leading journalists
Already have an account? sign in
Join our new commenting forum
Join thought-provoking conversations, follow other Independent readers and see their replies