Britain's backbone
'I wouldn't let an animal use the toilets that we've got to': Delivery drivers fear lack of protection as they work through coronavirus pandemic
Truckers tell Vincent Wood they are being left to choose between their jobs and their ability to stay safe and clean during the coronavirus outbreak – as major companies deny them fundamental working rights
Wednesday 29 April 2020 18:34 BST
Comments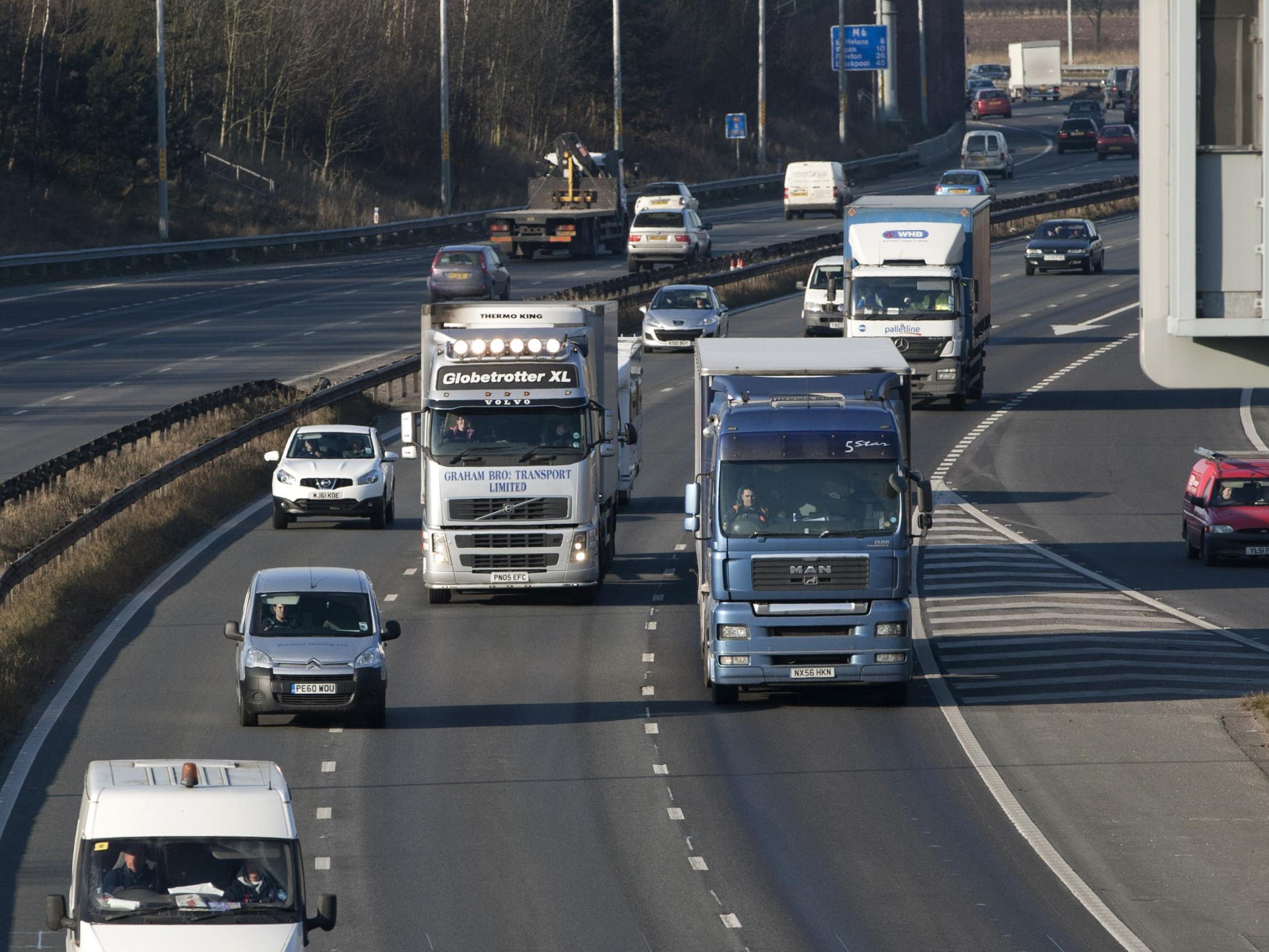 I wouldn't let an animal go to the toilets that we've got to go to", says Rod Brough, a 60-year-old haulier who has been driving for four decades.
"They're putting Portaloos out, but there can be 100, 200 drivers going to them," he adds. "It is really really bad, and to say that we're on the frontline, and we're getting treated like... I wouldn't even say second class citizens. Worse than second. Like we're the lowest of the low."
Rod is one of many truck drivers who can spend five days or more on the road before returning to the comforts of home. However, since coronavirus struck, there has been a dramatic shift in the way he is treated by the major firms he supplies.
Alongside NHS workers and teachers, delivery drivers were designated as key workers by the government early on in the pandemic for their role in keeping the country running. However, those hauling the food to keep supermarkets stocked, the equipment to keep hospitals running, and the consumer goods to keep the nation supplied in their homes have warned they are being denied basic needs by the companies they supply.
That includes the ability to follow the government's advice to wash their hands, and stay two metres apart during the hours spent at the distribution centres they supply.
Coronavirus: London on lockdown
Show all 29
One multinational firm's guidance seen by The Independent, aimed at employees who are told to wear masks and gloves when interacting with HGV workers, says delivery drivers are not allowed to visit staff toilets or canteens under company policy. Elsewhere, hauliers claim to have been told to go out and urinate in the street or defecate in bushes because of immovable company policies barring the use of bathroom facilities.
Dave Hill, 40, an articulated lorry driver who stays on the road for up to six days a week before returning home, said his fellow drivers were being pushed to breaking point by increasing demand and dwindling support from the firms they deliver to.
"My wife works for the NHS, but she's fuming because she knows that if we stop, everything stops," he said. "Drivers are pretty much cleaning themselves with wet wipes and washing themselves down with a little bit of boiled water that they've managed to boil in their kettle – because obviously we're on the road and when showers and toilets and washbasins aren't open you're just completely stuck."
The denial of such fundamental services to those who spend so much of their life on the road would normally be a clear cut breach of workers rights, but the sudden changes implemented as a result of the virus have sent major firms into a tailspin as they seek to protect their workplaces and employees. After Boris Johnson told the country, for the first time, to stay at home, protect the NHS and save lives, a number of motorway service stations responded in a way they thought had been responsible, by blocking off showers. Two days later, urged by transport secretary Grant Shapps to reopen, many backtracked. "We're sorry, we misunderstood previous advice from Department for Transport," service station operator Roadchef wrote on social media. "We're investigating, for your safety, the safe use of shower facilities in preventing the spread of coronavirus."
Roadchef, along with other service station operators, has since reopened the food and hygiene offerings that keep many truckers going – but distribution centres for many private companies continue to put barriers between the drivers that keep the country running and the fundamentals they need to maintain basic hygiene. The Road Haulage Association, an industry body supporting those in the sector, has been inundated with calls from workers being denied fundamental rights.
"People's welfare is paramount and we cannot stress strongly enough that distribution centres must follow government guidelines on social distancing, said Paul Mummery of the RHA. "Drivers have a basic human right to use toilets and handwashing facilities; the Health and Safety Executive is clear that it's against the law to deny access."
But even with the law on their side, drivers feel there is little option but to put up or shut up. To complain too vigorously is to anger the customer – and when the customer is a multinational corporation, their complaint to a driver's employer carries serious weight. Mr Hill added: "It's just a scary time for the drivers because you're stuck in a situation where, if you just walked out of there, you're concerned that the employer is gonna sack you for it."
But not being able to wash hands on arrival is only one of the risks drivers feel they face as they enter distribution centres. The chances of the virus spreading only increases in the waiting rooms of some major firms, where it is standard practice for drivers to hand over their keys while goods are handed over – leaving them to sit and wait in designated areas.
Mr Brough added: "You turn up to a site, a blue chip site, there might be 50 other drivers there. Now all these 50 other drivers are all [dropping off] at the same time as you, so you're all sitting in a room – a big room – 50 drivers all sat next to each other. That's still happening now in some places.
"In a lot of them it's a case of, 'We're not bothered about you because you're not part of us'... but when you've got all these drivers coughing and spluttering over each other, what are you supposed to be doing?"
However, while policies designed to protect staff may have been well-intentioned, concern remains that the measures will cause greater risk to a firm's employees as drivers are forced to go without hygiene facilities. While scientists are still working to fully understand the virus, it is believed to be able to remain stable on surfaces for a matter of hours or even days.
Mr Hill said: "If we can't get cleaned we're passing that on to the cardboard. The cardboard gets passed on to the guy at the warehouse at the supermarket, he then moves the apples and the oranges – and you can see where this is going.
"There's not a driver on this road that thinks we deserve anything for what we're doing. This is what we do. But ultimately the government's been so concerned with everything else they're not looking at the roots of where this virus can spread – and to be quite frank we need them to tell the idiots that are in these companies that are not providing the facilities [to do so]."
A spokesperson for the Department for Transport said: "Hauliers are vital to the nation's battle against Covid-19. Ministers have asked motorway service operators to stay open so drivers have access to crucial facilities."
Join our commenting forum
Join thought-provoking conversations, follow other Independent readers and see their replies