Coronavirus: The 67 places in England where mass testing is being introduced
600,000 lateral flow tests to be distributed among areas in expansion of asymptomatic testing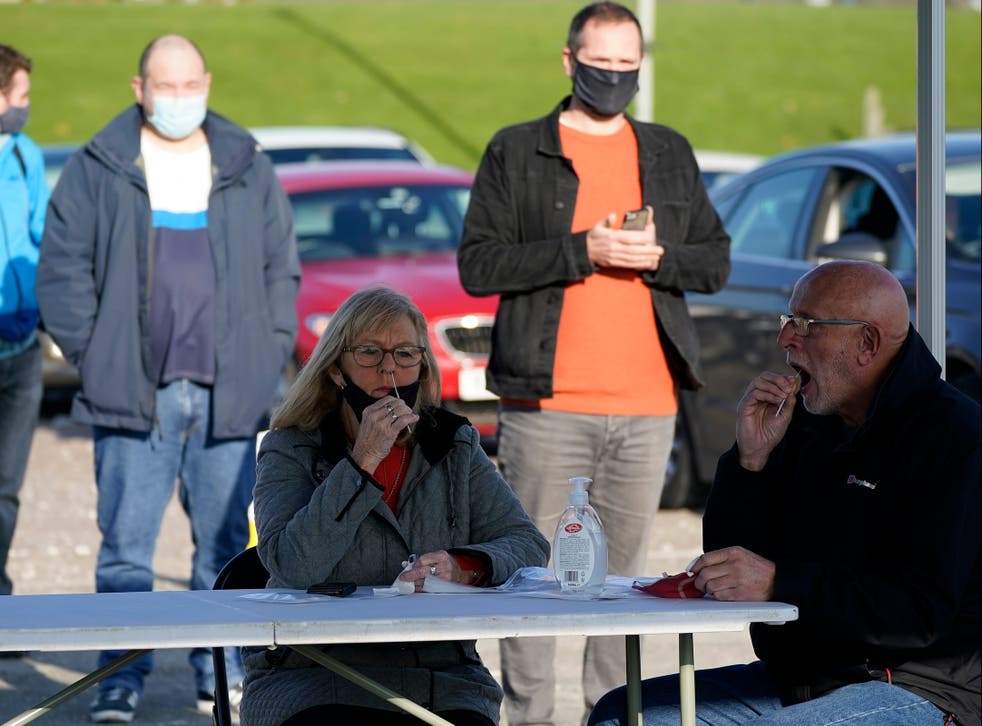 The health secretary has confirmed that mass coronavirus testing to detect asymptomatic cases will be launched across 67 local authorities in England.
Matt Hancock told MPs he had written to directors of public health across the country over providing "10 per cent of their population per week" with tests.
The Department of Health and Social Care said an initial 600,000 lateral flow test kits are being issued to some local areas in the days ahead.
That number will be divided into some 10,000 tests to be made available to each of the 67 areas, and will be used to start testing priority groups. This will then be followed up with a weekly allocation.
It follows a mass testing pilot in Liverpool, where lateral flow tests have been available since Friday for residents who do not have symptoms of Covid-19. The new tests have a turnaround time of less than one hour.
What are the areas that will introduce mass testing?
Local authorities in Birmingham, Bristol, Newcastle, Sunderland, Wolverhampton, Luton, and several London boroughs will receive the tests.
The following areas are included:
Barking and Dagenham
Bexley
Birmingham
Blackburn and Darwen
Blackpool
Bolton
Brent
Bristol
Bury
Calderdale
Camden
City of London
County Durham
Coventry
Darlington
Doncaster
Dudley
East Riding of Yorkshire
Enfield
Essex
Gateshead
Greenwich
Hackney
Halton
Hammersmith and Fulham
Hartlepool
Hertfordshire
Kingston upon Hull
Islington
Kensington and Chelsea
Kingston upon Thames
Knowsley
Lambeth
Lewisham
Luton
Manchester
Middlesborough
Newcastle upon Tyne
Newham
North Tyneside
Northumberland
Nottingham City
Nottinghamshire
Oldham
Redbridge
Redcar and Cleveland
Richmond upon Thames
Rochdale
Salford
Sefton
South Tyneside
Southward
St Helen's
Staffordshire
Stockport
Stockton-on-Tees
Sunderland
Tameside
Tower Hamlets
Trafford
Wakefield
Waltham Forest
Wandsworth
Warrington
Wigan
Wirral
Wolverhampton
Stoke on Trent, Liverpool and Lancashire have already received the tests.
How does the new test work?
The test involves taking a swab from the nose or throat. The swab will then be added to an extraction tube, and drops of extraction solution will be added to a test cartridge.
Those taking the test will have to wait between 20 to 30 minutes before the results are revealed on a strip in the cartridge, which looks similar to a pregnancy test.
The strip will have the letters C and T stacked on top of one another. Colouration beside the letter C will mean a negative result.
If the result is positive, you will see colouration appear next to the C and T. In some instances, the colouration next to the T might be fainter, but both outcomes mean you have tested positive for Covid-19.
If the strip yields no colouration, or colouration next to the T only, the test is invalid or has failed to work, and you will have to do it again.
Join our new commenting forum
Join thought-provoking conversations, follow other Independent readers and see their replies