HELP THE HUNGRY
Coronavirus and food banks: The stories behind the statistics
As demand hits unprecedented levels, Adam Forrest and May Bulman speak to the people at the heart of the crisis about how the pandemic has affected their lives
Wednesday 03 June 2020 10:42 BST
Comments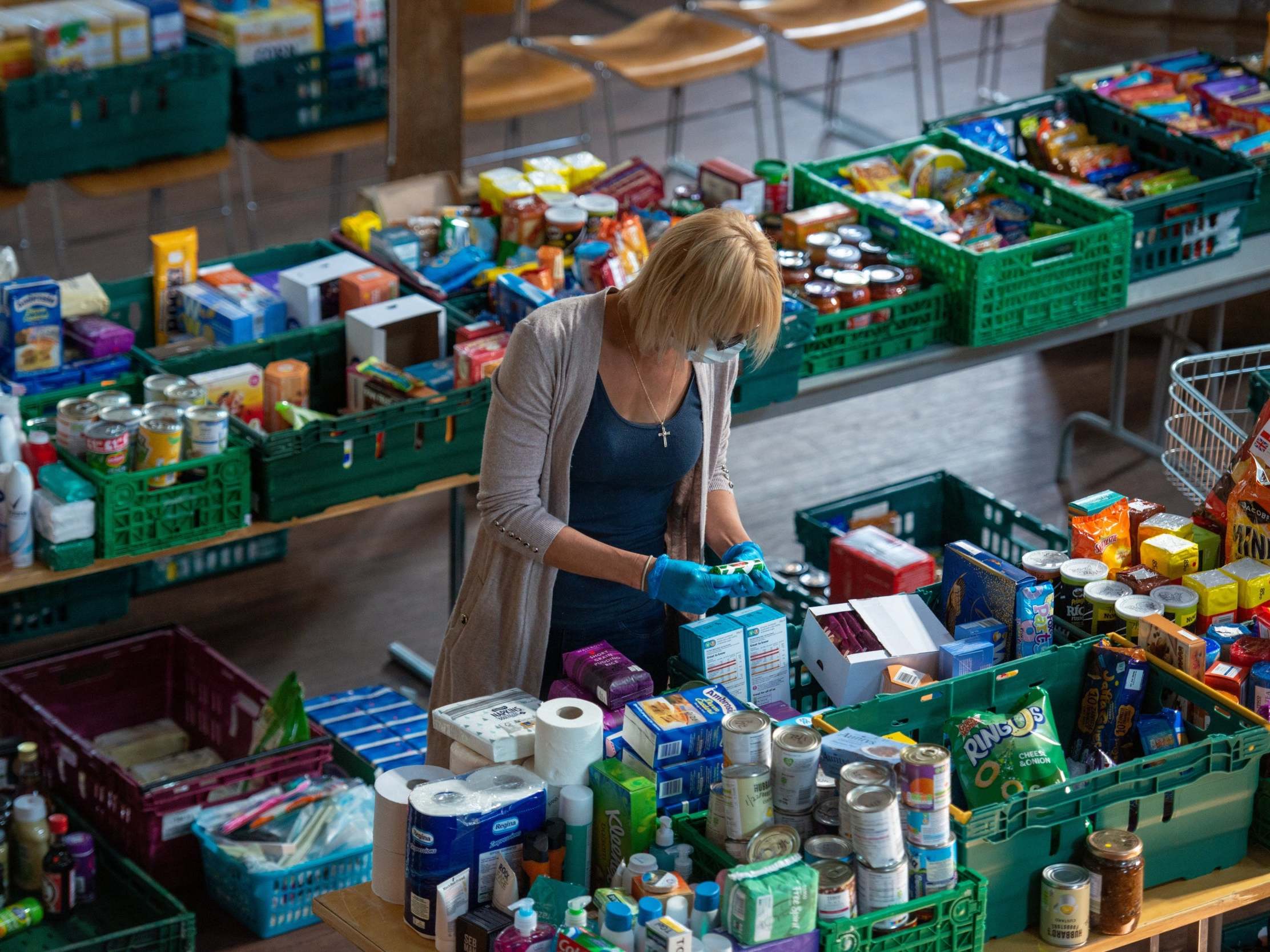 With businesses closing, jobs lost and schools shutting, the coronavirus crisis has put an unprecedented strain on Britain's food banks as families try to keep their heads above water.
New figures on Wednesday show that last month demand was greater than ever – an 89 per cent rise for The Trussell Trust, the UK's biggest food bank network, while the Independent Food Aid Network, which has around 350 food banks, saw a 175 per cent increase in requests for emergency parcels.
But for each of these figures there is a person – a mother struggling to feed her children, a nursing assistant who can no longer afford to put food on the table, professionals who have slipped through the net of government employment support. These are some of the stories behind the statistics:
'I work so hard yet I can't afford the basics': The NHS worker with no support from the state
Theo Manugerwa was struggling before the coronavirus crisis began. The 47-year-old, who lives with her two daughters aged 12 and 10 in Leicester, has been working in the NHS for 11 years, but her immigration status means she has no recourse to public funds (NRPF) – meaning she cannot claim any form of state support. As a result, the single mother has always had to work overtime in order to afford rent and provide for her children.
Since lockdown started, Theo has been unable to work the extra hours.
Her children are still going to school as she is a key worker, but after-school clubs are no longer operating and the friends who used to look after them while she was at work are no longer able to, due to the lockdown.
She says: "It has become very hard. Once I take off my rent, I'm left with nothing at all. It has always been difficult, from the day they gave me that NRPF condition, but at least I could get extra shifts here and there to put food on the table for my children.
"The money I'm making now is not enough to cater for the three of us. We are depending on charity. I've always been very proud. I didn't want to give in and ask for help. The feeling when you walk into a food bank is very painful. I work so hard yet I can't afford the basics."
Theo, a Ugandan national who moved to the UK 20 years ago, is due to apply for her next visa extension next month, at a cost of more than £2,000, and she says the thought of it makes her feel sick. The Home Office told The Independent it would help Theo apply to get access to benefits under measures introduced to tackle the pandemic. But for now, she has also fallen into rent arrears, and fears she is going to generate serious debt.
"I just need some support. I have no support at all. You get tired of depending on people. You don't want to keep telling people your problems. I feel undervalued as a health worker during this time.
"I feel abandoned. I've always worked hard to provide for my children, but it makes me feel like I've let them down."
'Three weeks in I had a breakdown': Parents who skip meals to feed their five children
"It's been nightmare. Both financially and mentally," says Sian Abbott. The 28-year-old's family of seven started using food banks about a year ago when her husband lost his job as a poultry farmer – and she says things have become even more difficult during the Covid-19 crisis.
Sian, who lives in Pembrokeshire and has five children, aged between 10 and three, says: "Three weeks into the pandemic I had a breakdown. We ran out of food because the food bank people couldn't get to us. I ended up reaching out to my church and they sent us an emergency supply package.
"It's stressful, especially with the school closures. At least when the kids were in school they were able to get a meal. My husband and I go without meals sometimes so the children can eat."
Sian, who previously worked as a taxi controller and a carer but had to stop working to look after her autistic son, says she has noticed a lot more people who didn't previously use food banks are now turning to them, but worries that the supply isn't there.
"In the supermarkets there used to be trolleys full of donations, but now there's barely one. Prices are higher. The cost of nappies have nearly doubled, which is really difficult for us," she adds.
"It's funny because when we first heard about food banks six years ago we were donating to them – usually around £50 or £60 a week – but now we're having to rely on them ourselves."
'We'd never known food poverty until coronavirus': Freelancer whose work has dried up
Zoe Green and her husband David are "really struggling financially" for the very first time. The couple and their four children – aged from two to 11 – now depend on a weekly parcel from a food bank based at their local school in north London, a project supplied with fresh produce by The Felix Project charity.
Ms Green, a 36-year-old freelancer who worked in TV and documentary production, hasn't been able to find any work over the past few months. She received less than £1,000 pounds for a three-month period after applying for the government's self-employment income support scheme.
Although 39-year-old Mr Green still gets around £400 a month while on furlough from his part-time retail job, the couple have found they have a shortfall of around £300 a month for household bills. This is being met by The Film and TV Charity, but the couple do not know how long the emergency stipend will last.
"It's not been an easy time – we've never known food poverty until the coronavirus hit," she said. "When we got the first food package from The Felix Project, I was literally crying as I took out all the fresh food. The work they and the other charities are doing right now is really, really appreciated. I never thought we'd need it."
"I'm really hoping the government will extend the self-employment scheme. I'm also hoping they might factor out the periods I was on maternity leave and wasn't able to earn as much, so I can get a higher average amount."
Phoebe Waller-Bridge joins The Independent's Food For London Now campaign
'Food banks have been a godsend': Self-employed mother who isn't eligible for government support
Susan, 45, said she found herself in financial difficulty in the months before the pandemic after her fledging health drink business collapsed.
Although she set herself up as a private education tutor in February 2020, she found she wasn't eligible to apply for the government's self-employment income support scheme after lockdown began.
"I struggled to be able to buy food during the lockdown, as I'd lost income and also fell through the government net," said the west Londoner. "It made a difficult situation even more difficult."
She and her two children, aged 10 and 12, are now relying on a weekly food bank set up at the Bollo Brook Youth Centre on her south Acton estate. "The children being at home is tough to manage. It's stressful trying to keep up with it all and help with their school work whilst worrying about bills," she said.
"We've been fortunate and receive help with food that we would not have been able to buy. It's been godsend to get us through this time until we can rebuild our lives back to normal."
'It's a battle to keep going': Food bank manager whose demand is up tenfold
Originally set up to provide support for single fathers, the Dads House charity now runs food banks for anyone in financial need at two sites in west and south London.
Founder Billy McGranaghan said he and his volunteers saw between 30 and 50 people looking for help each day before the pandemic, but in the past couple of months demand for food parcels has shot up tenfold to between 300 and 500 people a day.
"It's heartbreaking to see the long queues," he said. "The volume is something we've never seen before. It's poverty like you've never seen. People tell us they've got £20 or £30 to get through the week. Some are telling us they're having to sell possessions or borrow money from loan sharks."
Mr McGranaghan added: "Some people had been in very casual work before the crisis – bar staff, nannies, cleaners. So there's no furloughing going on to help them. But in many cases they're not necessarily self-employed either – they were dependant on that weekly wage. So they're not eligible for the government self-employed scheme."
The food bank founder said many people were applying for universal credit, but they are forced to face at least five weeks before any money appears in their bank account.
"I'm just hoping some people are able to get back into work when the shops re-open in a couple of weeks," he said. "But at the moment it's a battle for people to keep going."
The Independent is encouraging readers to help groups that are trying to feed the hungry during the crisis. Find out how you can help here. Follow this link to donate to our campaign for The Felix Project in London, in partnership with the Evening Standard.
Join our commenting forum
Join thought-provoking conversations, follow other Independent readers and see their replies