Coronavirus: Food banks strained as volunteers isolate and demand surges during pandemic
The impact of fewer volunteers, increased demand and fluctuating stocks has already proved to be too much for a small number of food banks, finds Vincent Wood, at a time when the need for this vital service is more important than ever
Sunday 22 March 2020 10:21 Comments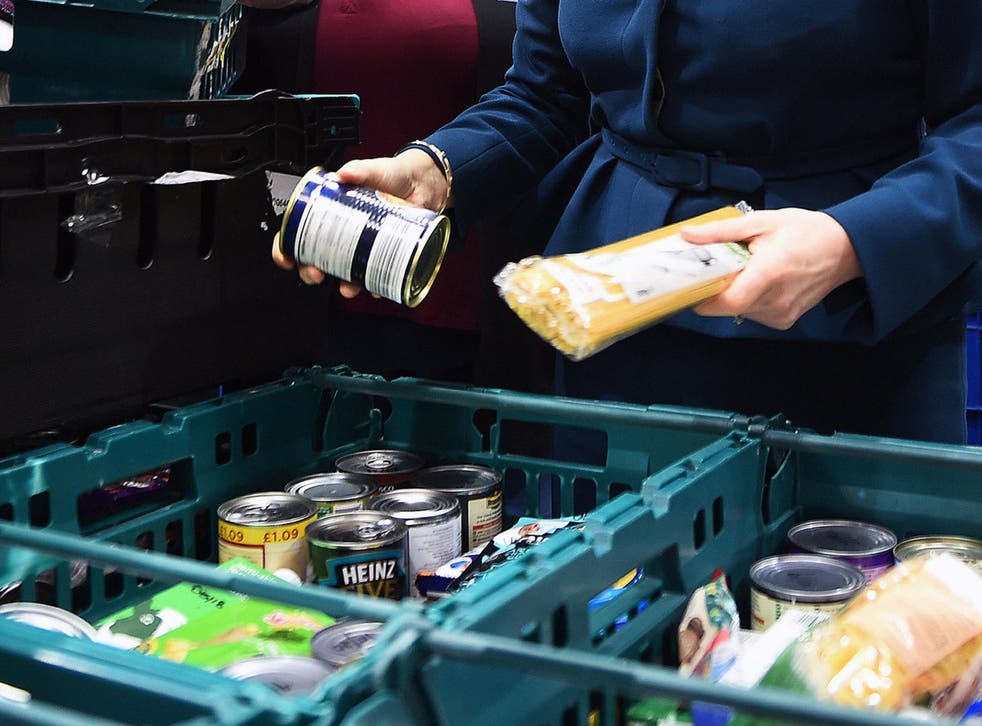 On Thursday morning in a church hall in Dagenham, east London, a mother in her 40s arrived with her daughter to ask for food. She had already been to her local branch of Iceland with a prepaid card in the days beforehand, but every time she had tried to pick up what she needed, she found the shelves empty. On her last attempt before arriving at the food bank, pandemonium had erupted in a scene more like a US Black Friday electronics sale than the opening of a frozen goods supermarket. "As soon as they opened the doors, everyone was just everywhere," the woman, who asked to remain anonymous, told The Independent. "They were pulling stuff out of trolleys. I just got my children and left."
It was not her first time using the food bank, one of the 1,200 supported by the Trussell Trust around the country. She first visited a food bank after a change in her universal credit left her in dire financial straits, an experience shared by many who make use of the Trussell Trust to pick up a three-day emergency food parcel. However, even with shop credit in her pocket, public panic left her with no choice but to go back home – empty-handed. "There was no food," she said. "Literally no food, no toilet roll, no nappies. You can't get a loaf of bread. It's not even me [at risk], it's the children. It's the elderly. I've got a child with medical issues, I need to make sure they have certain stuff and we just can't get it."
Eight days earlier, before the UK was fully caught up in the coronavirus pandemic, more than 400 food banks were asked by the Trussell Trust how they expected to respond. The virus, they were told, could reach threat levels on par with Italy within weeks, where deaths at the time had passed 800. It posed a number of risks, not least to volunteers who should be self-isolating or practising social distancing.
"[The food banks] were quite unequivocal in their response to us," the charity's Garry Lemon said. "They said that they would carry on doing what they had done – which is looking after the people who need it most in their communities."
Coronavirus fears lead to empty streets and shelves across UK

Show all 15
The Trussell Trust, the nation's largest food bank charity, serves as the central hub. But each food bank under their umbrella operates independently, reacting individually to the pandemic. "It's been genuinely humbling to see the response across the network," Mr Lemon added. "They face some significant challenges and they, supported by brilliant staff at the Trussell Trust, have essentially been running to solve all of them at once."
Chiefly among them: more people appear to be in need. From April 2018 to March 2019, the most common reasons for visiting a Trussell Trust food bank were insufficient income and difficulty with benefits. However, with schools closed and businesses put at risk by closures, food banks now believe new people will be visiting – those suddenly finding themselves jobless, and those with children on free school meals who ordinarily rely on holiday hunger programmes.
"Food banks were already running at capacity before this hit," Mr Lemon added. "Alongside that increased demand, we have issues around securing adequate food supply, you've got issues with the lack of volunteers. Also, Trussell Trust food banks work on a referral basis, so we've also got challenges around referral partners – people who normally assess people's need and give them the vouchers... And on top of all of that, they are needing to operate in epidemic conditions."
Lauren Tunnicliffe, manager of the Manchester Central food bank, said: "I think the concern is we're going to see a lot of people who otherwise wouldn't need the food bank – people who would generally consider themselves very secure, they've had jobs for a long time, and who provisions are in place for."
The branch, which was set up by students and is close to University of Manchester buildings, has seen a 38 per cent increase in users over the last week – and expects the figure to increase. But a number of referral partners who had sent people to the food bank now appear to have closed without any formal announcement.
While need has increased, so too has support – albeit while fluctuating with the public's sense of concern. "We hit a really low point with our stock towards early March," Ms Tunnicliffe, 22, added. "About two weeks ago we were saying, 'Oh god we don't have any food.' We can't say for sure but we think it might have been just as the panic buying was starting, and just as people were getting preoccupied with coronavirus and seeing it as a threat to themselves, that I think our collection points at our supermarkets were a little forgotten about.
"We started putting appeals out towards the end of last week, and we've had just a massive amount of donations," she added. "It's almost Christmas levels of donations... people coming in every day bringing in a carrier bag full of groceries that they've picked up while they were doing their own shopping."
How long the show of solidarity will last in the face of surging demand remains a concern. On social media, many operators have followed up on appeals with renewed calls for food, while many have said they are close to running out on core staples such as UHT milk. "The response has been massive," Ms Tunicliffe noted, "but we're a little bit worried about the sustainability of it because this is so open-ended at this stage. We don't know whether we're still going to be desperate in six weeks, or whether people are still going to be able to keep supporting us in six weeks – obviously they're going to be concerned about themselves, there's people that are losing their jobs, they're not going to be able to afford to go and buy us food every single week."
With a cohort of young student volunteers, the site is expecting to remain well staffed throughout the crisis – unlike many food banks elsewhere reckoning with the government's advice for over-70s to consider self-isolating. "A large proportion of our volunteers are older and are quite rightly self-isolating, so that is an issue," Mr Lemon said. In response, the charity has set up a new volunteering system on its website with a focus on connecting people with the nearest operator, wherever they may be.
However, along with fewer volunteers, services offered by the charity are at risk – such as the cup of tea and chat that volunteers share with visitors. In latest guidance from the charity, volunteers are told to limit contact with the public by no longer allowing visitors to come inside – instead handing over food parcels at the door. "We're seeing food banks completely changing the way that they operate overnight in order to tackle this," Mr Lemon said. "Some of it's quite unfortunate. Food banks pride themselves on their wraparound services – things like a cup of tea and a cake or a chat – but that's unfortunately had to stop."
The impact of fewer volunteers, increased demand and fluctuating stocks has already proved to be too much for a small number of food banks, with some reducing their operating hours and others suspending services altogether. In Islington, a branch announced it would stop offering food parcels until further notice – citing limited supplies and staff shortages. The Trussell Trust has since said it is working with local agencies to help.
However, Mr Lemon added, the virus has exposed flaws in the public safety net, which food banks have attempted to patch up. "It's about government responsibility here and it comes down to the issue of increased demand," Mr Lemon said. "There's only so much that this network can take and it's important that the government steps up and has a look at our social security system as its immediate priority to make sure that we're able to cope."
Register for free to continue reading
Registration is a free and easy way to support our truly independent journalism
By registering, you will also enjoy limited access to Premium articles, exclusive newsletters, commenting, and virtual events with our leading journalists
Already have an account? sign in
Join our new commenting forum
Join thought-provoking conversations, follow other Independent readers and see their replies