Coronavirus: Homeless people 'scared and hungry' on streets despite promise to house them over weekend
'People on the streets are struggling because the normal sources of food have gone,' says Crisis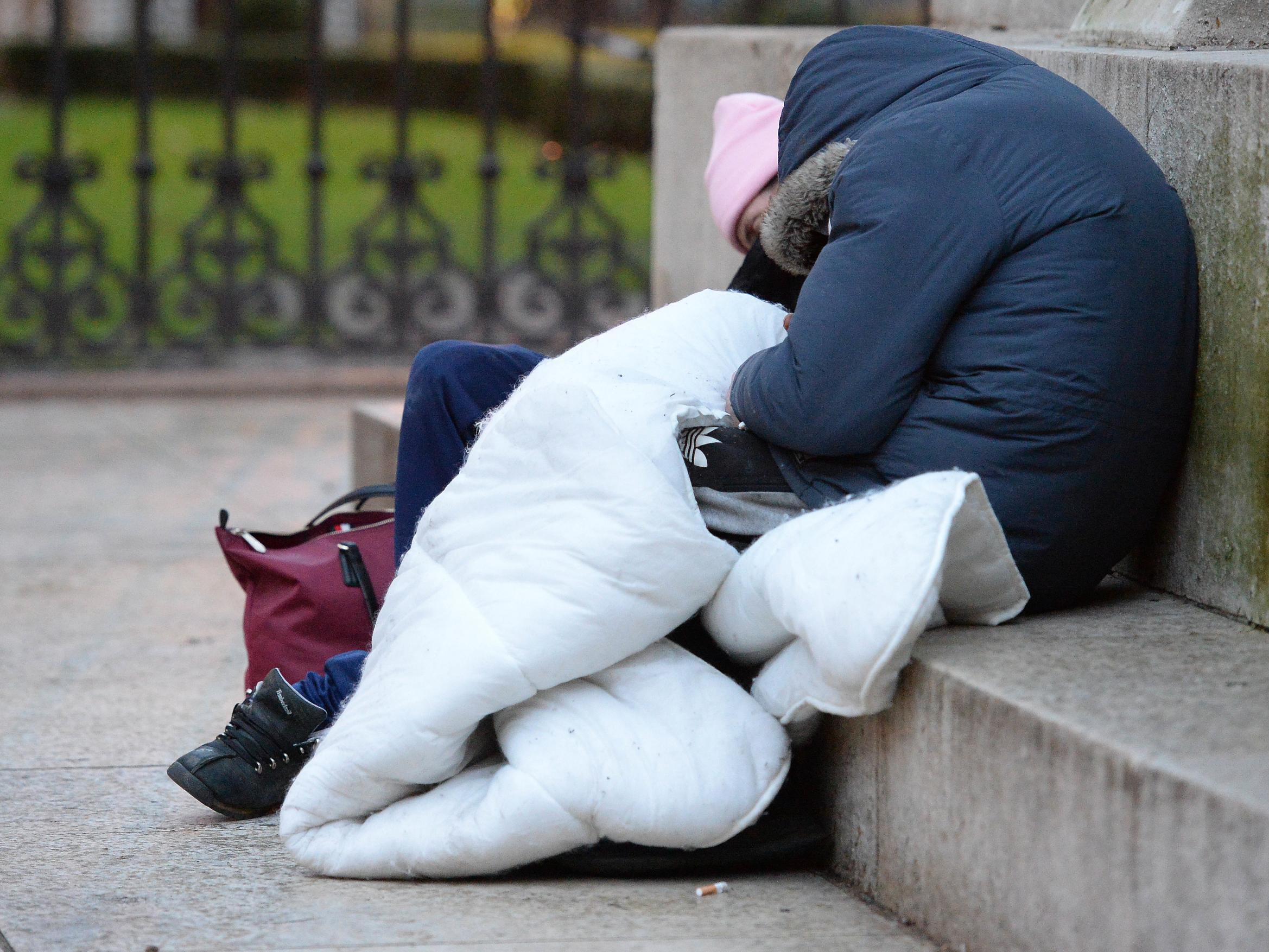 Homeless people are "scared, hungry and desperate" as they continue to survive on the streets during the coronavirus pandemic despite a government order for local authorities to place rough sleepers in hotels or other accommodation over the weekend, charities have warned.
The Ministry of Housing, Communities and Local Government (MHCLG) wrote to local councils in England on Friday saying they must find accommodation for all rough sleepers by the weekend, as part of efforts to contain the spread of coronavirus.
But campaigners told The Independent a "lack of clarity" meant many were still living on the streets on Monday and were at increased risk due to the loss of support systems usually in place such as soup kitchens and food distributions.
In some cases, local authorities are said to be continuing to ask rough sleepers to prove a local connection and provide address histories before they can be considered eligible for accommodation, creating barriers to being placed into accommodation during the pandemic.
A London-based charity said that in one case, a rough sleeper they were supporting was informed by the council that they must reconnect to their home country rather than being offered a hotel room.
The London Mayor's Office said that as of Sunday, 464 rough sleepers had been placed in hotels and almost 50 in other self-contained accommodation, out of around 11,400 rough sleepers across the capital.
The government did not provide The Independent with a figure on how many rough sleepers had so far been housed across the country.
Matt Downie, director of policy and external affairs at Crisis, said he welcomed the move to house the homeless but that too many people were currently "falling through the gaps".
The charity has heard from many rough sleepers who are still on the streets and are suffering even more than usual due to severely reduced support services on the street, he said.
"We've had reports of people not eating for days now. People on the streets who haven't made it into hotel accommodation are really struggling because the normal sources of food have gone. We are operating in a few cities and people are scared and they're hungry and they're desperate," Mr Downie continued.
"There is a range of practice across local councils. Some are doing great things, others aren't, but it's vital that every single local authority has a complete offer for every single person who needs it.
"There can't be a gap in that, because a gap means we're okay leaving people to die on the streets or night shelters. We've got to be extremely vigilant against any complacency or self-congratulation, and make sure that every single person who needs help gets it."
Mr Downie pointed out that the operation to house rough sleepers would not be straightforward and would require continued outreach work to identify people who fall homeless during the pandemic, as well providing ongoing specialist support to those who are placed in hotels.
"There are some for whom this will be a more difficult journey. They may have been on the streets for many years, deeply suspicious of authority for very good reasons. It's not as straightforward as just giving someone a hotel key," he said.
"And the reasons people become homeless are still in place. We may see increased numbers of people becoming homeless because of people losing their jobs during this crisis. There will be a proportion of people waiting for universal credit who may fall into homelessness. We can't just say it's over. This has to be a continued operation."
Glass Door, a homeless charity in London, told The Independent the number of rough sleepers on the street had not significantly changed since Friday despite the pledge accomodate them in hotels by the end of the weekend.
The charity said that on Monday many of its caseworkers were working "flat out" to find options for people with nowhere to go and complained of a lack of clarity from the authorities on the new guidance.
In one case, a rough sleeper had been told they must reconnect to their home country rather than being offered accommodation, while in others local authorities were still asking caseworkers to go through the normal processes of proving a local connection before a person would be considered eligible for accommodation support, according to the charity.
Neil Parkinson, a caseworker at Glass Door, said: "People are confused, hungry and don't know where to turn. We have had tens of people coming to our office asking for help, and some of them are angry about the lack of information and options for how they can stay safe.
"A case-by-case approach that relies on councils to determine who they can and can't help is too slow and inefficient in a public health crisis like this one.
"These barriers to support need to be removed for the sake of public health. And we all need clarity on how someone sleeping rough can access safe accommodation to self-isolate."
Alex Norris, another caseworker for the charity, said: "We're referring many street homeless guests to outreach teams, but they're still not being found and linked into services. This means vulnerable people are being left on the street during a pandemic – despite continued calls for councils to make accessing temporary accommodation as easy as possible."
The government said it would allocate an additional £1.6bn in funding to local authorities to enable them to deliver their various services in relation to the coronavirus crisis, including the provision of accommodation for the homeless.
The Local Government Association said housing all rough sleepers was "not an easy task" and called on the government to increase support for councils that are struggling to source accommodation and hire additional staff to fulfil the demand.
London's City Hall said that in the capital there were around 3,000 rough sleepers who were a "priority" because they were either on the streets or in shelters, while a further 9,000 were in hostels, which means they will likely have their own bedroom but other facilities are often shared.
"We continue to work with our partners to make additional hotel rooms, and the wraparound support required, available as soon as we can," a spokesperson for the Mayor's Office said.
MHCLG has been approached for comment.
Join our commenting forum
Join thought-provoking conversations, follow other Independent readers and see their replies