Coronavirus: UK calls in army to support police, transport oxygen and run emergency medical centres
Up to 10,000 soldiers, sailors and airmen could be deployed on the ground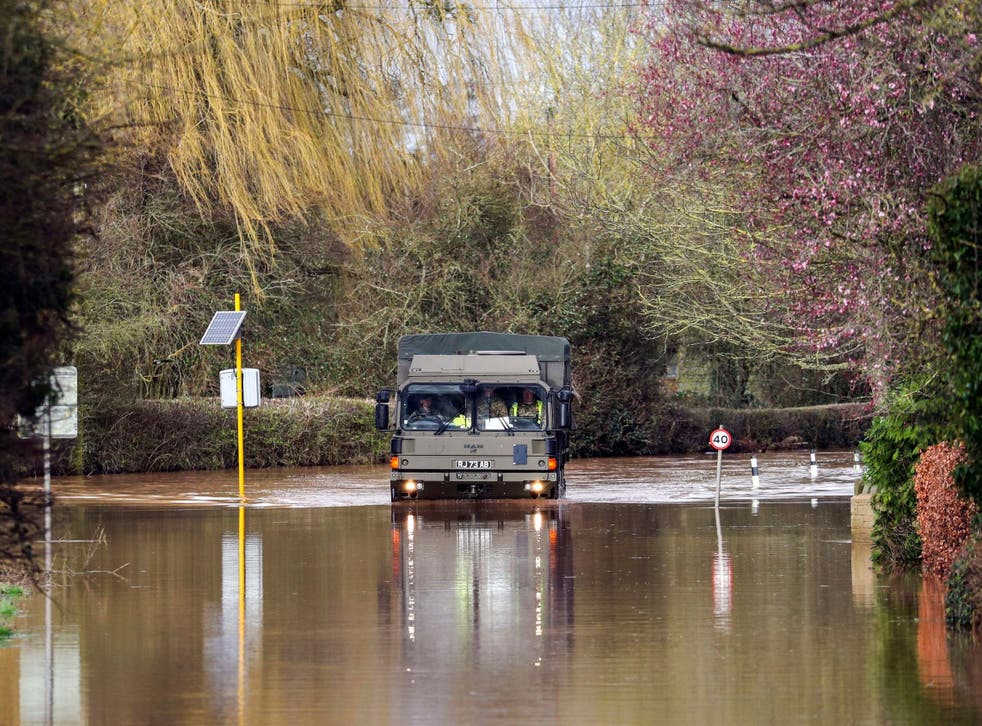 Britain's armed forces will be playing an active part in combating the coronavirus pandemic with a range of services being planned from transporting oxygen and supplies, running emergency medical centres, support for police and border forces during public disturbances, and helping to find possible antidotes to the disease.
While up to 10,000 soldiers, sailors and airmen can be deployed on the ground, DSTL (Defence Science and Technology Laboratory) will be working with other government scientific and medical facilities, including Public Health England, in the search for a treatment.
The 'Covid Support Force' will be run from the Headquarters Standing Joint Command in Aldershot, Hampshire, which coordinates resilience missions for the state. Military planners from there have been placed in government departments dealing with the crisis. Reservists, especially those with specific skill sets, will be used in the operations with measures in place to call them out when necessary.
The Support Force is in addition to 10,000 armed forces personnel who are kept in 'higher readiness' to deal with major acts of terrorism or natural disasters. Overseas deployment will continue, but a number of annual exercises – one in Canada, another in Kenya – have been postponed at the request of the host nations.
The contingents being sent abroad are due to be tested for infection. Those who may have been exposed to Covid-19 while serving abroad will go into 14 days isolation on their return. Two members of the forces are in self- isolation after arriving from Cyprus at the end of last week.
The military have, so far, helped organise repatriation flights from China and Japan, including those from the cruise ship Diamond Princess. They are currently engaged in returning passengers from another cruise ship, the British operated Braemar, which has docked in Havana after other ports in the Caribbean turned it away. Four aircraft are in Cuba at present to carry out the evacuation.
One of the most immediate responses of the Support Force is likely to be providing 150 drivers for oxygen tankers for clinics, with their training starting on Monday. This is going to be extended, if necessary, to moving food, medicine and other essential supplies both to medical facilities and to vulnerable people.
The use of barracks, the building of "tent cities" and, possibly, ships, to make up for shortage of hospital beds is under consideration, but Whitehall officials say it may be more logistically effective to provide personnel and equipment in a facility such as a hotel near a hospital.
Under the terms of the Military Aid to Civil Authorities (Maca) the armed forces can deployed to help civil powers, like the police and fire service, in times of emergency and they will be available if there is rioting or looting and to guard quarantine zones if these are established.
Major General Charlie Stickland, assistance chief of the Defence Staff Operations and Commitments, said: "Putting more personnel at a higher state of readiness and having our reserves on standby gives us greater flexibility to support public services as and when they require our assistance.
"The Covid Support Force, potentially drawing upon our highly skilled scientists at Dstl or oxygen tanker drivers, will form part of a whole force effort to support the country during its time of need. Our servicemen and women are committed to maintain our operational output and delivering any support the government requires."
Defence secretary Ben Wallace said:"The men and women of our armed forces stand ready to protect Britain and her citizens from all threats, including Covid-19. The unique flexibility and dedication of the services means that we are able to provide assistance across the whole of society in this time of need. From me downwards the entirety of the Ministry of Defence and the armed forces are dedicated to getting the nation through this global pandemic."
Register for free to continue reading
Registration is a free and easy way to support our truly independent journalism
By registering, you will also enjoy limited access to Premium articles, exclusive newsletters, commenting, and virtual events with our leading journalists
Already have an account? sign in
Register for free to continue reading
Registration is a free and easy way to support our truly independent journalism
By registering, you will also enjoy limited access to Premium articles, exclusive newsletters, commenting, and virtual events with our leading journalists
Already have an account? sign in
Join our new commenting forum
Join thought-provoking conversations, follow other Independent readers and see their replies