Coronavirus: 1.5 million go hungry as job losses and supermarket strain hits those at risk, poll suggests
'These figures, based on a three-week window of time, are 1.5-2 times higher than what we usually see', nutrition expert says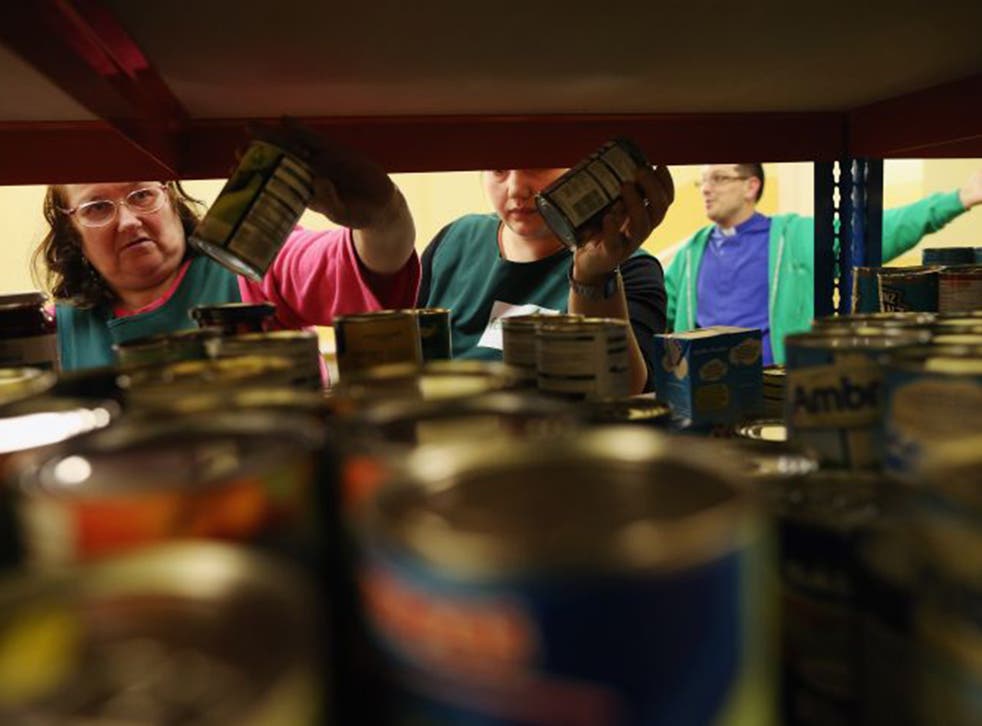 Some 1.5 million people have gone without food for a whole day since the coronavirus lockdown began, a poll has suggested, with supermarket shortages among the issues impacting those at risk of food security issues.
The survey, conducted by YouGov for the Food Foundation and the Food, Farming and Countryside Commission (FFCC), also found that 6 per cent of people reported someone in their household had gone hungry since social distancing measures were introduced — a number equivalent to 3 million citizens across the country.
Meanwhile 14 per cent said someone in their household had been forced to reduce or skip meals because they could not access or afford food.
It comes as food banks report widespread increase in use, and just weeks after panic buying saw supermarket shelves cleared of vital everyday necessities.
Anna Taylor, executive director of the Food Foundation, said: "We cannot rely on food banks to support the millions of people who need emergency food aid during this crisis: it is too big a problem, and urgently requires substantial investment from central government.
"The government must put money in the pockets of families who can't afford food, and support local authorities to scale up the food response for those who are self-isolating so they can secure enough food to sustain themselves and their children.
"Other countries are doing this, so can we."
The survey of 4343 adults suggested that, of the 16 per cent of the population facing food security issues, 21 per cent did not have enough money to pick up supplies while 50 per cent were impacted by food shortages.
Coronavirus: London on lockdown

Show all 29
A further 25 per cent were unable to leave their homes to pick up necessary supplies.
Dr Rachel Loopstra, lecturer in Nutrition, King's College London, said: "These figures, based on a three-week window of time, are 1.5-2 times higher than what we usually see when we survey about experiences of hunger covering a 12 month period.
"They suggest the Covid-19 lockdown has had a swift and devastating impact on the population's ability to access sufficient food, both for economic reasons and because of self-isolation."
The Independent has launched an appeal to help those going hungry because of the coronavirus crisis. Help The Hungry aims to highlight how you can help in your area, with money, food donations or volunteering, and has already raised £1million.
Register for free to continue reading
Registration is a free and easy way to support our truly independent journalism
By registering, you will also enjoy limited access to Premium articles, exclusive newsletters, commenting, and virtual events with our leading journalists
Already have an account? sign in
Register for free to continue reading
Registration is a free and easy way to support our truly independent journalism
By registering, you will also enjoy limited access to Premium articles, exclusive newsletters, commenting, and virtual events with our leading journalists
Already have an account? sign in
Join our new commenting forum
Join thought-provoking conversations, follow other Independent readers and see their replies