'They have broken me': Former NHS nurse on ordeal of being cooped up with abusive son during lockdown
'I said I didn't have any money but they said they would take my gold necklace. I was too weak to do anything. At that time, if you asked me to cut my throat I would have laid down,' says retired nurse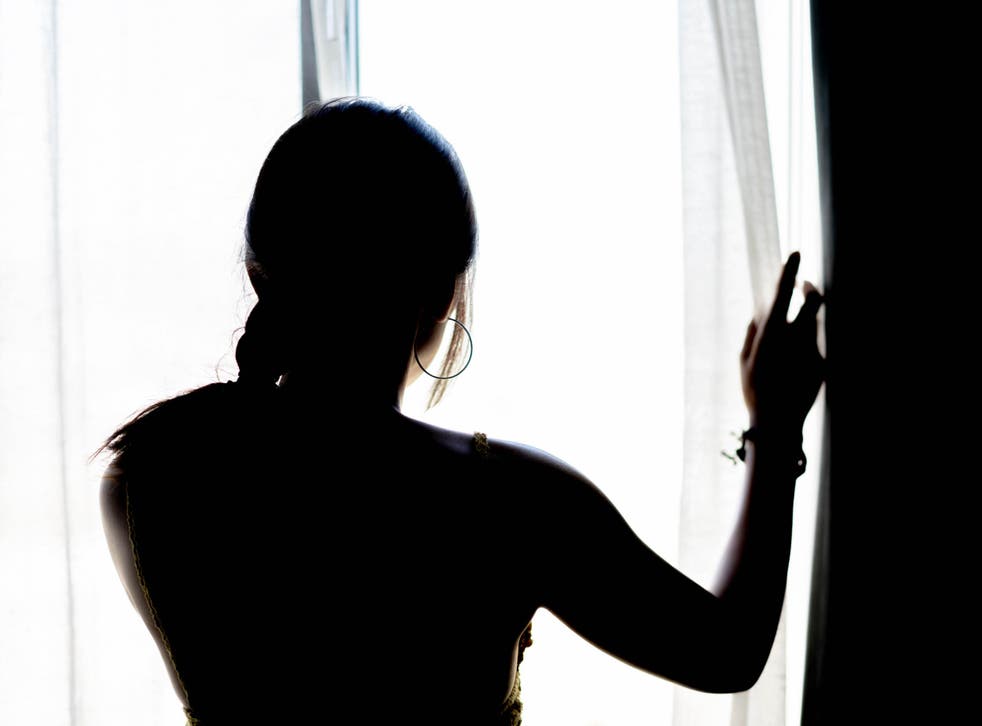 "It still hurts a lot," Eliza* tells The Independent. "They have broken me. At one point they put the settee on the balcony. I had a quilt. But some nights I could not sleep it was so cold."
Domestic abuse has soared since the government implemented the coronavirus lockdown on 24 March, with visits to the UK's online national domestic abuse service surging by 700 per cent in a single day and calls rising 120 per cent on the same day earlier in the month.
Eliza, a former geriatric nurse who was cooped up with an abusive family member, is one of many women trapped with an abuser in the wake of the government's strict social-distancing measures.
The 63-year-old, who has diabetes, said she was subjected to financial abuse and coercive control, with her son and his wife taking increasing amounts of money from her meagre nursing pension while she stayed with them for a month during the Covid-19 crisis.
"It was all psychological," she adds. "I said 'I will help with food, gas and electricity'. Afterwards, it was 'I need 40 or 50 pounds'. I was afraid so I would give it to them. I noticed when they were going to shop, they would buy what they wanted, but they would never get what I wanted with my own money. With my condition, I have to have five small meals a day but that wasn't happening. They did not have money due to bad choices and unnecessary spending."
The mother-of-three, who was living in Luton on the outskirts of London, said her relatives barred her from going to the shops due to her being in a risk category and she was scared to leave the house in case they chose not to let her back in.
"At one point, I didn't have any money left to give," she adds. "They needed money that I didn't have. I said I didn't have any money but they said they would take my gold necklace. I was too weak to do anything. At that time, if you asked me to cut my throat I would have laid down."
Eliza said she felt like she was walking on eggshells while living in the flat and was scared to do anything in case it woke up their child, adding that she would stay in bed until the early afternoon despite the lack of food wreaking havoc with her blood sugar levels.
"By this time you're on the floor," she says. "The whole thing affected my diabetes a lot. I tried to walk softly. I tried not to use the toilet. I was afraid to flush the toilet because it made a noise. I didn't want to turn the kettle on to make a cup of tea."
Eliza, who said she had her keys confiscated from her when she could no longer hand over money to them, has recently been housed in a place found by non-profit organisation Homefinder UK.
The body, which helps vulnerable people with housing, managed to find her somewhere to live despite the fact all social housing lettings have been placed on hold in the coronavirus crisis. Homefinder UK said Eliza's case draws attention to the urgent need to get rid of constraints on housing in cases that involve highly vulnerable people.
"Right now I am happy and sad," she says. "But I am 150 times better than before. I am elated I have this place. But I am still reeling about how I was treated. I am trying to get back my jewellery. I didn't put up a fight because I was listless by then. I wasn't sleeping properly. I continue to pray for my children and hope one day they will see the errors of their ways. I will wait for that apology."
She adds: "I haven't got anything here yet and I don't know where the shops or the pharmacy are. I don't have a bed to sleep in. I am on the floor. I was promised somebody was going to bring me a wardrobe, a bed and a chest of drawers. But at least I have a roof over my head and I have a toilet I can flush as much as I want."
Eliza, who worked as an NHS nurse for around two decades, was homeless for a year and a half before staying with her son.
"I was living here and there," she adds. "In my car and in hotels, bed and breakfasts and with friends other family members. I couldn't afford to keep my car anymore so I sold that. I would use the shower at the swimming pool."
Eliza's case is not isolated and comes in the context of police reporting a rise in domestic abuse incidents directly linked to the Covid-19 crisis.
Domestic violence killings appear to have more than doubled during the coronavirus lockdown. Karen Ingala Smith, who has been tracking the numbers of women killed by men for an annual census on femicide in the UK, has identified at least 16 suspected domestic abuse killings that occurred between 23 March and 12 April.
Ms Ingala Smith, chief executive of domestic abuse charity Nia, told The Independent the number of women killed by men during the first three weeks of the government's lockdown is the highest it's been for at least 11 years and is double that of an average 21 days over the last decade.
*Eliza's name has been changed to protect her identity
Register for free to continue reading
Registration is a free and easy way to support our truly independent journalism
By registering, you will also enjoy limited access to Premium articles, exclusive newsletters, commenting, and virtual events with our leading journalists
Already have an account? sign in
Register for free to continue reading
Registration is a free and easy way to support our truly independent journalism
By registering, you will also enjoy limited access to Premium articles, exclusive newsletters, commenting, and virtual events with our leading journalists
Already have an account? sign in
Join our new commenting forum
Join thought-provoking conversations, follow other Independent readers and see their replies