Coronavirus: 'Inconsistent and discriminatory' lockdown fines must be reviewed, say MPs and campaigners
There is currently no route to appeal fines other than risking prosecution by refusing to pay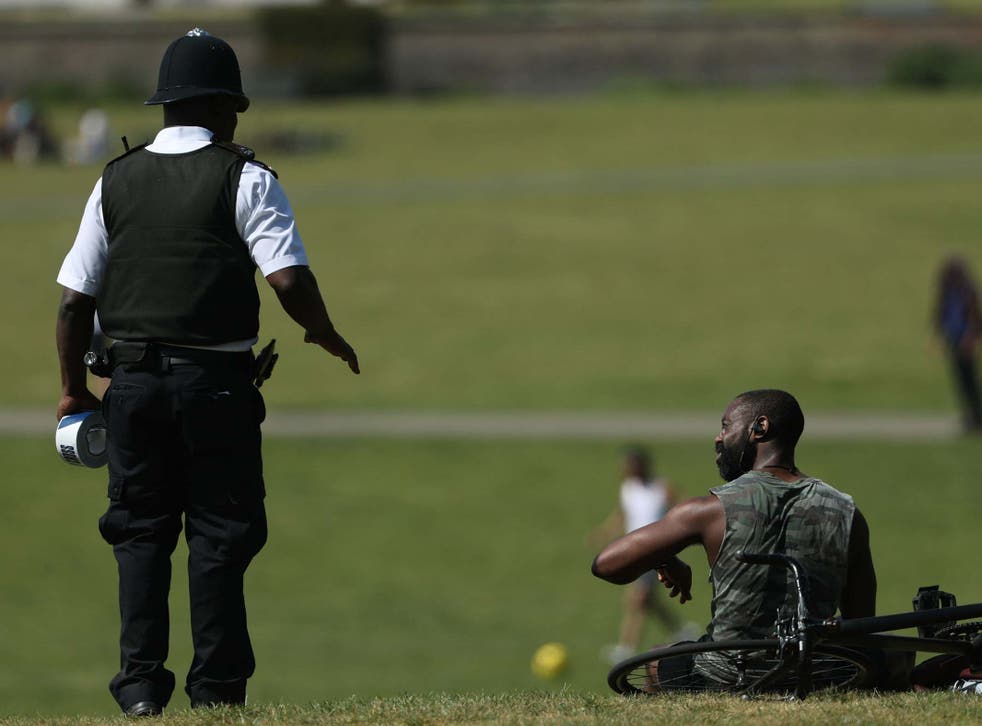 More than 40 MPs and peers are calling for a review of over 18,000 fines given to people for breaking coronavirus lockdown rules in England and Wales.
A letter sent to the National Police Chiefs' Council (NPCC) said the penalties had been handed out in an "inconsistent and discriminatory" way, amid racial and regional disproportionality.
Police leaders have commissioned analysis looking at why black and Asian people have been fined at a much higher rate than white people for breaking lockdown rules, but the letter said that explanations given so far have been "unconvincing and unevidenced".
Signed by MPs including former Labour leader Jeremy Corbyn and acting Liberal Democrats leader Ed Davey, it said the case for a review was "extremely compelling".
"There is evidence of racism, discrimination and bias in the issuing of lockdown fixed penalty notices (FPNs)," the letter said.
"It is imperative that these powers are exercised, and seen to be exercised, cautiously – as well as proportionately and fairly.
"The evidence that the opposite has occurred, and that these draconian powers have repeatedly been used unlawfully, undermines public trust and confidence in authorities and the rule of law."
A total of 18,439 fines – 15,856 in England and 2,583 in Wales – were recorded by police between 27 March and 22 June, according to provisional NPCC data.
The ethnicity of recipients was not stated for almost a quarter of fines, but for those that were 80 per cent were white, 11 per cent Asian, 4 per cent black, 2 per cent mixed-race and 1 per cent other.
But 86 per cent of the population of England and Wales are white, 7.5 per cent Asian and 3.3 per cent black, meaning that black and Asian people are being fined more frequently than white people.
There are also warnings of a "postcode lottery" between different areas. While some regional forces have handed out more than 1,000 penalties, the figure in others is below 100.
The NPCC has admitted that some fines have been handed out wrongly under the Health Protection Regulations, including dozens given to children.
Coronavirus: London on lockdown

Show all 29
In April, parliament's Joint Committee on Human Rights warned that people were being "punished without any legal basis" because of confusion over differences between the law and government guidance, which was stricter at the time.
Weeks later, the Home Affairs Committee raised concerns that police were "overstepping" their powers and "enforcing government advice rather than the letter of the law".
It also warned that significant differences between the number of fines handed out in different areas – even those adjacent to each other – "raised questions about how consistently the law was being applied".
There is no route to appeal coronavirus fines other than refusing to pay and risking prosecution, prompting concerns that people would be too afraid to challenge them.
Kirsty Brimelow QC, a human rights lawyer who signed the new letter, said: "It is likely that thousands of members of the public have paid fines pursuant to fixed penalty notices issued by police that ought not to have issued.
"The police must play their part to remedy the havoc caused by their overzealous enforcement of the emergency laws."
The Crown Prosecution Service is currently reviewing all charges under the Health Protection Regulations and separate Coronavirus Act, but not the fines themselves.
There were concerns that errors by police would increase as amendments to the regulations made restrictions on travel and gathering more complex, and diverged in England, Wales, Scotland and Northern Ireland.
When restrictions were first relaxed in England on 13 May, the default fine was increased from £60 to £100, but the number issued has fallen dramatically since the rules were eased.
Coronavirus: Matt Hancock 'That's a good question.. I'll answer it later' on reviewing fines for travel for childcare
Ms Brimelow questioned why the government has continued to use emergency legislation to update the law rather than going through normal parliamentary scrutiny.
She called the current regulations "increasingly illogical and vague", telling The Independent they "have become so complex and arbitrary that they no longer are taken seriously".
The government and the NPCC previously rebuffed calls for a review of fines following the scandal over Dominic Cummings's travel to Durham in May.
Amid questions over why he was not fined for breaching the Health Protection Regulations, the government said it was "for the police to decide whether to impose fines under the law".
Reverend Martin Poole, the Brighton vicar who asked the health secretary to instigate a review during a Downing Street press conference, is among the signatories of the new letter sent on Tuesday.
He said his fears over potential inequalities "appear to have been borne out in the statistics".
Campaign group Big Brother Watch, a lead signatory of the letter, said policing of the coronavirus pandemic had been "inconsistent, heavy-handed and sometimes incompetent".
Director Silkie Carlo added: "These draconian powers have been used unlawfully time and time again and there's no justice for the thousands of people we estimate have been wrongly penalised with fines."
Former Conservative minister Andrew Mitchell, Baroness Shami Chakrabarti and Baroness Jenny Jones are among those to put their name to the letter, alongside groups including Amnesty International UK, Liberty and Inquest.
A spokesperson for the NPCC said: "The letter has been received and is being properly considered. There will be a publication of our ethnicity analysis in July."
Join our new commenting forum
Join thought-provoking conversations, follow other Independent readers and see their replies