Coronavirus: Inside the UK's biggest anti-lockdown protest
Lizzie Dearden meets the conspiracy theorists happy to break the law to oppose what they see as the 'tyranny' of coronavirus restrictions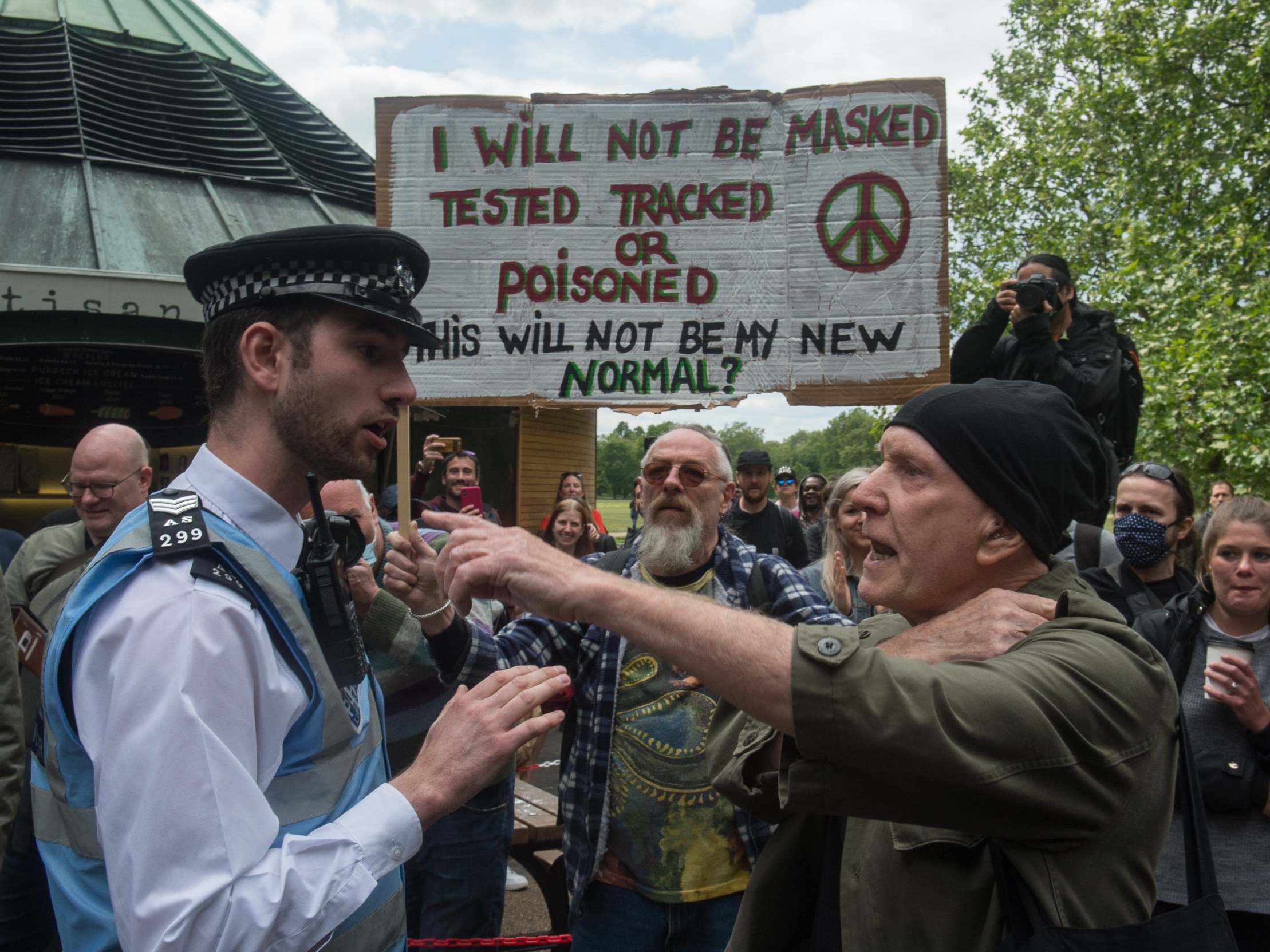 "They are controlling the narrative and they are not allowing the people to speak about anything else other than what they claim is the truth," shouts a man to a crowd of protesters.
"We've unpicked everything to do with this creation, this supposed virus."
Next to him, a woman holding a sign calling coronavirus a "fake pandemic" nods appreciatively while police warily look on.
In the surrounding crowd, people wave placards linking the outbreak with 5G technology, Microsoft founder Bill Gates and the "new world order".
This is the largest anti-lockdown protest yet seen in the UK, seeing around 100 people gather in London's Hyde Park.
As the UK's coronavirus death toll neared 36,000, demonstrators had no qualms about violating social distancing to show their contempt for public health measures.
While some cast doubt on the existence of the illness, others were voicing beliefs that the virus had been created as a weapon and was being spread deliberately, while fellow protesters took aim at the "tyrannical" lockdown.
Chants of "freedom" regularly broke out throughout the protest on a sunny Saturday afternoon, which was allowed to proceed by police despite a small number of arrests.
The demonstration centred on Speakers' Corner, a bastion of British debate, where a more conventional speaker was laughed at for asking participants to stay two metres apart.
Few attendees were wearing masks, and those that were seemed to be doing it for the benefit of police officers and television cameras.
"I will not be masked, tracked, chipped or vaccinated," read one woman's sign. "This will not be my new normal. I do not consent."
Jeremy Corbyn's brother arrested at anti-lockdown protest
One man held a sign displaying a photo of British conspiracy theorist David Icke and supporting his theories, shouting: "He speaks the truth, he's being silenced. It's tyranny."
At one point, a man apologised for bumping into a woman, only to be pulled into a hug.
"Don't worry, we're all here because we don't mind," she told him.
A large number of police officers supervised the combative crowd, who repeatedly chanted "shame on you" and booed as demonstrators including Jeremy Corbyn's brother were arrested.
Piers Corbyn, an astrophysicist, had used a megaphone to claim the pandemic was a "pack of lies to brainwash you and keep you in order", shouting: "Vaccination is not necessary".
Like many of the protesters, he claimed coronavirus was linked to 5G technology, adding: "5G enhances anyone who's got illness from Covid, so they work together."
The vast majority of the crowd opposed vaccinations, with one sign calling them a "bioweapon".
At several points, people sang "shove your vaccinations up your arse".
Others were calling for "freedom" against the so-called "tyranny" of the lockdown.
Two women walked through the crowd wafting incense, while another insistently gave out copies of the Universal Declaration of Human Rights.
The crowd was bolstered by bemused passers-by who chanced upon the demonstration while walking through Hyde Park.
Some attempted to challenge the conspiracy theorists, with little success.
The "mass gathering" attracted a range of people, from young families, to groups of friends, elderly women and middle-aged men in suits.
One man was walking around with Kermit the Frog on his shoulder, while another wore a red "Make America Great Again" cap.
No signs displaying allegiance to extremist groups were visible but at least one man present, and sipping from a can of super-strength lager, previously protested with the far-right UK yellow vests.
"We're all here no matter what we believe – people are unhappy about different things," said a woman holding a sign calling the BBC, ITV, CNN and Sky "deadly viruses".
Several protesters discussed the "fake news", with one man speaking with pride about he did not read the mainstream media or own a television.
As the afternoon wore on, demonstrators retreated from Speakers' Corner to spread out on the grass in the warm sunshine.
It was the largest of at least 60 "mass gathering" protests called by a loose collective calling itself the UK Freedom Movement.
Flyers were distributed through a since-deleted Facebook group urging people to "be part of the largest mass gathering since the lockdown".
They said: "We say no to the coronavirus bill, no to mandatory vaccines, no to the new normal and no to the unlawful lockdown."
The leaflet called for people to "bring a picnic, some music and [have] some fun and say yes to life".
Never has a slogan felt more ironic.
Join our commenting forum
Join thought-provoking conversations, follow other Independent readers and see their replies