Sex trafficking victim with lung condition refused safe house accommodation during coronavirus lockdown, says lawyer
Campaigners call on Home Office to urgently establish alternative safe house accommodation for trafficking victims during the coronavirus outbreak or risk heightened chances of re-exploitation
May Bulman
Social Affairs Correspondent
Wednesday 25 March 2020 22:24 Comments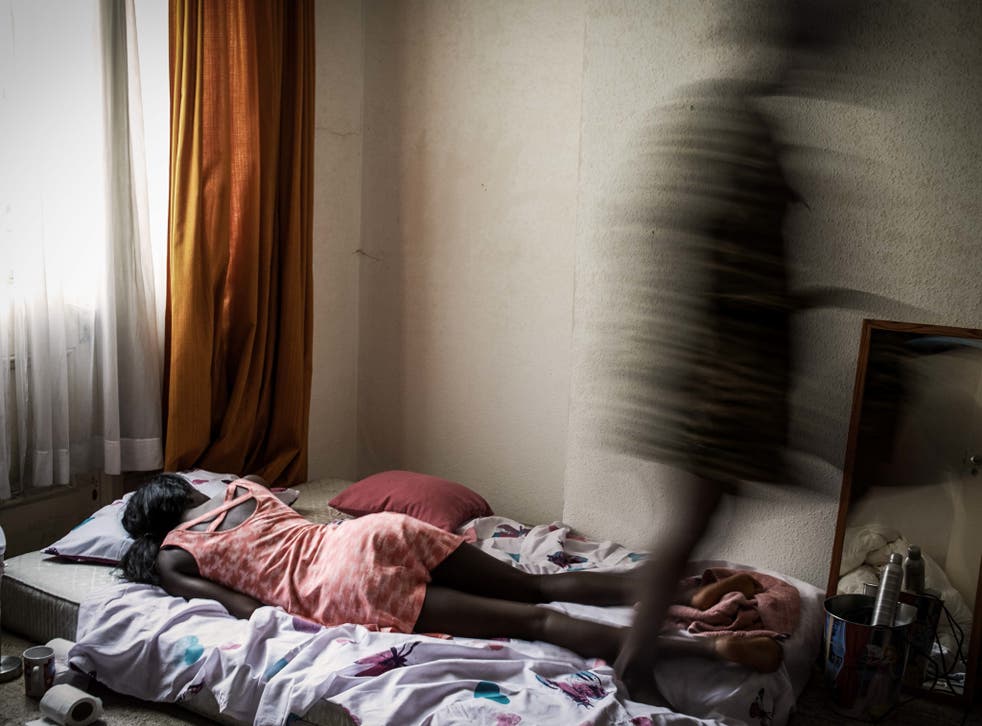 A sex trafficking victim serious health problems was denied a place in a safe house because the accommodation could not comply with coronavirus rules on social distancing, her lawyer has said, raising concerns about vulnerable modern slavery victims being put at risk.
The Zimbabwean woman, who cannot be named to protect her identity, is currently living in shared, mixed-gender asylum accommodation where she has to wash and eat in communal areas, which a clinical psychologist said was leaving her at high risk of being re-trafficked.
After being contacted by The Independent, the Home Office and the Salvation Army have arranged for her to be re-housed in single-sex asylum accommodation.
Modern slavery victims are entitled to safe house accommodation through the National Referral Mechanism (NRM) – the UK's framework for identifying victims – which is run by the Salvation Army under a Home Office contract.
Campaigners have called on the Home Office to urgently establish alternative safe house accommodation for trafficking victims who need it during the coronavirus outbreak, or risk placing this vulnerable group at risk of re-exploitation.
The woman, who has a history of TB and also has serious mental health problems – which led to her attempted suicide three times in the past year, including once as recently as February – had her asylum claim refused at the end of last year, months after she was formally identified as a victim of trafficking in May 2019.
Katy Watts, a solicitor from the Public Law Project who is representing the woman, said she wrote to the Home Office and the Salvation Army on 11 March asking them to urgently move her client to more suitable accommodation.
She said that in response, the Salvation Army said it could not guarantee her safety in a safe house because they could not comply with rules on social distancing, and did not give an alternative option.
When The Independent contacted the Salvation Army, the charity said they raised concerns about the suitability of the accommodation provided by the asylum support service and that the Home Office would now move the woman to single-sex accommodation.
Ms Watts said: "My client needs a lot of support. She is very vulnerable. She's really concerned about her health. She is more vulnerable than most and it would be impossible to self-isolate where she is now."
She welcomed the fact that her client would be moved, but added: "At the moment everyone is really struggling and scrambling around to find suitable provision for lots of different vulnerable groups, but they have a duty to provide support which is tailored to meet the needs to victims of trafficking.
"There is a duty on them to come up with something that is better than just saying sorry there's nothing that we can do. There is a risk that without appropriate support trafficking victims are going to end up being re-exploited."
Victoria Marks, director of ATLEU, a charity supporting the woman, said: "We recognise that many services are struggling to cope with the rapid escalation of the coronavirus crisis, but a person who has left exploitation is at an incredibly low point. They have chosen to trust in others and our government, believing that help will be available.
"That trust cannot be betrayed. To turn someone away, with or without symptoms, with no alternative support in place, is to tell them that they do not matter."
Kate Roberts, UK and Europe manager for Anti-Slavery International, said accepting new victims into safe house accommodation at this time without additional capacity and provisions in place for people to be able to self isolate could be a "recipe for disaster", but called on the government to "urgently" establish alternatives or risk the whole service "falling apart".
"There needs to be clear guidance and a plan for this pandemic to make sure the NRM is able to accommodate new victims safely and ensure people who are already in support are not moved on without somewhere safe to go to. Now is not a time to be moving people around," she said.
"There needs to be some emergency planning – perhaps hotels – and that will need resourcing. The government has shown it is able to put resources into addressing this crisis. They must not forget about the most vulnerable.
"Obviously its really challenging but it is a crisis and really urgent action must be taken to ensure the whole service doesn't fall apart and this group that has been so marginalised in the past does not fall through the gaps."
Director of Anti Trafficking and Modern Slavery for The Salvation Army, Major Kathy Betteridge said: "At The Salvation Army we do all we can to ensure victims of modern slavery and human trafficking have the best support possible.
"We raised concerns about the suitability of the accommodation provided by the National Asylum Support Service for this individual and they have now approved a move to single-sex accommodation. The individual continues to receive regular support from a support worker."
A government spokesperson said: "Modern slavery is an abhorrent crime and we are committed to stamping it out. Victims and survivors may feel even more vulnerable during these unsettling times, but existing advice and support remains available.
"We're in discussions with providers of accommodation and support services so they can assist victims while keeping them safe from the risks of coronavirus."
Register for free to continue reading
Registration is a free and easy way to support our truly independent journalism
By registering, you will also enjoy limited access to Premium articles, exclusive newsletters, commenting, and virtual events with our leading journalists
Already have an account? sign in
Join our new commenting forum
Join thought-provoking conversations, follow other Independent readers and see their replies