Lockdown burnout: Women face mental exhaustion as they juggle childcare, housework and jobs
'I have been sleeping three hours a night for the past month or two. I haven't had the time to do any homeschooling because I have to work,' says mother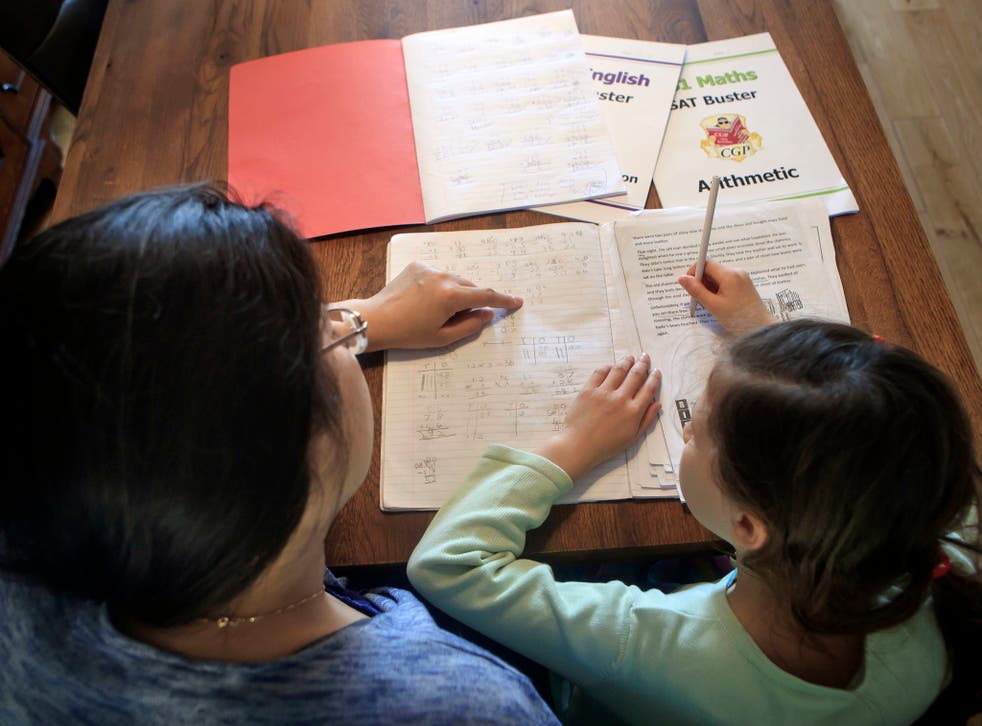 "I sleep on the sofa, as far away from screaming babies as possible," Liz* tells The Independent. "I am certainly more anxious overall. I have been putting on weight. I have lower self-esteem. I am more easily distracted and frustrated. My caffeine intake has tripled and I am rarely motivated to exercise beyond a basic leg stretch despite the change in lockdown rules."
Studies have shown women are bearing the brunt of childcare responsibilities, household chores and homeschooling during lockdown, irrespective of whether they are working or not – with the closure of schools and childcare providers having compounded existing inequalities in how such duties are dished out among some couples.
Liz, who has two children under the age of five, has been struggling to cope during the coronavirus crisis due to having to juggle household chores, homeschooling and working part time as a teacher.
The 36-year-old, whose partner has been furloughed, says she is trying to plan a house move that cannot easily be delayed, as well as coordinating and planning all the shopping, cooking and homeschooling.
"I am suffering from mental exhaustion and burnout," she says. "I am usually very sociable but do not feel inclined to socialise on video calls at the end of the day. This feeling of juggling everything with limited social contact can feel isolating. It does not always feel appropriate to air dirty laundry, so to speak, when many others are struggling too, so sometimes there is a tendency to only share these feelings with my partner."
A recent study carried out by Boston Consulting Group found mothers in the UK are having to do an additional 31 hours' housework each week than they did before the Covid-19 lockdown – and an average of 12 more hours of household chores than fathers.
Alisha*, who lives in London with her three-year-old daughter, tells The Independent that the public health emergency has increased the burden of domestic work she does at home by "100 times".
"I have been sleeping three hours a night for the past month or two," the 29-year-old, who is a single parent, says. "It's just the stress of everything going on. Work is full-on. The routine I've had with my daughter has gone out of the window. Being locked up in the house all day with a toddler for almost three months is difficult. The nursery she was at closed. I haven't had the time to do any homeschooling because I have to work. I am contracted for 35 hours a week but I do about 40 hours a week and when I first got into lockdown I worked from 7am to 7pm."
Alisha, who works in health communications, says she was initially fearful her daughter would fall behind her classmates due to having no homeschooling. She says it is fortunate she has been allowed to work from home by her employers – explaining she would have been forced to quit her job unless her boss had allowed her to take her toddler into work with her.
"You can see everyone on social media doing homeschooling," Alisha adds. "These perfect parents whose toddlers are writing their names and reading the alphabet backwards. The crisis has made me feel more anxious. At the beginning, I felt very lonely and isolated. Potty training in lockdown was manic. At the beginning, nappies sold out and because I was still working up until lockdown I did not bulk-buy. By the time I got to shop everything was gone. So I thought I might as well potty train her. I'm feeling the working mum guilt much more in lockdown. When I'm at home, I'm now working. Before, when I was at home, I was spending more time with her."
Professor Barbara Petrongolo, an economist, was involved in a recent report by London School of Economics, which found women are more likely to deal with homeschooling, childcare and chores around the house, even if they are balancing this with work.
"Even before the crisis women were doing more than men," she says. "It was very unequal. But in the crisis, there is no component of domestic work that can be outsourced. There is no childcare, cleaning or schools open in lockdown. Sometimes, when parents are specialised in two different activities and there is more domestic work that falls on the household, the parent who has the habit of doing that does more of it. I am sure a lot of life satisfaction is going down for mothers and fathers – even if you enjoy doing childcare, doing 12 hours a day is a lot. It has changed people's experiences of home labour as domestic work and your own work are all under the same roof."
Dana Denis-Smith, who runs a business that has 2,000 lawyers on its platform, says she is taking on the bulk of household chores and homeschooling in lockdown while also working full time and running a campaign.
"The only way is to start really early – 5am," the 44-year-old, who has a nine-year-old child, says. "It's more a mental overload. It is like having multiple full-time jobs all at the same time. I'm used to working from home. But it is an increased workload. You can find a way to just about balance it. It is at least 100 per cent more than I was doing before. It is a constant challenge not to allow the burnout to settle in. I can see why exercise classes online would be helpful but I can't bear any more Zooming and people's over-communicating feels like overcompensating for other restrictions on life."
Dr Elizabeth Hannon, who is deputy editor of The British Journal for the Philosophy of Science, points to the fact that the number of articles being put forward by women plummeted radically during the lockdown but noted the same has not been true for men.
"Negligible number of submissions to the journal from women in the last month," Dr Hannon tweeted in April. "Never seen anything like it."
Her tweet sparked a flood of remarks from exasperated female academics admitting they were struggling to juggle childcare with keeping on top of their workload during lockdown.
Sam Smethers, chief executive of the Fawcett Society, says: "Mothers of young children are feeling the pressure of doing the lion's share of unpaid care work and homeschooling while also trying to do their paid work as well. The majority say they are struggling to make ends meet and face increased debt as a result of the pandemic. A significant increase in child benefit would go a long way to help ease the financial pressures on parents."
Joe Levenson, of the Young Women's Trust, says: "Before this crisis began, young women were already contributing at least £140bn a year to the UK economy in unpaid work. There is no doubt this figure will have skyrocketed as thousands juggle work alongside homeschooling and caring for others."
* Liz and Alisha's names have been changed as they did not want their real names to be used
Register for free to continue reading
Registration is a free and easy way to support our truly independent journalism
By registering, you will also enjoy limited access to Premium articles, exclusive newsletters, commenting, and virtual events with our leading journalists
Already have an account? sign in
Register for free to continue reading
Registration is a free and easy way to support our truly independent journalism
By registering, you will also enjoy limited access to Premium articles, exclusive newsletters, commenting, and virtual events with our leading journalists
Already have an account? sign in
Join our new commenting forum
Join thought-provoking conversations, follow other Independent readers and see their replies