Coronavirus: Should Liverpool's match against Atletico Madrid ever have gone ahead?
As Europe warned the UK about the toll of Covid-19, a Champions League match on Merseyside was allowed to go ahead on government advice. Now, writes Mark Critchley, there are fears this gathering of more than 50,000 fans could prove to have been a costly error
Wednesday 15 April 2020 16:56 BST
Comments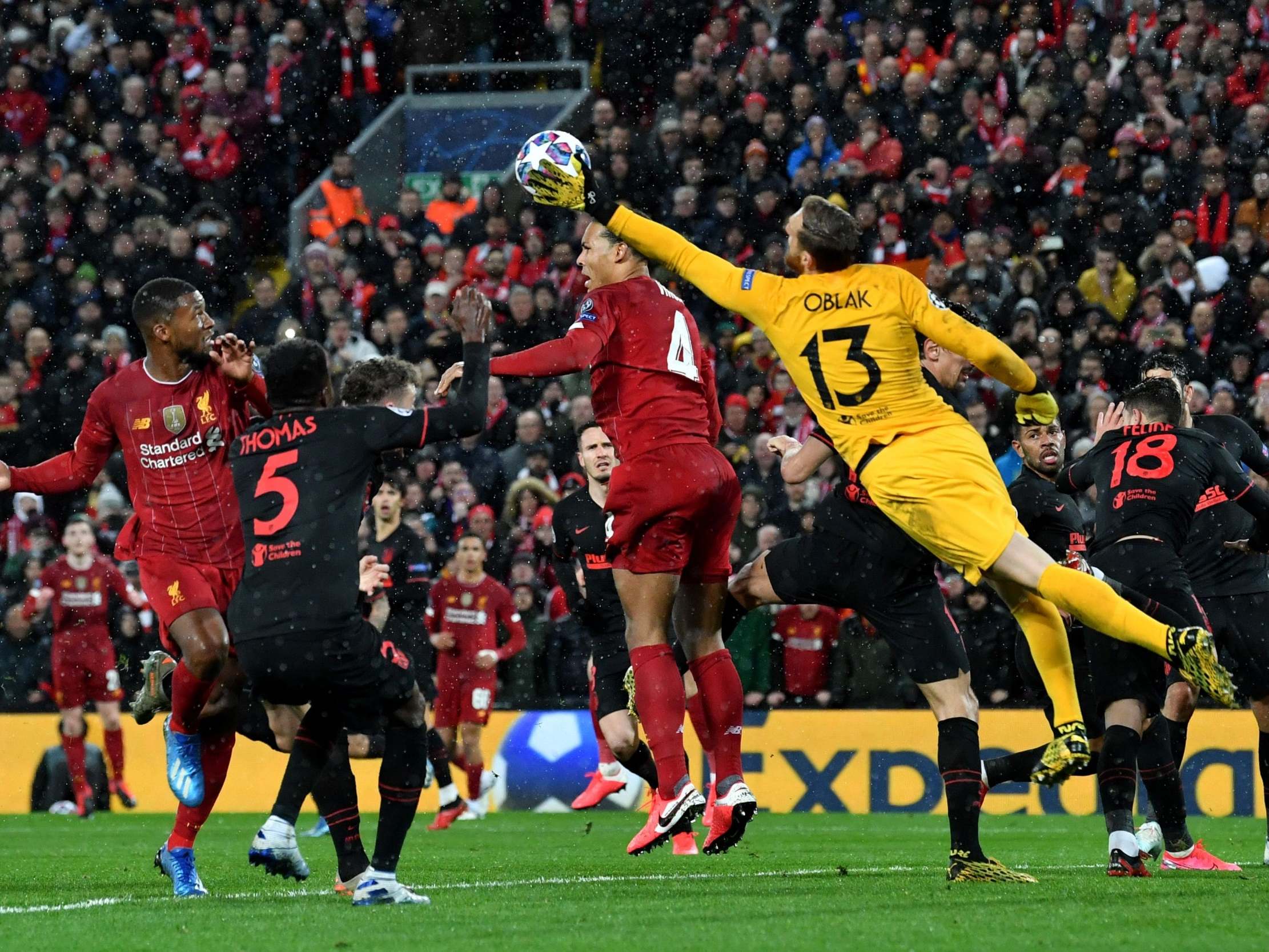 Little more than a month ago, coronavirus was beginning to grip Britain. There were almost 600 cases, UK deaths were being counted and doctors in northern Italy were warning of the nightmare to come. But at Anfield on 11 March, more than 52,000 people made their way to Anfield to watch Liverpool's elimination from the Champions League at the hands of Atletico Madrid, sitting shoulder to shoulder in the stands.
The crowd that night included 3,000 away supporters who had largely travelled from Madrid, despite the match coming a day after gatherings of more than 1,000 people had been banned in Spain.
At that stage – before keeping two metres from the next person became a way of life – the UK government's policy was that shutting down mass gatherings like the match at Anfield or the Cheltenham Festival, held the same week, would have only a minimal effect on limiting the spread of the coronavirus.
Even in the days that followed, once the Premier League and Football League took matters into their own hands and suspended fixtures, chief scientific adviser Sir Patrick Vallance told journalists at No 10's daily press briefing that banning mass gatherings was not a priority.
It took until the following Monday – 16 March, five days after the game at Anfield and the World Health Organisation's declaration that humanity was in the grip of a pandemic – for Boris Johnson to finally advise against large-scale events. There were 12 confirmed cases of coronavirus on Merseyside at the time. Now, there are nearly 3,000, with 448 deaths recorded in the region's hospitals.
In light of those numbers and the growing nationwide death toll, it is only natural to ask whether the match at Anfield that night – the last match to be held in Britain with such a high attendance – should have gone ahead at all.
For Ian Byrne, the Labour MP for West Derby, there's no need for hindsight to see the incorrect decision was made – he says the warning signs were there all along. Byrne is a lifelong Liverpool supporter who would have attended the match if he had not been working in parliament. Instead, he gave his ticket to his son and – alongside fellow Merseyside MPs Dan Carden and Maria Eagle – worked to raise the issue with health secretary Matt Hancock in the House of Commons.
"It was a massive, massive concern," Byrne says, finding the presence of fans from an emerging coronavirus hotspot particularly baffling. At the time, 782 of Spain's 1,646 cases were contained in the capital. "If we were playing in Madrid, they wouldn't be able to attend. Suddenly they can all get on planes, come here without any hindrance, attend the game in the city and act like you would act, doing what you want to do and enjoying the event."
There is a sense warnings from elsewhere were not heeded either. Three weeks earlier, a Champions League game between Atalanta – a team from Bergamo, the epicentre of Italy's crisis – and Valencia was played in Milan. The match has been described by Bergamo's mayor as a "biological bomb" which accelerated the spread of the virus in Lombardy. "It was out there, the evidence was out there but it wasn't getting listened to. We weren't listened to," says Byrne. "I just found it utterly infuriating."
On the evening of the game, Hancock responded to questions in the Commons by claiming that it was too easy to draw a link between crowds and contagion. "Sometimes the things that we, as lay people, may feel intuitively will have the biggest impact do not in fact have the biggest impact," he said. "There are some things that feel right but do not have an impact at all."
But Sridhar Venkatapuram, of the Global Health Institute at King's College London, can only politely describe the relaxed attitude towards mass gatherings during the early days of the crisis as "very interesting", with a clear note of scepticism. "If we care about individuals going out of their house, then 50,000 people coming together should worry us even more," he says. "Concerts, sports matches, political rallies, pilgrimages: all these kinds of things intensify the frequency at which people will come into contact with each other and the rate at which the virus is infecting other people.
"If there are 54,000 fans at a football stadium, I cannot tell you exactly where the greatest infections happen. I would be able to tell you that if you put two people together, it's more likely the second person is going to be infected as opposed to one person being on their own. If one person is infected and surrounded by 10 people, it's more likely that more than one other person is going to be infected."
And of course, football matches not only mean tens of thousands of fans shouting and cheering in close proximity to each other. They also involve them eating, drinking and socialising together in public spaces, then travelling together on public transport. "There's nothing better than going to a European away game," Byrne says. "Obviously the Spanish fans would have taken full advantage of the hospitality that Liverpool would have given them."
Venkatapuram believes that, by 11 March, the unnecessary risk of holding large events should have been clear. "Seeing a variety of patterns, seeing France, Italy and all these countries taking drastic steps, the UK should have been much more concerned about the health and wellbeing of its citizens and should have started to work on the big issues: should international travel be stopped? Should large gatherings of 50,000 people be stopped?"
Those are questions that Byrne hopes will be answered by a future inquiry into the handling of the coronavirus crisis. "Hopefully once we all get through this and we can have a look at how it was handled and how we learn from it," he says. And if evidence emerges that events of 11 March contributed to Merseyside's developing crisis, he wants the Anfield decision to be revisited. "That should be an absolute key part of any report."
Join our commenting forum
Join thought-provoking conversations, follow other Independent readers and see their replies