Coronavirus: NHS to gain thousands of additional staff and beds in historic deal with private hospitals
'We're dealing with an unprecedented global health threat and are taking immediate and exceptional action to gear up,' NHS chief says
Private sector hospitals will partner with NHS England in a first-of-its-kind deal to provide thousands more beds, extra ventilators and additional staff as the health service attempts to fight against the spread of the Covid-19 coronavirus in this country.
Announced by the NHS, the plan is expected to help the nationalised service deliver urgent operations and cancer treatments while also treating those infected with the virus, which has so far claimed the lives of more than 170 people and infected over 4,000.
The deal includes the provision of 8,000 hospital beds across England, nearly 1,200 more ventilators, more than 10,000 nurses, over 700 doctors and over 8,000 other clinical staff.
In London, the worst afflicted region in the UK, it includes over 2,000 hospital beds, and over 250 operating theatres and critical beds.
NHS chief executive Sir Simon Stevens said: "We're dealing with an unprecedented global health threat and are taking immediate and exceptional action to gear up.
Before and after photos show impact of coronavirus around the world

Show all 20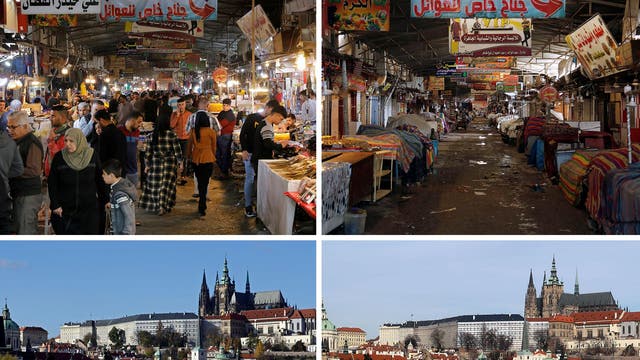 "The NHS is doing everything in its power to expand treatment capacity and is working with partners right across the country to do so."
It comes after repeated warnings the NHS could be overrun by the virus, which has infected more than 270,000 people and led to 11,000 deaths worldwide.
On Thursday night, Northwick Park Hospital in Harrow declared a critical incident after its intensive care unit was overwhelmed by coronavirus patients.
Meanwhile some 65,000 former nurses and doctors are being urged to return to work to tackle an expected influx of future patients infected with the virus.
David Hare, chief executive of the Independent Healthcare Providers Network, added: "We have worked hand-in-hand with the NHS for decades and will do whatever it takes to support the NHS in responding to this pandemic.
"This significant additional capacity across the country will be a major boost to the NHS's efforts to treat those patients that need hospital care over the coming period and the independent sector stands ready to maintain that support for as long as needed."
Join our new commenting forum
Join thought-provoking conversations, follow other Independent readers and see their replies