'We're collateral damage': how the cancellation of 2 million NHS operations ahead of coronavirus peak has left patients feeling forgotten and scared
All routine surgery has been postponed – but those suffering say it will lead to ongoing agony and development of other life-limiting conditions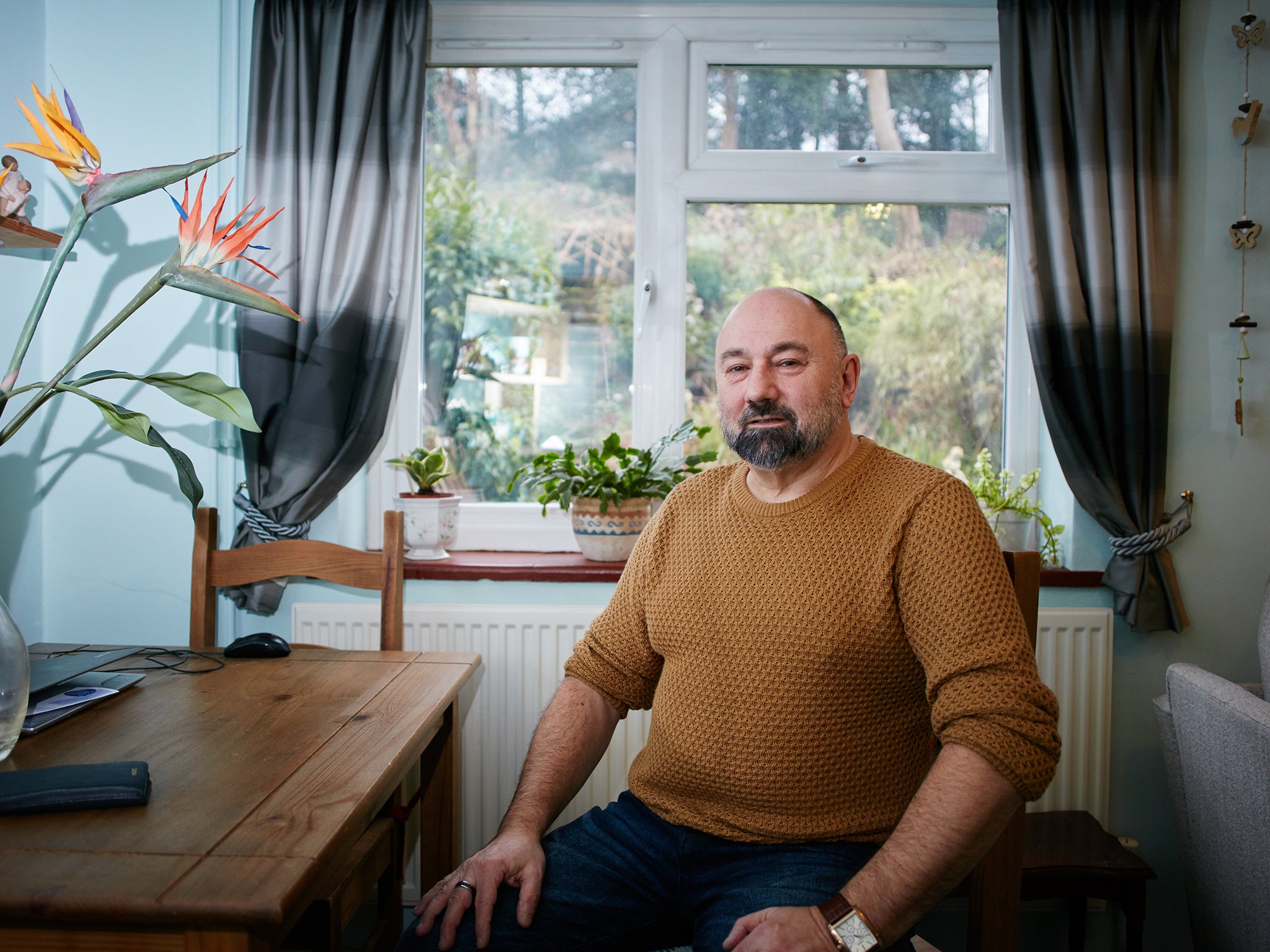 For Rob Martinez, the arthritis in his knees has now grown so painful that some nights he doesn't go to bed. He cannot bare the agony of climbing the stairs; instead he sleeps, cramped on his two-seat sofa.
"It's not ideal," the 63-year-old says. "Two years ago, I was fit and healthy. Now I wake up feeling like an old, broken man."
The growing intensity of the pain – first noticed 18 months ago – has resulted in the former insurance consultant taking early retirement. Simple tasks such as cleaning and shopping have become feats of endurance. Regular visits to the gym have fallen by the wayside. He no longer sees his grandchildren as often as he did.
"They live in Scotland," he says from his own home in Berkshire. "Travelling that far is impossible."
The light at the end of this tunnel was a knee replacement due to take place on Wednesday. "My life was on hold until then," he tells The Independent.
It will, it turns out, have to stay on hold for some time yet.
Rob's surgery is among the estimated 2.1 million so-called routine operations cancelled from 15 April for at least three months as hospitals across the UK move onto a war footing in preparation for the coronavirus peak.
Joint replacements, cataract removals and hernia repairs are all among the elective surgery postponed until, as that most dreaded of phrases goes, "further notice".
This emergency action will, according to NHS England, free up around 12,000 beds for Covid-19 patients.
But there are now growing questions whether the effect of these cancellations – life-altering at best, life-shortening at worst – is being given due weight in the government's considerations.
Ongoing pain, long-term social isolation and the increased likelihood of developing other life-limiting health issues are all among the risks associated with delayed operations. For those whose cataracts are not removed in time, the long-term effect can be loss of sight. Hernia repairs that get put off for too long may result in ruptured intestines.
"Every week that goes by without [my knee replacement]," says Rob, "I'm certain that will mean my life will be shorter in the end – because I'm having to go through this long period where I can't exercise or stay healthy, and also because it puts stress on other parts of my body. I'm now starting to feel pain in my lower back."
To be clear, just like many of those who have had their surgery postponed, he says he accepts the delay is necessary in the face of an unprecedented crisis and understands the pressure on the NHS.
But…?
"This term, 'routine operation', it hides how important this surgery is," he says. "People hear it and think, 'knee replacement? He'll just have to hobble around a bit longer'. But it immobilises you. I'm 63 and I feel trapped ... People keep describing this as a war – well we're the collateral damage."
It is a feeling that Clifford Chipman largely shares.
In December, he was told that a cataract he'd had for some 10 years had grown so large it must be removed. A clinician said he would receive a letter with an operation date. He was still waiting when all operations were cancelled in March.
"So I have no idea when I might possibly get done," the 63-year-old taxi driver of Tamworth says. "There's going to be a huge backlog, isn't there? I keep thinking I could be looking at years."
He sounds worried.
"It's my sight that's at risk," he deadpans. "So, I'm a little alarmed, yes."
The grandfather-of-one says he has noticed some deterioration already since December. "I'm a reasonably carefree chap," he adds. "I don't get too distressed about things but this feels like a race against time, and it doesn't feel like it can be won."
It is not, of course, the first time that such "collateral damage" has been raised in discussions about the government's response to the coronavirus.
Thousands of cancer patients are estimated to have already had procedures cancelled (often because of concerns that repressed immune systems would make them acutely vulnerable), while there are also fears that reduced community midwife appointments could lead to a spike in miscarriages. Just last week, NHS top brass admitted they were alarmed that people suffering heart attack and stroke symptoms appeared to have stopped seeking emergency care – and urged them to do so.
Yet the long-term effect of cancelling these more routine operations – while not immediately fatal – must not be overlooked either, patient support groups are warning.
Significantly, they say, postponements should be mitigated with good communication, consistency across the country and support for charities helping sufferers.
"It's now clear that the impact of coronavirus on routine patient care will be substantial," says Rachel Power, chief executive of the Patients Association. "Communication will be essential: patients will expect an explanation of why the decision was taken, and what it means for their future wellbeing.
"Patients will also want to know that there is a nationally consistent approach, and not hear that their treatment would have gone ahead if they lived elsewhere in the country."
Difficult decisions about what to de-prioritise, she adds, must be taken "with regard for the consequences for patients, and the situation it will have to cope with when the emergency is over".
Other more specific support groups – including Versus Arthritis and Fight For Sight – also release statements to The Independent making similar points: the crisis must be dealt with but those whose operations are cancelled must not be allowed to suffer unduly.
Yet crucially, perhaps, there is also a suggestion that, if handled correctly, there may be an opportunity here too.
The current NHS waiting time target of 18 weeks – itself not met for more than 600,000 people last year – is too long and has left too many people in too much pain, the groups agree. When the pandemic is over, capacity must be ramped up to get through the backlog – and then maintained to bring times right down.
It is a point that Rob, back in Berkshire, is keen to make himself. Before Covid-19, he had already launched an awareness campaign to draw attention to the fact the 18-week timeframe was leaving people suffering.
"No-one could have seen this pandemic coming," he says. "But we could have been better prepared by not having so many people waiting for operations in the first place. If there are lessons learnt from all this, hopefully that will be one."
An NHS spokesperson said: "Dealing with coronavirus is the biggest challenge the NHS has ever faced, and as the chief medical officer warned, there will be an unavoidable knock-on impact for other services, so while the NHS is still open for business for everybody needing urgent care, it is also true that we need to continue to free up capacity to ensure that people in need of critical care can get it."
Join our commenting forum
Join thought-provoking conversations, follow other Independent readers and see their replies