These are the names of the NHS workers who have died in the fight against coronavirus
Number of NHS front line staff dying of coronavirus continues to rise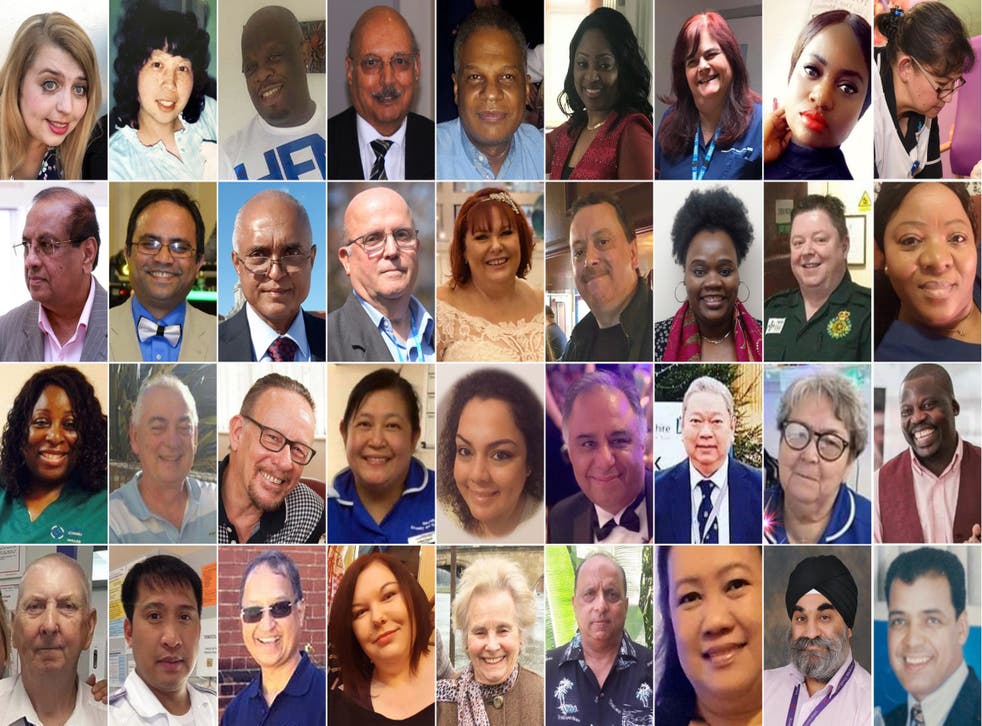 As the coronavirus pandemic continues to wreak havoc throughout the world, more than 100 NHS and care home workers are confirmed to have died after contracting coronavirus while working on the front lines to treat patients.
Health Secretary Matt Hancock has said that 82 health workers and 16 care workers have died from Covid-19. However, this number is expected to be much higher.
These are the names and tributes paid to the NHS workers known to have died of coronavirus.
Anujkumar Kuttikkottu Pavithran
A nurse who had worked with the NHS for nine years, Mr Pavithran died on 27 April. His death was confirmed by the United Lincolnshire Hospitals NHS Trust.
In a statement, trust chief executive Andrew Morgan said he was deeply saddened to share news of his colleague's death.
The statement added: "Anujkumar Kuttikkottu Pavithran, known as Kumar to his colleagues, was a staff nurse at Pilgrim Hospital, Boston. He was a very well-liked, professional, respected member of the team and will be greatly missed.
"We are all sending our heartfelt condolences to Kumar's family, friends and colleagues at this incredibly difficult time."
Janice Glassey
Ms Glassey, 66, was a "much-loved" healthcare assistant who worked in the out-of-hours district nursing service for Bridgewater Community Healthcare NHS Foundation Trust in Halton, Cheshire
She died on 24 April.
Chief executive of the trust Colin Scales said: "I am extremely saddened to confirm that our colleague Janice Glassey tragically passed away on April 24 after testing positive for coronavirus.
"Janice was 66 and was a healthcare assistant in our out-of-hours district nursing service, where she had worked for 14 years, providing care and compassion to many Halton patients and families.
"She was a much-loved and valued colleague and friend. On behalf of everyone at Bridgewater, I would like to offer our sincere condolences to Janice's family, friends and loved ones at this most difficult time."
Fiona Anderson
A "devoted" community nurse who died on Sunday after testing positive for coronavirus, Ms Anderson has been described fondly as "a little bag of crazy" by her sister.
Sarah Anderson told ITV News her sister was admitted to hospital on the same day as their father. She said: "Dad improved; Fiona didn't."
Ms Anderson, 48, loved her three Chihuahuas, was "scarily intelligent" and a big fan of Brussels sprouts and mushy peas.
South Tyneside and Sunderland NHS Foundation Trust (STSFT) announced Ms Anderson's death on Tuesday "with immense sadness and a very heavy heart".
Andy Costa
Mr Costa was one of the longest-serving members of staff at a mental health centre in London. He died on 9 April after contracting coronavirus.
He devoted 26 years to the NHS, most recently working as a ward administrator at Highgate Mental Health Centre in north London.
A spokeswoman for the trust said: "Andy was a highly respected, conscientious and long-serving colleague who had worked at Highgate Mental Health Centre since it opened 15 years ago."
Eileen Landers
Ms Landers was a hospital cleaner with a "heart of gold". She died after contracting Covid-19 on April 26 at Queen's Hospital in Burton-upon-Trent, where she had worked for the past 16 years.
Jodon Gait
The 46-year-old had symptoms of Covid-19 before dying at home on April 25. He had been working for just over 12 months in the medical short stay unit at Worcestershire Royal Hospital, where he was described as "a dedicated, passionate, caring colleague".
"Colleagues who worked most closely with him describe Jodon as a dedicated, passionate, caring colleague; a quirky character who always put patients at the centre of everything he did, delivering fantastic quality of care to his patients and who had a great sense of humour who will be massively missed by all of the team," said Matthew Hopkins, the trust's chief executive.
Larni Zuniga
Mr Zuniga received his British citizenship in February after arriving in the UK from the Philippines 12 years ago. He died on 24 April aged 54 at St Thomas' Hospital in central London.
He worked in the Surrey Hills care home in Godalming.
A fundraising page set up by his close friend Arnold Barrientos said: "Larni had absolutely sacrificed a lot for his family. He worked hard and he battled hard times of not seeing his family just to ensure comfortable life for them.
"He influenced a lot of people with his godly counselling and loving, warm personality. He had so many unfulfilled dreams concerning his family due to this early demise but with the little we can give at least would help to alleviate some of their concerns."
Dr Vishna Rasiah
A consultant neonatologist who worked as a "clinical lead" at Birmingham Women's and Children's NHS Foundation Trust, Dr Rasiah died after contracting coronavirus, the trust announced on 24 April.
Dr Rasiah was from Malaysia. His wife Liza said: "We're devastated at losing our beloved Vish. He was such a loving husband and father to our beautiful daughter Katelyn, and much loved son and brother to our family in Malaysia and Trinidad.
"His whole family meant the world to him, and he absolutely doted on Katelyn.
"Vish loved his work; to him it was so much more than a job and his colleagues are part of our family too. He treated every patient and family he cared for as his own; I couldn't have been prouder of him."
Sharon Scanlon
A "dedicated, hard-working" care worker, Ms Scanlon was a member of Powys County Council's adult social care team in Mid Wales for four years. She died of suspected Covid-19 on 23 April.
The 58-year-old was from Brecon, and had two grown-up children and a granddaughter.
Corporate Director for Social Care, Ali Bulman said: "We are devastated to have lost a member of the Powys family. We will always remember Sharon as a dedicated, hard-working member of our team who was proud to support the people she worked with.
"First and foremost, we want to extend our deepest condolences to her family and friends."
Mahadaye Jagroop
Also known as Mary, Ms Jagroop worked as a nurse at Heartlands Hospital in Birmingham, where she died after contracting Covid-19 on 22 April.
"Mary was a respected and loved member of our team and touched the lives of many in her distinguished career as a nurse," said Lisa Stalley-Green, chief nurse at University Hospitals Birmingham NHS Foundation Trust.
Katy and Emma Davis
Katy and Emma were twins who died within days of each other after testing positive for the virus.
Katy worked in child health and was described by her colleagues as "a nurse people would aspire to be like". Her death on 21 April was confirmed by The University of Southampton.
They died at Southampton General Hospital after testing positive for the virus. Both sisters suffered from underlying health conditions and had been unwell for some time before contracting Covid-19.
Melonie Mitchell
A 111 worker, Ms Mitchell's death was confirmed by the London Ambulance Service, where she worked. Chief executive Garrett Emmerson said she "will be greatly missed".
Medhat Atalla
The "hugely popular and respected" Dr Atalla died following treatment for coronavirus at Doncaster Royal Infirmary (DRI), where he worked as a consultant geriatrician, the hospital said.
He moved to Britain from Egypt about 20 years ago and his colleagues said he cared for elderly people on three continents, including across the north of England.
On Monday, hospital staff held a clap for Dr Atalla across three hospital sites in tribute. Dr Tim Noble, Medical Director at Doncaster and Bassetlaw Teaching Hospitals, said: "We are all deeply saddened by the loss of Dr Atalla.
"He was a great colleague and a special person who cared for patients in our Trust and over three continents in a career which spanned four decades.
"As a whole team, we will observe a minute's long round of applause today to show our appreciation for a wonderful colleague who made such a difference to the lives of so many patients," he added.
Angie Cunningham
Angie Cunningham provided "amazing care" as a nurse for 30 years before she died at Borders General Hospital, where she worked, on April 22.
In a joint statement with NHS Borders Trust chief executive Ralph Roberts, Ms Cunningham's family said: "Angie was a much-loved wife, mother, sister, granny and great granny, as well as a friend to many more."
"It is with great sadness that we announce the death of our dear family member and colleague Angie Cunningham on Wednesday from Covid-19 in the Intensive Care Unit at the Borders General Hospital," said the trust.
"Angie was a much-loved wife, mother, sister, granny and great granny, as well as a friend to many more."
Ian Reynolds
The 53-year-old had worked as a paramedic for more than 30 years, and for the last eight had been working as a member of the Selhurst Park pitch-side medical team.
Crystal Palace Football Club paid tribute to him and said he was a "much-loved colleague" and friend.
His colleague Amir Pakravan said: "As a person, he was the best friend you could wish for, always smiling, calm and easy going, and an avid Palace fan. As a colleague, he was extremely professional, reliable, approachable, highly experienced and knowledgeable, and always ready to help.
"He was the complete package and an absolute joy to work with."
Ann Shepherd
80-year-old Ms Shepherd worked at the Moir Medical Centre in Long Eaton, Derbyshire, for 26 years. She died in hospital earlier this week, the Derbyshire Healthcare NHS Foundation Trust said.
She had underlying health conditions before contracting coronavirus.
Ifti Majid, Chief Executive of Derbyshire Healthcare NHS Foundation Trust, said: "Ann was a wonderful colleague, held in very high esteem by all she worked with. She was truly devoted to her work and her patients and was inspirational in her field.
"She was also a phenomenal character, full of colour and sparkle."
Sharon Bamford​
Described as a "warm" and "caring" healthcare assistant, Ms Bamford worked on the haematology/oncology ward at Singleton Hospital in Swansea.
Her death on April 21 follows that of her husband Malcolm, who also died after contracting Covid-19. Their son, Christian, was admitted to hospital with the virus but has since been discharged.
Jan Worthing, director of Singleton Hospital, said: "Sharon was highly thought of by all the patients who have used the services and loved by her colleagues and friends within the team.
"Sharon's sad death will leave a massive void within the team and within the Singleton family.
"Our thoughts and condolences are obviously with their sons Craig and Chris at this devastating time, with the loss of both Sharon and Malcolm. We offer our most sincere condolences to Sharon's family, friends and colleagues at this extremely sad time."
Charlie Goodwin
An ambulance worker for two decades, Mr Goodwin was described as "an enormously respected member" of the first4care ambulance service in Nottinghamshire. He spent 11 days in intensive care with Covid-19 before he died on April 20.
His wife Julie told Nottinghamshire Live: "He went in with breathing difficulties, he could not talk or stand up. The next thing I know he is on a ventilator.
"We could not go to hospital and I could not go with him to hospital and we cannot even go and see him in the chapel of rest. We can only have 15 people at his funeral.
"It has been really hard. It's terrible. But I've got a really good family and good friends. I just want to tell people to stay in and stop being stupid."
Dr Yusuf Patel
Dr Patel, 61, founded the Woodgrange Medical Practice in Newham, east London. He worked there as a GP for over two decades before he died with coronavirus symptoms on April 20.
His colleagues remember him as a "simple, humble and honest man" who was "the life and soul of any party".
The practice said in a notice on its website: "This is a tragic loss to all his family, friends, colleagues and patients. The pain is immeasurable. He has touched and enriched many lives and we miss him dearly."
Grant Maganga
A mental health nurse who most recently worked at Hurst Place in Ashton-under-Lyne, Manchester, Mr Maganga died on 20 April at Tameside hospital. He worked for the NHS for 11 years, most recently in a rehabilitation unit for men with severe mental llness and complex needs.
"Grant was an exceptional nurse who cared deeply for his patients and lit up the room with his infectious smile and positive personality," said Clare Parker, director of nursing at Pennine Care NHS Foundation Trust, which runs Mr Maganga's unit.
The trust held a minute's silence for Mr Maganga on Tuesday and thanked those who joined them on Facebook.
Kirsty Jones
Ms Jones was a healthcare support worker and a loving mother-of-two. She died on 27 April after working for 24 years with NHS Lanarkshire, where she was described as a "selfless and bright" employee.
Her husband, Nigel, said: "She was a wonderful wife, mother, daughter, sister, friend and nurse... A void has opened in our hearts that will never be filled."
Sadeq Elhowsh
A 58-year-old father of four, Mr Elhowsh worked for St Helens and Knowsley Teaching Hospitals NHS Trust in Merseyside for 17 years.
His nephew Raeif, 32, said he was "truly a great friend and "an intelligent, kind-hearted, determined, cheerful and highly accomplished man".
Mr Elhowsh's family said in a statement to the trust: "Sadeq was a wonderful husband, as well as a devoted father, and he dearly loved his family. We cannot put into words the depth of our loss.
"He loved his work and was dedicated to supporting his patients and his colleagues. As a family we are extremely appreciative for all the kind words and messages we have received. We would like to take this time to grieve in private."
Sophie Fagan and Michael Allieu
Homerton University Hospital NHS Trust confirmed the deaths of two NHS workers who worked in Homerton Hospital, Hackney, over the weekend 18-19 April. Michael Allieu, 53, had worked in the acute care unit since 2007, and Sophie Fagan, 78, was a support worker who "refused to retire".
Chief executive Tracey Fletcher said Fagan, who migrated to the UK from India in 1961, was an "extraordinary woman" who "wanted to make a difference".
"Given her energy, enthusiasm and the face that she was seemingly ever present on the site, it is hard to believe she qualified as an enrolled nurse at the Eastern Hospital, Hackney, in 1966.
Michael was described as a "vibrant, larger-than-life character". Ms Fletcher added: "He will be greatly missed by all his colleagues both in the ACU and the wider Homerton Hospital community."
Craig Wakeham
Dr Wakeham was a GP. He died after testing positive for Covid-19 and spending several days in Dorset County Hospital.
Cerne Abbas Surgery, where he worked for 30 years, said in a message to patients: "He was a leading light in both the Clinical Commissioning Group and Local Medical Committee, as well as a devoted husband and father to his two boys.
"His legacy lives on in our patients who he cared for diligently, and in the good name he built for our surgery."
Ate Wilma Banaag
A nurse at Watford General Hospital for nearly 20 years, Ate Wilma Banaag arrived in the UK in January 2001 from the Philippines.
According to a fundraiser set up in her memory, she was working in a Covid-19 ward when she became infected with the virus.
The fundraiser said: "She is a much-valued staff nurse of the ward, a very caring, compassionate, soft-spoken and hardworking nurse. She is a devoted mother of three and a loving wife to Kuya Jun. Everything that is raised in this fund will hep with the cost of her cremation service and financial support to her family."
Ade Dickson
Ade Dickson was a mental health nurse and had been working in the Barnet Crisis Resolution and Home Treatment Team at the time of his death.
His death was announced by the Barnet, Enfield and Haringey Mental Health Trust, which said: "Ade was a highly respected colleague who will be deeply missed by his family, friends, Trust staff and patients."
Gerallt Davies
Gerallt Davies was an emergency consultant from Swansea and worked for the Welsh Ambulance Service for 26 years. He was the first paramedic in Wales to die of coronavirus.
The Welsh Ambulance Service said in a statement after his death on 20 April: "Gerallt's loss will be sorely felt by everyone here at team WAST, and we extend our heartfelt condolences and deepest sympathies to his family."
Manjeet Singh Riyat
An emergency consultant at the Royal Derby Hospital, Manjeet Singh Riyat died on 20 April at the hospital he worked at. He was the first Sikh in the UK to become an A&E consultant when he was appointed in 2003.
He was described by his department as "the father of the current emergency department in Derby" and hailed as an "inspiration" to his colleagues.
Joanne Klenczon
Northampton General Hospital announced the death of the 34-year-old domestic supervisor on 9 April. Joanne Klenczon had worked at the hospital for 10 years, managing the cleaning teams.
Sonia Swart, chief executive of the hospital trust, said: "Joanna touched the lives of so many people at NGH and she will be missed by everyone who knew or worked with her."
Chrissie Emerson
Chrissie Emerson was a healthcare assistant at the Queen Elizabeth Hospital King's Lynn in Norfolk. She died on 20 April after testing positive for Covid-19.
In a joint statement, chief executive Caroline Shaw and chairman Professor Steve Barnett at the hospital said: "The whole family at QEH is deeply saddened at losing Chrissie Emerson, who was such a valued colleague and much-loved wife to Michael and cherished mother and grandmother."
Grace Kungwengwe
A fundraiser set up to help Grace Kungwengwe's family confirmed she died on 19 April of coronavirus at Lewisham hospital, where she worked as front line staff. She leaves behind two sons and grandchildren, it said.
She was described as a "dedicated NHS worker" who worked right up until she tested positive for the virus. She will be "sadly missed by many and proudly remembered".
Josephine Matseke
Also known as Manini or Josephine Peter, Josephine Matseke was a nurse. She died on 18 April at Southport and Formby District General Hospital after testing positive for Covid-19.
She had been working at Southport since February on an agency contract and had been a nurse for two decades. She was married with two children.
Trish Armstrong-Child, chief executive of the trust, said: "Josephine's husband, Thabo, told me she was passionate, hard-working, always putting others before herself. She was 'my heroine', he said. Our thoughts are with Josephine's family at this difficult time and we offer them our sincere condolences."
Rajesh Kalraiya and Mamoona Rana
The North East London Foundation Trust (NELFT) confirmed the death of Rajesh Kalraiya and Mamoona Rana. Dr Kalraiya was a community paediatrician and Dr Rana was a trainee registrar in psychiatry.
They were both described as "highly valued and respected colleagues".
Professor Oliver Shanley, chief executive at the trust, said: "As well as their families, with whom we are working closely, I would like to offer my deepest condolences to their friends and work colleagues. We are ensuring they are supported through this difficult time and I would like to thank colleagues for the commitment, dedication and compassion they have shown."
Margaret Tapley
The 84-year-old auxiliary nurse was determined to carry on working despite the risk posed by coronavirus. She died of the virus 10 days after her last shift on 10 April at the Great Western Hospital in Swindon.
Her grandson, Tom Wood, called her an "inspiration" in his tribute to her, saying she was the reason he became a nurse himself.
"This phenomenal, committed, kind-hearted fighter was my grandmother and I am so hugely proud of her… She took huge pride in her work but was so humble. She embodied the nursing spirit."
Patrick McManus
Patrick McManus was a nurse in Staffordshire and was described as an "exceptional leader" and a "lovable character". His career spanned over 40 years at Staffordshire Royal Infirmary and the County Hospital in Stafford.
Tracy Bullock, UHNM chief executive, said: "We are deeply saddened to confirm that a member of staff has passed away due to Covid-19.
"He was an exceptional leader and too staff and students under his wing. His big Irish personality will be sorely missed by his friends and colleagues at UNHM."
Unnamed paramedic for North West Ambulance Service
The North West Ambulance Service announced on 18 April a colleague had contracted Covid-19 and died the day before. He was "married with children and had worked for the trust for a considerable number of years", said chief executive Daren Mochrie.
Jenelyn Carter
A healthcare assistant at Morrison Hospital, Jenelyn Carter's death was announced by the Swansea Bay University Health Board. The board confirmed she was being treated for coronavirus when she passed.
Mark Madams, Morriston Hospital's nurse director, said: "Jenelyn would go the extra mile for anyone, and was a lovely caring person inside and out, with a heart of gold. We are devastated by her death and offer our sincere condolences to her family and friends."
Khulisani (Khuli) Nkala
Forty-six-year-old Khulisani Nkala had been working as a charge nurse in the forensic services at Leeds and York Partnership NHS Foundation trust. He died on 17 April after testing positive for coronavirus.
Dr Sara Munro, chief executive of Leeds and York Partnership NHS Foundation Trust, said: "Khuli was someone who took his responsibilities as a trainer and professional mentor very seriously, taking many student nurses under his wing and taking the time to nurture the next generation of talent. He won an award from the University of Leeds for his mentoring work for which he should have been very proud."
Vivek Sharma
Vivek Sharma was an occupational therapist and had been working for Medway Community Healthcare where he contracted the virus. He died on 17 April.
James Devine, chief executive of Medway Foundation Trust, said: "Vivek was working at Medway Community Healthcare at the time of his death and I am sure you will join me in sending your condolences to our MCH colleagues who have lost a valued friend."
Linda Clarke
Linda Clarke was a 66-year-old community midwife at Royal Albert Edward Infirmary. She died on 17 April, reported local news outlet Wigan Today.
Silas Nicholls, chief executive at Wrightington, Wigan and Leigh NHS Foundatin Trust, said she died on 17 April. She had worked in the maternity service for 30 years, he said.
Ruben Munoz
A nursing assistant and father of two, Ruben Munoz has worked at Surrey and Sussex NHS Trust for a decade. He died on 17 April.
His family described him as "a good son, a beloved husband and an amazing father". His daughter paid tribute to him on Twitter, saying: "My father is and ever will be amazing. You are my hero, rest well dad.'
— patrice antonette. (@fattrees) April 19, 2020
Michael Wilson, chief executive of the trust, said: "Ruben was a highly respected and talented nurse assistant who showed enormous dedication to caring for his patients every time he walked through our doors.
"He was also a much-loved friend to so many people across our hospital and our team are incredibly saddened by his passing."
Barry England
Barry England tested positive for the virus and died on 16 April after spending four days in hospital, said the East of England Ambulance Service NHS Trust.
He was a leading operations manager in Hemel Hempstead and was described as a "hugely valued friend and colleague".
A statement issued on behalf of Mr England's family said "their hearts are broken at this sudden loss and that Barry was extremely proud to have worked for the ambulance service for over 33 years".
Lourdes Campbell
In a statement on 16 April, the Bolton NHS Foundation Trust confirmed Lourdes Campbell, a healthcare assistant, died in the critical care unit at Royal Bolton Hospital after contracting the virus.
She was remembered as "diligent and compassionate" by her colleagues.
Simon Guest
Simon Guest, a radiographer at Furness General Hospital, died on 15 April. The University Hospitals of Morecambe Bay NHS Foundation Trust confirmed his death and issued a tribute from his wife, Nicky.
Nicky said of her husband: "We are all overwhelmed with grief at the loss of our beloved Simon to Covid-19. Simon was special, a true gentleman and a great role model to all. He was a gentle soul and so very caring with both his patients and NHS colleagues."
Jane Murphy
Aged 73, Jane Murphy first began working at Edinburgh Royal Infirmary 30 years ago as a cleaner before she retrained as a clinical support worker.
According to The Daily Record, she was known as 'Ma Murphy' by her colleagues. She was described as "one of the funniest, straight talking, hardworking support workers" who had worked at the NHS Lothian.
Dr Krishan Arora
Fifty-seven-year-old Dr Arora had been a GP in Croydon, south London, for 27 years. He died on 15 April after testing positive for the virus, and had been self-isolating at home when he developed symptoms.
His death was confirmed by the South West London Clinical Commissioning Group. Colleague Dr Agnelo Fernandes said: "We are all greatly saddened by the death of Dr Krishan Arora. Krish was extremely well-liked and worked tirelessly to care for his patients and improve services for everyone in Croydon."
Gladys Mujajati
Also known as Gladys Nyemba, Gladys Mujajati was a mental health nurse. She had an underlying health condition and died in hospital, said the Derbyshire Healthcare NHS Foundation Trust.
The 46-year-old was described as "precious" by science minister Amanda Solloway, and "much-loved", "warm" and "caring" by her colleagues.
Amrik Bamotra
Known to colleagues as 'Bob', Amrik Bamotra was a radiology support worker at the King George Hospital in Ilford, east London. He is suspected to have died from coronavirus and his death was announced on 15 April.
Local newspaper, the Ilford Recorder, reported that Bamotra is survived by his wife and two children. He was described as "friendly, chat and kind-hearted" and he "treated everyone like his own family".
Andy Treble
Andy Treble was a theatre assistant at the Wrexham Maelor Hospital in North Wales. The 57-year-old died on 15 April after testing positive for the virus.
According to a fundraiser, Treble volunteered to come out of retirement to help the NHS in the coronavirus crisis. He leaves behind a 17-year-old daughter, Emily.
Linnette Cruz
Linnette Cruz was a senior head nurse at the Brynteg dental practice in Sketty. According to NHS Wales, she died on 14 April after being admitted to hospital with Covid-19 in March.
Brynteg practice owner Nik Patel said: "She brought love, light and joy to everyone around her and will be sadly missed by all."
Josiane Zauma Ebonja Ekoli
An agency nurse who lived in Leeds and worked at Harrogate Hospital, Josiane Zauma Ebonja Ekoli was a mother of five. She died on 13 April.
According to Nursing Times, Jill Foster, chief nurse at Harrogate and District, said Ekoli will be "sadly missed by all her friends and colleagues".
Her daughter Naomie told the PA news agency: "It meant everything to be a nurse, she's bee doing it for as long as I remember, more than 30 years."
Dr Peter Tun
An associate specialist in neurorehabilitation at the Royal Berkshire Hospital in Reading for over 21 years, Dr Peter Tun died in the intensive care unit at the hospital on 12 April aged 62.
His son, Michael Tun, paid tribute to his father on Twitter and said he had died because of the lack of PPE. Michael wrote: "Please do everything to protect the doctors and nurses. They go in scared and for their families. They did not get into the profession to die a hero in battle.
"This is why he was a superhero to us. He was scared and still went in to help strangers completely knowing the risk."
— Michael Tun (@MichaelTun1) April 16, 2020
Mary Agyeiwaa Agyapong, a nurse, was pregnant when she died after testing for Covid-19 earlier in the month. Her baby was saved, but her tragic death made headlines as maternity organisations called for more protection for pregnant NHS workers.
She died on 12 April. David Carter, chief executive at Bedfordshire Hospitals NHS Foundation Trust, said: "Mary worked here for five years and was a highly valued and loved member of our team, a fantastic nurse and a great example of what we stand for in this trust."
Cheryl Williams
North Middlesex University Hospital said Cheryl Williams died on 12 April. She was a ward housekeeper on an elderly patient ward at North Middlesex University Hospital in Edmonton, north London.
The trust said in a Facebook post: "Cheryl was a lynchpin of the care, comfort and compassion that our patients and local people value so highly, and her personal contribution to patient care is irreplaceable. Her family, friends and colleagues at North Middlesex University Hospital will miss her more than words can describe."
Maureen Ellington
Maureen Ellington, who was in her early 60s, died on 12 April. She was a healthcare assistant and had worked for the NHS for more than 25 years. She was working at Southmead Hospital in Bristol at the time of her death.
The North Bristol NHS Trust announced her death on 14 April. Her family said: "We are heartbroken to lose the pillar of our family at this time. She was simply amazing. She loved her husband, five children, six grandchildren, wider family, friends and colleagues.
"She was kind-hearted, bubbly, caring and always joyous. She would light up any room she entered. She will always be in our hearts."
Leilani Medel
An agency nurse in South Wales, Leilani Medel was described as a "wonderful and caring person". She migrated to the UK from the Philippines and lived and worked in Bridgend.
Medel's death was reported on 15 April, after she contracted coronavirus. According to the Evening Standard, her husband also tested positive for the virus and is being treated in an intensive care unit.
Amarante Dias
Amarante Dias, a hospital worker at Weston General Hospital, died of coronavirus. The hospital confirmed his death on 13 April, and said he died after testing positive for Covid-19.
Dr William Oldfirled, medical director at the University Hospitals Bristol and Weston NHS Trust, said: "We are deeply saddened at losing Amarante DIas who was such a valued and much-loved colleague."
According to Somerset Live, Mr Dias' funeral is to be streamed live on YouTube on Friday, between 12pm and 4.30pm, to allow people who knew him to view the ceremony online as social distancing measures prevent them from attending in person.
Melujean Ballersteros
A Filipino nurse who had worked for the Imperial College Healthcare NHS Trust for 18 years, Melujean Ballersteros was described as "full of joy", "hardworking" and "kind-hearted". She died just two days after being admitted to St Mary's Hospital in Paddington, London, on 12 April of coronavirus.
A fundraiser set up to help her family said: "She served the NHS with all dedication and was in the frontline during this global pandemic. She had always looked after her patients with great compassion, kindness and care.
"Unfortunately, while in the line of duty, the Covid-19 virus has defeated her and we have lost another good soldier."
Kevin Smith
Doncaster Royal Infirmary confirmed the death of Kevin Smith, a plaster technician, on 12 April. He died following a "brief but courageous battle with Covid-19".
The trust said he worked at the hospital for more than 35 years and was "renowned for his warm personality, diligence and compassion".
Oscar King Jr and Elbert Rico
Both Oscar King Jr and Elbert Rico were Filipino porters at the John Radcliffe Hospital in Oxford. Reports say both were married to members of the nursing team at the hospital.
King, 45, died on 11 April. He was believed to have worked at the hospital for a decade and a fundraiser page set up to sponsor his memorial described him as a "beloved friend, loving husband and devoted father" to his 10-year-old daughter.
According to the fundraiser, his wife has been admitted to hospital with coronavirus symptoms. Her condition is not known.
Rico had worked for the hospital since arriving in the UK in 2004. He was described as "hardworking" and he would "prioritise others' needs first".
His daughter, Carla Rico, raised over £22,000 after she started a donation fund to help her family raise money for funeral and "further expenses".
Gareth Roberts
Gareth Roberts' death was confirmed by Cardiff and Vale University Health Board on 11 April. He was an "extremely popular" nurse who came out of retirement in 2015 having worked since the 1980s.
The board said: "Staff say he was such a king and helpful person and they learned so much from him. He had a lovely way with relatives and always offered the caring personal side, he was very much an 'old school' nurse."
Donna Campbell
The Velindre Cancer Centre in Cardiff confirmed the death of Donna Campbell, a support worker, after she tested positive for Covid-19.
"She was without a doubt a treasured member of our work family who could light up a room with her infectious laugh and bubbly personality, but at the same time she had the most wonderful ability to comfort and care for people," said her colleagues.
"She was often found singing and dancing, entertaining patients and staff, making everyone smile. Donna will always have a special place in our hearts and we will all want to send our heartfelt sympathy and love to her family at this very difficult time."
Sara Dee Trollope
Sara Dee Trollope was a 51-year-old matron for older adult mental health services in Hillingdon, west London. She died at Watford General Hospital on 10 April after testing positive for coronavirus.
Her daughter described her as an "example to every one of us".
Brian Darlington
A porter with Mid Cheshire Hospitals, Brian Darlington died on 10 April, aged 68. He was popular among his colleagues for handing out sweets.
Ava, his wife of 46 years, said: "He was dedicated to the trust and as a family, we are grateful for and appreciative of all the kind words and messages we have seen and received."
Julie Omar
Julie Omar, 52, died at home while self-isolating with coronavirus symptoms on 10 April. She was a trauma and orthopaedics nurse at Redditch's Alexandra Hospital in Worcestershire.
Matthew Hopkins, chief executive of the trust, said in a video on Twitter: "Julie was a dedicated and highly experienced trauma and orthopaedics nurse and very many of you will know her because she worked in both Redditch and Worcester."
Amor Gatinao
Amor Gatinao's death was announced on 14 April, after she was diagnosed with Covid-19. She was a healthcare assessor at the North West London Clinical Commissioning Group, which she joined in 2019.
Her family said: "Our mum was an exceptional nurse, she had such pride in the work she was able to do. We know our mum valued her achievements but this came second to the value she placed on her colleagues and friends. We know the NHS meant more than work for our mum, her person for work was greatly affected by the team that mentored, guided and supported her."
Aimee O' Rourke
The 39-year-old nurse and mother died on 9 April at the Queen Elizabeth The Queen Mother Hospital in Margate, Kent, where she worked.
Dr Abdul Mabud Chowdhury
Dr Abdul Mabud Chowdhury died on 8 April, just five days after he wrote a Facebook post pleading with Prime Minister Boris Johnson to urgently provide every NHS worker with personal protective equipment.
He was a consultant urologist at Homerton Hospital in east London. After his death, his son Intisar Chowdhury told BBC Radio 4's Today programme his father "is not the first and he is unfortunately not going to be the last NHS frontline worker to die".
Dr Edmond Adedeji
The 62-year-old worked as a locus registrar in the emergency department of Great Western Hospital in Swindon. He died on 8 April "doing a job he loved".
Fayez Ayache
A GP and grandfather, 76-year-old Fayez Ayache died in Ipswich Hospital on 8 April. He had been diagnosed with bilateral pneumonia and coronavirus.
Elsie Sazuze
Elsie Sazuza worked for Wolverhampton-based agency, Totallycare. She died on 7 April at Good Hope Hospital in Sutton Coldfield.
According to the BBC, she fell ill at home in Birmingham before being admitted to hospital. Her husband Ken said he thought she would "pull through". A GoFundMe account set up by a close friend of her family raised over £9,000, shooting past its goal of £5,000.
Leilani Dayrit
Another Filipino nurse, Leilani Dayrit worked at St Cross Hospital in Rugby. She died on 7 April of suspected Covid-19.
According to the Leamington Courier, she had worked for the NHS for 16 years.
Donald Suelto
Donald Suelto, 51, worked as a nurse at Hammersmith Hospital in west London. He died on 7 April after going into self-isolation with symptoms of the virus.
Alice Kit Tak Ong
Originally from Hong Kong, Alice Kit Tak Ong died on 7 April after 44 years of working for the NHS.
The 70-year-old nurse was described as "generous to everyone else before herself" by her daughter, Melissa. "She was completely dedicated to her work, that's what she was doing until the moment she was taken ill," Melissa told The Guardian.
Janice Graham
Janice Graham became the first nurse in Scotland to die as a result of the pandemic on 6 April. She was a healthcare support worker from NHS Greater Glasgow and Clyde, and died at Inverclyde Royal Hospital.
Her son, Craig, told STV News: "My mum was there for me no matter what. I will miss everything about her. I am so proud of her and there will not be a day that goes by that I will not think about her."
Syed Haider
A family GP that worked in Dagenham, east London, Syed Haider died in hospital on 6 April after he was believed to have developed coronavirus symptoms.
Barbara Moore
The 54-year-old patient discharge planner and grandmother died on 6 April. The Liverpool University Hospitals NHS Foundation Trust described Barbara Moore as an "unsung hero".
Dr Alfa Saadu
Dr Alfa Saadu had returned to work from retirement. He died on 6 April at the Whittington Hospital in north London, aged 68.
Jitendra Rathod
He was a "highly regarded" associate specialist in cardiothoracic surgery at the University Hospital of Wales. Jitendra Rathod died on 6 April.
Lynsay Coventry
The death of 54-year-old Lynsay Coventry marked the first involving a serving NHS midwife. She tested positive for the virus and died on 5 April at the Princess Alexandra Hospital in Harlow, Essex.
Emily Perugia
Emily Perugia was only 29 at the time of her death. She was a care coordinator in Hillingdon, northwest London, and her death was confirmed on 5 April.
She was described by a colleague as a "lovely woman, who never said no to any requests". Perugia's mother, sister, brother and fiancé all work for the same NHS trust as her.
Glen Corbin
Glen Corbin, a nurse at the Park Royal Centre for Mental Health in Harlesden, northwest London, died on 4 April. He had worked for the Central and North West London NHS Foundation Trust for more than 25 years.
Rebecca Mack
Rebecca Mack was also only 29 years old when she died, after going into self-isolation with symptoms of coronavirus. She was described by her friend, Sarah Bredin-Kemp, as an "incredible nurse".
Liz Glanister
A staff nurse at Aintree University Hospital, Liz Glanister died on 3 April. Her family described their loss as "simply beyond words".
Dr Anton Sebastianpillai
The consultant geriatrician died two weeks after completing his last shift at the Kingston Hospital in southwest London. He had been admitted to the intensive care unit but died four days later on 4 April.
John Alagos
According to a report by the Mail on Sunday, John Alagos was just 27 years old at the time of his death. He treated coronavirus patients at Watford General Hospital. He died after a shift on 3 April.
Areema Nasreen
Thirty-six-year-old Ms Nasreen died on 2 April in an intensive care unit at Walsall Manor Hospital in the West Midlands, where she worked for 16 years.
Professor Mohamed Sami Shousha
Professor Mohamed Sami Shousha worked at UK cancer research laboratories at London's Hammersmith and Charing Cross hospitals since 1978. He died aged 79 on 2 April.
Abdelrahman Shousha, his nephew, said his uncle returned to work to help fight on the front lines of the outbreak. He said: "My uncle was characterised by his humbleness, virtue and his adamancy to hep and serve, whether it be his family, friends, his colleagues or his students."
Thomas Harvey
A healthcare assistant and father of seven, Thomas Harvey worked at Goodmayes Hospital in Ilford, east London. He died at home on 29 March, aged 57.
Dr Amged El-Hawrani
Dr Amged El-Hawrani, 55, was an ear, nose and throat consultant with University Hospitals of Derby and Burton NHS Foundation Trust.
He died at Glenfield Hospital in Leicester on 28 March, the first front line worker to die in the fight against coronavirus. Dr El-Hawrani was described as an "extremely hardworking consultant" and was "well-liked at the trust".
Pooja Sharma
Pooja Sharma died unexpectedly on 26 March "following a short illness". She was a pharmacist at Eastbourne District General Hospital.
A JustGiving page dedicated to Ms Sharma said: "Pooja touched so many of our lives with her bubbly, lively, and friendly nature. Pooja was a caring and compassionate soul who wore her heart on her sleeve and always strived to be the best she could be."
Dr Habib Zaidi
The 76-year-old GP in Leigh-on-Sea died in intensive care at Southend Hospital, Essex, on 25 March.
Dr Adil El Tayar
Dr Adil El Tayar had been working as a locus surgeon. He died aged 63 at West Middlesex University Hospital in Isleworth, west London.
Additional reporting by agencies
Register for free to continue reading
Registration is a free and easy way to support our truly independent journalism
By registering, you will also enjoy limited access to Premium articles, exclusive newsletters, commenting, and virtual events with our leading journalists
Already have an account? sign in
Register for free to continue reading
Registration is a free and easy way to support our truly independent journalism
By registering, you will also enjoy limited access to Premium articles, exclusive newsletters, commenting, and virtual events with our leading journalists
Already have an account? sign in
Join our new commenting forum
Join thought-provoking conversations, follow other Independent readers and see their replies