Coronavirus: Oldham facing full lockdown 'within days' after infection rate doubles in week
Bars, restaurants, leisure centres and libraries could all be shut, as councillor tells residents: 'Act like you've got Covid – be that careful'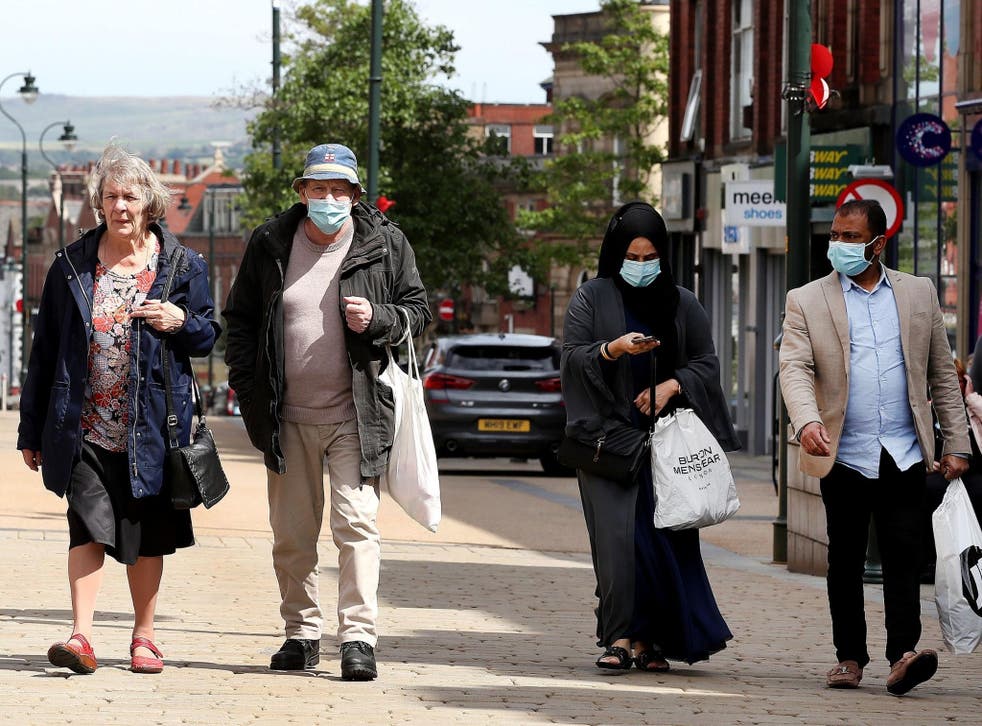 Oldham may be just days away from becoming the first place in England returned to full coronavirus lockdown after Covid-19 cases continued to spiral upwards.
Health officials in the Greater Manchester town have warned they are considering closing bars, restaurants, libraries and leisure centres following a surge in the number of people being diagnosed with the deadly bug.
The dramatic revelation comes as new figures showed the borough's infection rate – which was already the highest in England – had doubled again during the last week, from 137 identified cases to 255.
The new spike means Oldham now has 107.5 cases per 100,000 of population. When Leicester was kept in full local lockdown last month, it had a corresponding rate of 135 cases per 100,000.
Speaking on Tuesday evening, Arooj Shah, Oldham Borough Council's cabinet member for Covid-19 recovery, said: "This is a final plea from us to say that if you don't act now we are looking at a lockdown, and when I say a lockdown I mean within days, not weeks. It's imminent."
Oldham has consistently been highlighted as one of the government's most at-risk areas since the country came out of lockdown last month.
But the new surge is particularly worrying as the town is among a vast swathe of northern England where tightened restrictions – including a ban on different households mixing – were imposed at the end of July in a bid to manage the virus.
The fact that those restrictions have failed to bring the infection under control means that, beyond a full lockdown, authorities now have little room for manoeuvre.
Councillor Shah said: "We will be faced with a situation where if the numbers don't go down we will have to think about closing stuff that we've just reopened, which isn't going to be good for our local business community either.
"People have to take responsibility to reduce this transmission that we're seeing. It's really, really concerning and people need to do the right thing."
And she told residents: "Act like you've got Covid and people around you have got Covid – be that cautious and that careful."
Katrina Stephens, Oldham's director of public health, added that a full lockdown was not "inevitable" but it would happen if the current restrictions were not now adhered to more widely.
Register for free to continue reading
Registration is a free and easy way to support our truly independent journalism
By registering, you will also enjoy limited access to Premium articles, exclusive newsletters, commenting, and virtual events with our leading journalists
Already have an account? sign in
Register for free to continue reading
Registration is a free and easy way to support our truly independent journalism
By registering, you will also enjoy limited access to Premium articles, exclusive newsletters, commenting, and virtual events with our leading journalists
Already have an account? sign in
Join our new commenting forum
Join thought-provoking conversations, follow other Independent readers and see their replies