Coronavirus: Police disperse illegal gatherings on 'party weekend' ahead of 'rule of six' restrictions
Government adviser warns 'party weekend' is not a game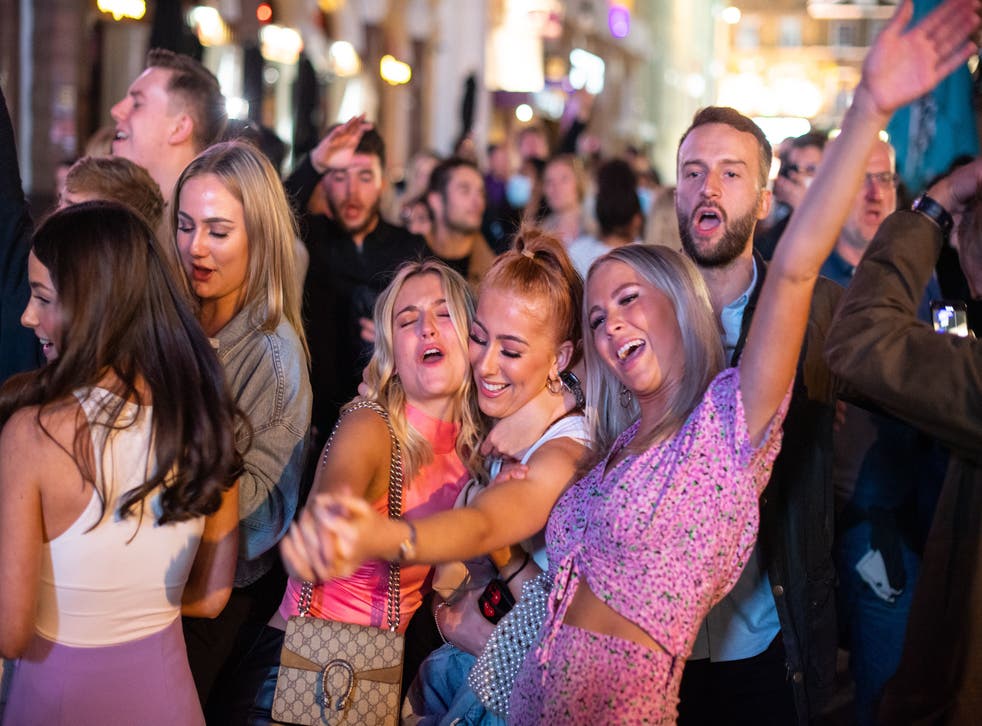 Sunshine and the looming introduction of the "rule of six" coronavirus restrictions have seen large crowds gather in major cities across England as people defied warnings against a "party weekend".
Police dispersed several gatherings on Saturday night ahead of the new rules on Monday, and an academic who advises the government warned "it is not a game".
Illegal parties at homes in Altrincham and Flixton and a large gathering of around 70 people in Mottram were among the events closed down by Greater Manchester Police, with fines issued at each.
The raids came just hours after officers dispersed a 45-guest gathering at a home in Stockport, while an intervention was required at another address in north Manchester that they had been called to on two previous occasions.
In London, people filled the streets outside bars and restaurants and appeared to ignore the government's social-distancing guidelines by hugging and dancing arm in arm.
Earlier in the weekend, a teenager was fined £10,000 after hosting a house party for 50 guests in Nottingham.
Nottinghamshire Police said the 19-year-old man will appear before a court if he contests the fine or fails to pay.
Revellers had been advised against having a "party weekend" by the Police Federation, which represents rank-and-file officers in England and Wales, ahead of the change in rules brought in to respond to soaring Covid-19 infection rates, which are doubling each week.
Experts are also warning the UK would soon be back in a "hard lockdown" if it fails to act fast to stop cases growing out of control.
Peter Openshaw, a professor of experimental medicine at Imperial College London and an adviser to the government on the threat posed by new and emerging respiratory viruses, said a delay of even a few days was potentially "dangerous".
Speaking on Sky's Sophy Ridge on Sunday programme, he said "this isn't a game" and no one should be partying hard ahead of Monday, when it will be illegal for people in England to meet in groups of more than six, inside or outside.
"Everyone is in agreement that we really need to act very quickly now in order to prevent this from growing exponentially," Prof Openshaw said.
"I think that the main point is that we must act fast because it's so much harder to get this sort of thing under control if you delay.
"Even a few days is potentially going to be quite dangerous now at this particular moment."
Tough new Covid-19 lockdown measures were announced for parts of the UK on Friday as cases continued to rise and as the R number – the reproduction number of coronavirus transmission – climbed above one.
The last time R was above one was in early March, according to government advisers.
Additional reporting by agencies
Register for free to continue reading
Registration is a free and easy way to support our truly independent journalism
By registering, you will also enjoy limited access to Premium articles, exclusive newsletters, commenting, and virtual events with our leading journalists
Already have an account? sign in
Register for free to continue reading
Registration is a free and easy way to support our truly independent journalism
By registering, you will also enjoy limited access to Premium articles, exclusive newsletters, commenting, and virtual events with our leading journalists
Already have an account? sign in
Join our new commenting forum
Join thought-provoking conversations, follow other Independent readers and see their replies