'A lot of boyfriends': Blitz generation offer insights on how they got through national crisis more devastating than coronavirus
Three women who lived through horror of Second World War tell The Independent that new challenge must be met with resolve, duty – and laughter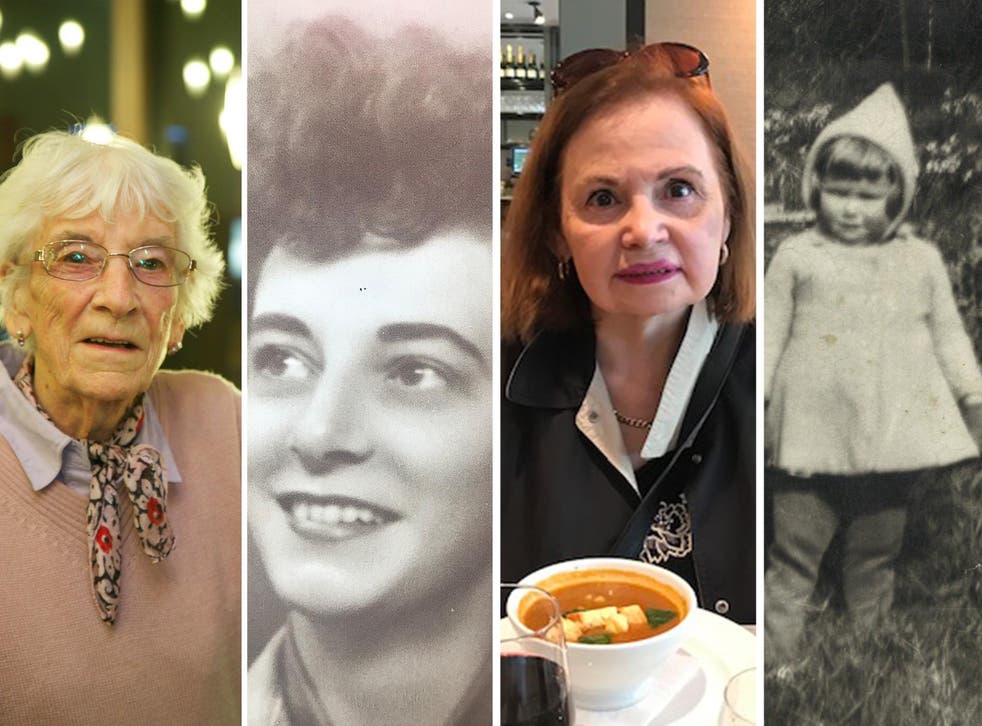 When asked how she kept her spirits up during the Second World War, Barbara Hurman, 94, has an unexpectedly candid answer.
"Well," she says, "we had a lot of boyfriends."
In Portsmouth, where she worked as an army teleprinter operator, regular dances were held for troops preparing to be sent to the continent. "They were serious times but at night, you tried to enjoy yourself."
Perhaps down the phone, the great-grandmother-of-four reads my sullied 21st century mind. "There was no hanky panky," she says sternly. "We were too green for all that. And the men even greener."
In this age of coronavirus, the Second World War is being spoken about much of late.
Not since that conflict, the UN said on Wednesday, has the planet faced a crisis of such magnitude as the current pandemic. "Covid-19 is the greatest test … since the formation of the United Nations," said secretary-general Antonio Guterres. "The disease is attacking societies at their core, claiming lives and people's livelihoods."
In the UK, four words have become horribly common: "unprecedented in peace time." When Boris Johnson announced he was closing all pubs and restaurants on 20 March, even they did not suffice. You could still get a pint during both world wars, commentators pointed out.
All of which perhaps raises two intriguing question. How do the remaining Blitz generation – whose courage in crisis has long been considered a gold standard of national resilience – think all this compares? And what can the rest of us learn from their example about keeping calm and carrying on when life suddenly appears to be on an existential precipice?
"The most important thing is standing together," 82-year-old Patricia Thompson tells The Independent. "We were fighting an enemy trying to destroy us back then, and we're fighting an enemy trying to destroy us now – and you can only do that if you're united."
One difference between then and today, she reckons, was that people in the war knew who was trying to kill them: "it was the Germans," she offers bluntly. "Now anyone of us could be walking around with this disease."
UK news in pictures

Show all 50
She herself was just two years old in 1939. But, if being young appears to provide some protection from Covid-19, it offered no such immunity from the horrors of war.
One of the retired writer's earliest memories was of playing in a bomb crater with a pal near her home in Brockley, London. "It was quite normal," she says. "We'd never known streets without bomb craters."
The next day she went to call on that same pal for school. "But she'd been killed over night, struck in an air raid, you know, visiting her aunty or something. That's how it was. She wasn't there anymore so I walked to school by myself."
I ask her pal's name. "I can't remember," she says after a moment. "I was only four and so was she. There were so many people dying."
Patricia, who now lives in Ealing, was evacuated around 1943, where she lived with a couple in a mining village. "I don't know exactly where," she says. "I never found out. You weren't told. You were put on a train and all the signs had been taken down at every station in case of invasion."
She has read people saying the current pandemic is especially hard because it is keeping people from seeing loved ones. "I didn't see my family for 18 months after that," she says. "They weren't on the end of a telephone. I couldn't email them."
How does one cope under such strain? "One has to," she says matter-of-factly.
Such a sense of agency is now needed, she suggests, during this new national emergency. Like with the Second World War, she reckons, there are two arenas of conflict: the battlefields and the home front.
In this analogy, the doctors and nurses in our hospitals, along with scientists working on tests and vaccines, are fighting the disease head on. The rest of us must do our bit by staying at home. Washing our hands, I suggest, becomes a sort of equivalent to putting up blackout curtains. Yes, she says, "it's making it harder for the enemy".
From her own self-isolation in Widemouth Bay, Cornwall, Jean Corne agrees with much of this – although the 88-year-old admits staying at home is something of a bind.
"I'm doing a jigsaw puzzle," the grandmother-of-six tells me. "I haven't done one since I was a little girl but I'm enjoying it."
It is this lack of human contact, she says, which makes the pandemic uniquely difficult.
In the war – which started when she was seven – there were, of course, moments of unadulterated terror. "We had a big kitchen table and we would go under there [when the air raid sirens went off]," she says. "You could hear the bombs falling at Plymouth. It made me need the toilet. I always needed a wee as soon as I got under."
But there was also much socialising to lift spirits. "My father had a dartboard in the dining room and the neighbour used to come and play, and his wife and daughter would come too, and we'd all sit together sewing and chatting," she says. "There was a war on but we found ways to laugh. I felt very blessed to be there."
As a now retired headteacher, she says she is concerned about children's education during the coronavirus lockdown.
Schools, she points out, largely continued during the Second World War, although not without some changes. The tennis courts at her own place of learning near the town of Wadebridge were, she recalls, turned into an evacuation administration centre for incoming children. "Which is my excuse for never being any good at tennis," she laughs.
Now, she reckons, the government must prioritise finding a way to safely reopen schools as soon as possible. It is not only important for children but also for providing the rest of us with a sense of normality.
"I was saying the other day," she says as we begin to wind up the conversation. "My generation began our life with the Second World War and we're ending it with this virus."
It doesn't seem fair, I say. She thinks about this. "But there have been so many wonderful times," she replies.
Besides which, she insists, she herself is not going anywhere until she has met her first great grandchild. Is one expected, then? No, she says, so she'll be sticking around for a while yet.
Barbara Hurman – she of the boyfriends – is also determined to see the UK free from coronavirus.
"I'm a volunteer [at the Buckinghamshire County Museum]," she tells me. "So I need to keep fit and healthy so I can get back to that."
She has stopped watching too much news since she went into isolation with son Andrew – himself 74 – because she got fed up with hearing about stockpiling ("stupid and selfish") and also with people blaming the government for things going wrong ("we need to pull together").
As a teleprinter operator during the latter years of the war, she was herself key to helping the Allies emerge victorious. If she and the teams she worked with at the famed Fort Southwick were to fail, they were repeatedly told, it would allow the Nazis to take the upper hand. The freedom of millions of people depended on these young women, many of them, like Barbara, still teenagers.
A bit stressful, I suggest. "Well, we didn't have time for that," she says dismissively from home in Aylesbury. "We didn't have time to examine how we felt. You got on with it because you had to and because, if you didn't, the consequences were dreadful."
If, similarly, the predicted consequences of not getting to grips with Covid-19 are pretty dreadful, Barbara is, nonetheless, not convinced today deserves comparison with 1939-45. "This is an emergency but it's entirely different situation," she says.
She recalls one night – in what was the build-up to D-Day – heading up onto the hills above Portsmouth to look out at all the sudden activity at sea: hundreds of boats all heading out from port.
"All those men on board," she says. "And so many of them who would never come back."
The current emergency, she says, is devastating – "but young men are not being sent off to die".
It seems a pertinent and solid concluding point amid this new age of uncertainty. Our parents, grandparents and great grandparents faced far darker, far more uncertain times – and came out the other side to build a better world.
* Interviews coordinated with the Royal British Legion, which is using its networks to ensure help and care is available during the coronavirus pandemic.
Register for free to continue reading
Registration is a free and easy way to support our truly independent journalism
By registering, you will also enjoy limited access to Premium articles, exclusive newsletters, commenting, and virtual events with our leading journalists
Already have an account? sign in
Register for free to continue reading
Registration is a free and easy way to support our truly independent journalism
By registering, you will also enjoy limited access to Premium articles, exclusive newsletters, commenting, and virtual events with our leading journalists
Already have an account? sign in
Join our new commenting forum
Join thought-provoking conversations, follow other Independent readers and see their replies