'I'm unable to breathe I'm so stressed': Single parents warn support bubbles fail to address financial dilemmas
Single parents tell The Independent plans overlook fact majority of single parents rely on formal childcare and do not necessarily have support network 
Maya Oppenheim
Women's Correspondent
Saturday 13 June 2020 09:34 Comments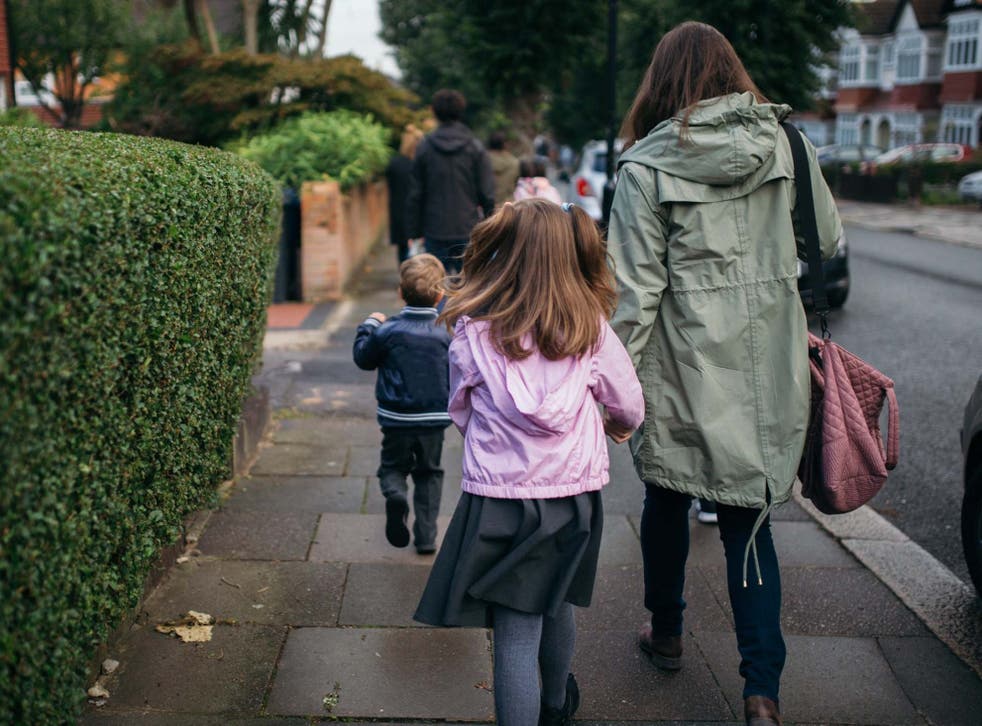 Single parents have warned the government's new support bubble measures fail to tackle the "desperate dilemma" they face by not being able to return to work with schools and nurseries closed.
Boris Johnson announced adults who live alone will be allowed to spend the night in another household from Saturday onwards in a bid to stop people feeling socially isolated as the prime minister continues to ease the UK's coronavirus lockdown.
But single parents and campaigners hit out at the support bubble plans for overlooking the fact the majority of single parents rely on formal childcare and do not necessarily have a support network to create a bubble with.
Around 70 per cent of the 2 million single parents living in the UK were in work before the coronavirus crisis, but three out of 10 single working parents were living in poverty. Some 90 per cent of single parents are women.
Victoria Benson, chief executive of Gingerbread, the leading single parent charity, who is a single mother herself, told The Independent the lockdown is seriously affecting her mental health.
The mother-of-four, who lives with four children aged between eight and 17, said: "Some days, I am unable to breathe because I'm so stressed. There is so much to do. It's so busy. I woke up at 3am this morning and I've been up since 3am. I've only done two hours of school work with my eight-year-old daughter in two weeks. I feel really guilty. I feel worried she is slipping behind.
"My daughter is really anxious. She asks me whether I am going to die and whether she is going to die. My teenagers are really anxious about their exams. I am finding it really stressful. My job is full-on. My eight-year-old daughter can't work on her own. She needs me to educate her. It is impossible to do both that and work. It's really tough not having another adult to share the load and share education with."
The charity executive welcomed the new social bubble rules but said there were a number of shortcomings – adding that many single parents had contacted the charity to ask for clarification about the measures due to feeling confused.
She said: "Lots of people don't have anyone. They are truly isolated so won't be helped by bubbles. Most single parents use a patchwork of childcare arrangements based on childcare providers, schools, and after-school clubs. Social bubbles also won't help the desperate financial issues facing single parents.
"Many single parents are really worried about what they will do when they are called back to work. A disproportionate proportion of single parents work in shutdown sectors like hospitality, retail and admin, which are now reopening. Or they have agency jobs or zero-hour or temporary contracts. But now they don't have childcare due to the coronavirus crisis. If you have no childcare, you can't work. You don't have a choice. They are worried their employer will say get back to work or be made redundant.
"It is illogical that zoos are reopening but you can't put your child in nursery. I also think it's a disgrace not giving free school meals over the summer holidays. Many single parents will have to make very stark choices about how they feed their children. More will be driven to food banks."
Ms Benson warned many single parents could not create bubbles with grandparents due to them having to socially isolate to look after their health. Social bubbles also do not apply to parents or children who may be shielding due to being in a vulnerable group, she added.
The announcement earlier in the week that most children will not go back to school until September had only made her more anxious, she said.
Paula, a single mother who has two children, told The Independent the support bubble announcement had made her feel more lonely than previously.
"It opens up more problems than it solves," the 45-year-old, whose children are ten and 14, said. "It made me feel really lonely. My parents are over 100 miles away. My natural instinct would be to see them. But they are shielding so there is no option to go there. My best friend is in Northampton so is too far away too."
Paula, who did not want her last name used, added: "I'm trying to balance working from home and schooling. It is a juggling act. I'm sleeping a lot lighter and a lot less and having strange anxiety dreams. I'm getting up early at 5am to try and do three hours work in the morning before the kids are up. I feel guilty like I'm not giving fully to anything. Because there isn't enough time."
Matt Hughes, a single parent with one daughter, criticised the new social bubble rules for being overly complicated. The 41-year-old, whose daughter is nine-year-old, said he and his sister, who is also a single parent, were currently trying to work out which of them his parents should see.
He added: "I've been single for five years since my partner died. I know the new rules are supposed to combat loneliness but they make you ask who there is to bring into your bubble. Lots of my friends have also got their own families. There also isn't space in the house for an extra person to stay."
Joe Levenson, of Young Women's Trust, said while social bubbles will provide some "welcome comfort" to single parents, with so many children unable to return to school or nursery until September at the earliest, the dearth of childcare options remains an "enormous issue".
She added: "Young women have told us how hard it is to juggle looking after children at home with work, which is why there needs to be a strong focus from government on ensuring a support infrastructure is in place for parents."
A Department for Education spokesperson said: "Our early years providers have been central to this country's response to the coronavirus outbreak, with a many providing childcare to critical workers and vulnerable children during this time.
"From 1 June, nurseries have been allowed to open more widely so more parents can return to work. To further support working parents, we have introduced temporary measures to ensure critical workers will still be eligible for much needed childcare offers if their income has changed due to coronavirus."
Register for free to continue reading
Registration is a free and easy way to support our truly independent journalism
By registering, you will also enjoy limited access to Premium articles, exclusive newsletters, commenting, and virtual events with our leading journalists
Already have an account? sign in
Join our new commenting forum
Join thought-provoking conversations, follow other Independent readers and see their replies