Coronavirus: Train drivers furious at overcrowding as people ignore government advice to stop at home
'Heavy loading on some Tube lines this morning, making social distancing impossible,' union reports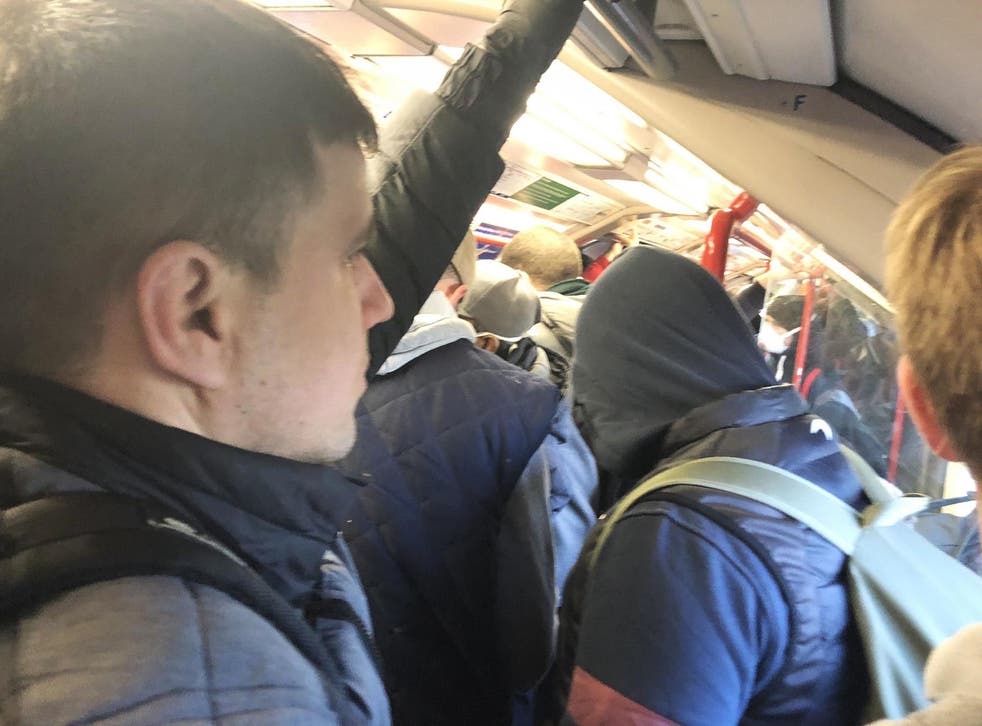 Train drivers are furious because people are still crowding on to services even though they have been asked not to travel unless their job is critical, a union says.
Photographs taken during Monday morning's rush hour show people standing and sitting just inches away from one another, when everyone is supposed to be "social distancing" – keeping at least two metres from one another.
Passenger trains into London and Tubes in the capital are almost as packed as ever after services were cut when demand dropped. With fewer travellers crowding on to fewer trains, it has left those services still overcrowded, and people at risk of catching and passing on coronavirus.
Finn Brennan, of train drivers' union Aslef, called for a way to block non-essential users from taking public transport.
"Still heavy loading on some Tube lines this morning, making social distancing impossible," he wrote on Twitter.

"This is endangering the health of the vital workers who have to use the system.
"The government must act now to ensure only ESSENTIAL journeys are made.
"I'm being sent pictures of crush loaded platforms at some Jubilee line platforms this morning. Drivers and other frontline staff are furious."
One commuter described the situation as "dangerous and chaotic".
Services in Wales and into Birmingham were also reported to have been packed with people still going to work.
Transport for London said there had been a 70 per cent fall in the number of passengers on the Tube network during the week and a 40 per cent fall in bus use across its network.
There was also an 87 per cent fall in Tube passengers at the weekend compared to the same time last year.
Mick Cash, general secretary of the Rail, Maritime and Transport union, said: "There is still enormous personal pressure on the Tube workforce who are exposed to levels of social contact that the government say are unacceptable for the wider public.
"The only people using our transport services should be essential workers who have to travel. Everyone else should stay away to protect themselves, the staff and the wider community."
Transport for London, which is urging people to only travel if their journey is "absolutely essential", has suspended the Circle and Waterloo & City lines, and has reduced frequencies on other parts of the Tube network.
Bus services have also been cut.
London mayor Sadiq Khan has urged workers to stay at home and said public transport should only be used by key workers, otherwise "people will die".
He has previously warned that strict bans may be soon be needed in the capital to stop people from socialising and making unnecessary journeys.
Many observers, including Alex George, an A&E doctor, have called for hospital car parks to be free for NHS staff.
Health secretary Matt Hancock told Sky News: "We are looking at that, actually. I can't make an announcement now.
"There are complications because you have got to make sure patients are able to park, but it is something that if we can find a way to do it, I would love to."
The RMT union agreed to about half the usual number of trains running.
Register for free to continue reading
Registration is a free and easy way to support our truly independent journalism
By registering, you will also enjoy limited access to Premium articles, exclusive newsletters, commenting, and virtual events with our leading journalists
Already have an account? sign in
Register for free to continue reading
Registration is a free and easy way to support our truly independent journalism
By registering, you will also enjoy limited access to Premium articles, exclusive newsletters, commenting, and virtual events with our leading journalists
Already have an account? sign in
Join our new commenting forum
Join thought-provoking conversations, follow other Independent readers and see their replies