Coronavirus: NHS whistleblowers 'threatened with job loss' for speaking out on PPE
Revelation comes amid mounting concerns that lack of transparency is preventing life-saving information being openly shared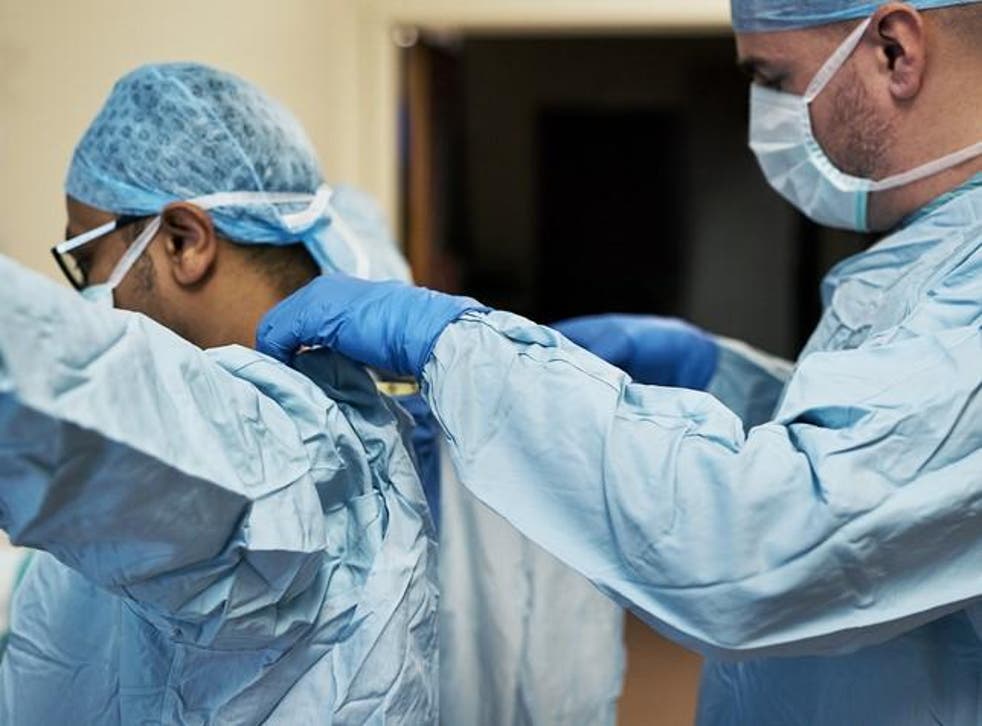 NHS doctors who have raised concerns about shortages of personal protective equipment have been warned they risk losing their jobs if they continue to speak out.
More than 100 medics have contacted WhistleblowersUK to report worries about lack of PPE during the coronavirus crisis, the organisation has said.
And many of those have reported being harassed or threatened with disciplinary action – or even job losses – by NHS trust managers if they raise the issue publicly.
"Those who have been speaking out have then received a reprimand or they've had a warning, especially the locum consultants, that their contracts are likely not to be replaced again at the end of the term and they are going to find themselves unemployed and likely not to be able to find a job," said Georgina Halford-Hall, chief executive of WhistleblowersUK.
The revelation comes amid growing concerns about lack of transparency within both the NHS and Department of Health during the pandemic.
Almost half of healthcare workers questioned as part of a major survey by the Doctors Association UK said they had been effectively gagged from raising concerns.
Some 46.9 per cent of respondents said they had been told not to raise the issue on social media. A similar number, 47.6 per cent, said they had been warned about speaking to the press during the pandemic.
Medics say that stopping the flow of information – including drawing attention to safety issues – is especially egregious during such a crisis because it prevents life-saving knowledge being effectively shared.
In one Orwellian example of senior managers apparently trying to control this flow, a newsletter sent out to NHS staff listed topics they should be tweeting about. It included thanking people for hard work and retweeting the trust's own posts – but specified medics should avoid "commenting on political issues, such as PPE".
UK news in pictures

Show all 50
Another trust put up posters in hospital staff areas which told healthcare workers not to "make public appeals for equipment, donations or volunteers".
Speaking on condition of anonymity, one doctor, who had previously spoken in the media about his worries, said he was later called into a meeting with senior staff.
"I was told we need positive messaging that suggested everyone in the NHS is working very hard, we are doing our best in the pandemic," he told the BBC. "I was told this is what we need to be putting out, not negative stories."
He added that it was effectively said he would "find it hard to get a job at that trust or others in the region" after the crisis if he did not tow the party line.
Dr Jenny Vaughan, law and policy lead at the Doctors Association UK, said: "If you have a transparent, open culture of reporting and people feel free that they can speak up about safety concerns, it saves lives".
In a statement, she added: "Sadly we are in the biggest public health crisis in a hundred years due to a highly infectious disease where PPE is an especially important aspect to save workers lives.
"It is vital that staff are free to speak up so that we know where the gaps are to keep people safe. This survey shows worrying levels of harassment and bullying to suppress concerns."
A Department of Health and Social Care spokesperson said: "Whistleblowers perform a vital and courageous service in ensuring safe care, and no one should ever be prevented from speaking up or discriminated against if they do."
NHS England has been contacted for a comment.
Register for free to continue reading
Registration is a free and easy way to support our truly independent journalism
By registering, you will also enjoy limited access to Premium articles, exclusive newsletters, commenting, and virtual events with our leading journalists
Already have an account? sign in
Register for free to continue reading
Registration is a free and easy way to support our truly independent journalism
By registering, you will also enjoy limited access to Premium articles, exclusive newsletters, commenting, and virtual events with our leading journalists
Already have an account? sign in
Join our new commenting forum
Join thought-provoking conversations, follow other Independent readers and see their replies