Coronavirus: Wales imposes travel ban on visitors from high-risk areas of UK
'This is designed to prevent the spread of infection within Wales and to other areas of the UK,' says Welsh first minister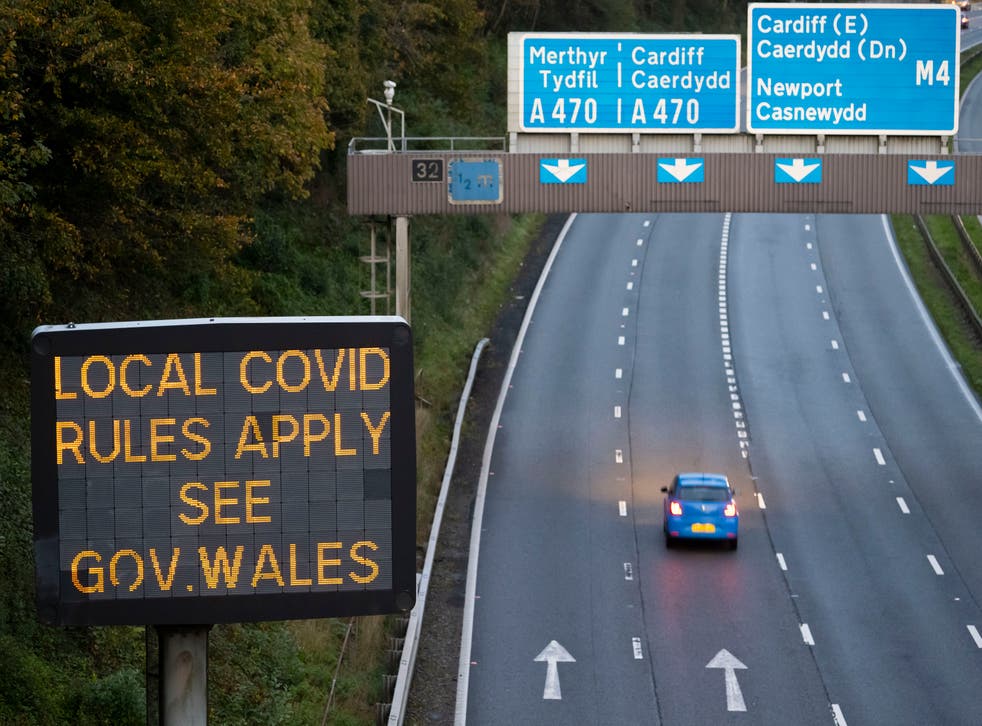 The Welsh government is preparing to ban people who live in virus hotspots across the rest of the UK from travelling to the country.
In a dramatic escalation of restrictions, first minister Mark Drakeford said he was taking the urgent action after Boris Johnson failed to reply to two letters requesting No 10 introduce the measure across the UK to stem the spread of coronavirus.
Under regulations now being prepared by the Welsh government, people living in areas with high levels of the virus in England, Scotland and Northern Ireland will not be able to travel to the country from 6pm on Friday.
In a statement issued on Wednesday, Mr Drakeford said: "Evidence from public health professionals suggests coronavirus is moving from east to west across the UK and across Wales.
"As a general rule, it is concentrating in urban areas and then spreading to more sparsely populated areas as a result of people travelling."
He continued: "Much of Wales is now subject to local restriction measures because levels of the virus have risen and people in those areas are not able to travel beyond their country boundary without a reasonable excuse. This is designed to prevent the spread of infection within Wales and to other areas of the UK.
"We are preparing to take this action to prevent people who live in areas where there are higher Covid infection rates across the UK from travelling to Wales and bringing the virus with them".
Mark Bleasdale, the Welsh lead for the Police Federation of England and Wales questioned whether the travel ban would be enforceable at a time when forces are already "overstretched" due to the pandemic.
"On the face of it, this is unenforceable because of the difficulty of identifying where people are coming from and where they are going to," said Mr Bleasdale. "There will also be plenty of individuals travelling legitimately from areas which are not high risk, and this will only add to the other difficulties officers face when policing the existing regulations."
But Mr Drakeford said that fixed penalty notices could be issued on motorists who refuse to comply. He told Times Radio that many drivers crossing into Wales were turned back earlier in the year when a five-mile travel limit was in force.
"There were a small number of people who weren't willing to do so and fixed penalty notices had to be applied," said Mr Drakeford. "But it was very successfully enforced then, and it can be very successfully enforced."
Scottish first minister Nicola Sturgeon said she fully supported Mr Drakeford. "These are public health decisions, and nothing to do with our constitutional or political debates," she said.
Ms Sturgeon hinted at imposing similar measures, insisting the Scottish government will "also take whatever action we consider necessary to control Covid".
It comes after the Welsh first minister said he was "very actively talking about and preparing for" a circuit-breaker lockdown, adding he does not think it would be sensible for ministers to dismiss the advice of the Scientific Advisory Group for Emergencies (Sage) who recommended the drastic action three weeks' ago.
"We want to act now in order to prevent the worst from happening, to give us a better chance of getting through the rest of the autumn and the winter, and if a circuit-breaker is the right way to do it then that is what we will do," he said.
On Wednesday, the Northern Ireland Assembly announced it would impose its own partial lockdown, including the closure of all pubs and restaurants for four weeks and the closure of schools for a two-week period to combat rising levels of Covid-19.
So far, the UK government has resisted pressure to impose similar measures across England and remains committed to a regional approach based on the three tier system unveiled on Monday.
Pressed on the issue at Prime Minister's Questions by Sir Keir Starmer, who announced Labour's support for a circuit-breaker lockdown on Tuesday, Mr Johnson said he could not rule out the option but insisted he wanted to avoid the "disaster" and "misery" of a second national lockdown.
Join our new commenting forum
Join thought-provoking conversations, follow other Independent readers and see their replies