Domestic violence victim to be left on street when car she is forced to live in is towed away and crushed
Exclusive: Local councils are turning away women like Linda, despite an obligation to house them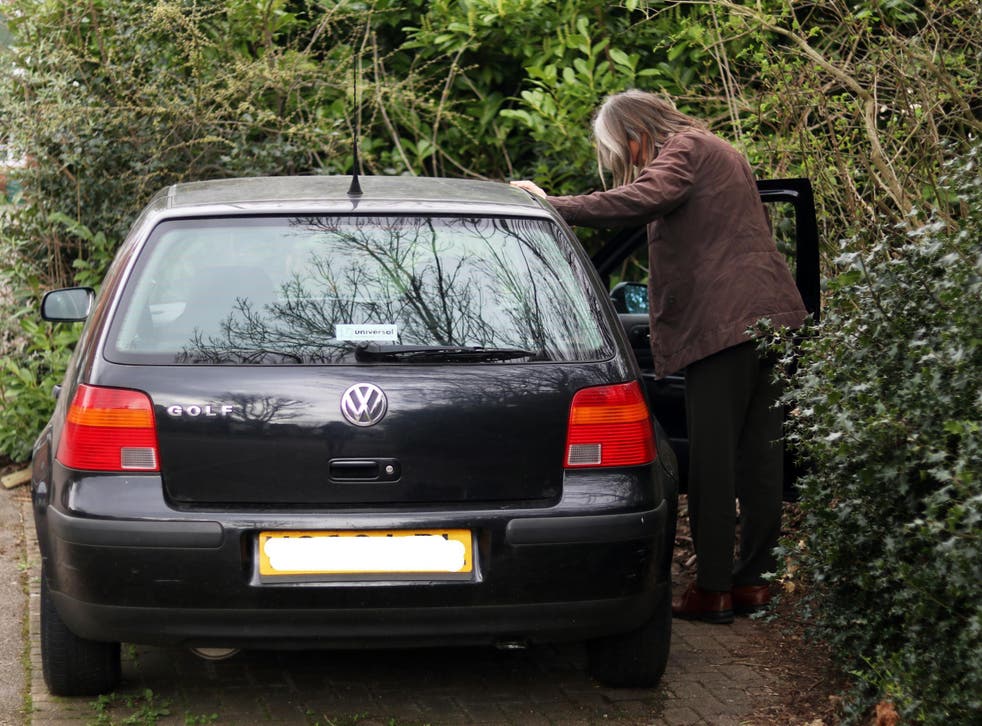 A domestic violence survivor is to be left sleeping on the street by a north London council which has repeatedly refused to house her, when the car she has been forced to live in for a year is towed away and crushed.
Linda, who asked to be identified by her first name only, has been rough sleeping in the Finchley area for five years, on and off. But according to Barnet council she is "not a priority" for social housing.
Authorities have now put a wheel clamp on the car the 53-year-old has been living in and left a threatening leaflet informing her the DVLA or the council are going to tow and crush the vehicle — "no exceptions, no excuses, no escape" — because the road tax and insurance have expired, Linda told The Independent.
Linda's case comes just weeks after a major television documentary exposed Barnet council and others for turning away women seeking emergency accommodation without proper assessment. Channel 4's Dispatches episode, "Undercover: Britain's Homeless Scandal", followed actors who pretended to be homeless to test claims councils are unable to cope and are wrongly turning women away.
In several local authorities in England and Wales, the programme recorded women told to leave by council staff, without being properly assessed or allowed to fill out paperwork, despite the fact they technically qualified for emergency accommodation under government guidelines. Like many of the cases presented in the Dispatches programme, Linda has a complicated history including surviving domestic violence and spending time in prison.
Penny Bennett, who works for the charity Wish, which has been supporting Linda for several years, said she believes Linda may be suffering from PTSD as a result of her experiences. Women with mental health problems find it especially hard to navigate a council housing system that may be legally obligated to help them, but persistently attempts to turn them away despite the law, she explained. And many serious mental health conditions are not considered severe enough to warrant priority status anyway.
"Being refused housing is not rare or unusual," Ms Bennett said. "If you have depression and are on anti-depressants you will not be housed. Housing departments try and turn away as many people as possible or send people to another area."
Linda, who last visited the council in June, told The Independent she experienced the sort of gate-keeping behaviour the Channel 4 documentary uncovered. She said she found the council to be "totally dismissive, totally unhelpful".
"I've spent five years in Finchley in vehicles and on the street," she said, adding that she had been to the council for help at least three times. "Last time, they said they cannot help me because I am 'not more significantly vulnerable than the ordinary woman who is to be made homeless'.
"They didn't offer me any help finding a private place [either], they were completely, completely unhelpful," she added.
As a result of falling through gaps in the system, Linda spent the entire winter in a black VW Golf that became so "bitterly cold" it froze on the inside every night for weeks. It is damp and cramped inside.
Now she is worried things are going to become even worse. Linda has no money to pay road tax or insurance – she lives off £20 a week, a small stipend she earns working for Wish – and she now faces having her vehicle taken by the council or the DVLA, despite the fact the car is parked off-road and she does not drive it.
Linda originally became homeless when she split from her ex-husband, who she says was violent and abusive.
She spent time in prison for offences (which she adamantly denies) related to the situation with her husband and she says she has been struggling to repair her life, clear her name, and get her children back ever since.
Ms Bennett said Linda's past makes her case complex – but this is typical of women who end up homeless.
"Linda was not able to prove her DV [domestic violence] status at the time so could not use this for housing or legal aid," she explained. "Her husband used the system against her and therefore she had a deep mistrust of the system. She may also have PTSD."
The causes of homelessness

Show all 7
Although it is cold and mouldy, Linda feels relatively safe in her car. It is currently parked down a quiet, leafy street and her neighbours do not bother her. Sometimes they even wave.
She has been street homeless in the past and said she is frightened of returning to this.
Being street homeless is particularly dangerous for women, who are at increased risk of violence and sexual assault, Ms Bennett said. In some cases, being street homeless drives women like Linda who have spent time in prison to re-offend because they cannot access help by any other means.
Research by Crisis, the homelessness charity, found 58 per cent of women sleeping rough had been intimidated or threatened with violence and force in the past 12 months compared to 42 per cent of men.
The same survey found nearly one in four female rough sleepers had been sexually assaulted in the past year.
Three in 10 female rough sleepers had experienced sexual violence at some point while homeless.
A mother and daughter have also been living in their car in the neighbouring Barnet area for 29 months, and say the council have not offered them adequate housing despite Louise, 73, having serious health problems.
A Barnet Homes spokesman said: "[Linda's] housing needs were assessed in June 2016, however based on the information she provided at the time she was advised it was unlikely that Barnet Homes would be able to assist with accommodation. [She] did not have any supporting documents to enable a full assessment of her personal circumstances.
"She was offered assistance accessing a number of other support services which she refused. We have had no contact with [her] since her last visit in June 2016, but if she would like a full assessment of her needs and options she should contact Barnet Homes Housing Options Service.
"We take domestic violence extremely seriously and are committed to providing an excellent service to victims of domestic violence whenever they come to us for help."
A spokesman for the council added that he believes towing vehicles without car tax usually comes under the jurisdiction of the DVLA, a separate body to the local authority, and so Barnet council is not directly responsible for clamping or threatening to crush Linda's car.
The Barnet council website explicitly states the DVLA has devolved powers to remove untaxed vehicles.
Register for free to continue reading
Registration is a free and easy way to support our truly independent journalism
By registering, you will also enjoy limited access to Premium articles, exclusive newsletters, commenting, and virtual events with our leading journalists
Already have an account? sign in
Register for free to continue reading
Registration is a free and easy way to support our truly independent journalism
By registering, you will also enjoy limited access to Premium articles, exclusive newsletters, commenting, and virtual events with our leading journalists
Already have an account? sign in
Join our new commenting forum
Join thought-provoking conversations, follow other Independent readers and see their replies