Court backlogs having 'major consequences for victims', watchdog says as trials scheduled in 2023
Inspectorate says backlog started before coronavirus pandemic and justice system must be funded properly
Lizzie Dearden
Home Affairs Correspondent
Tuesday 09 March 2021 07:39 Comments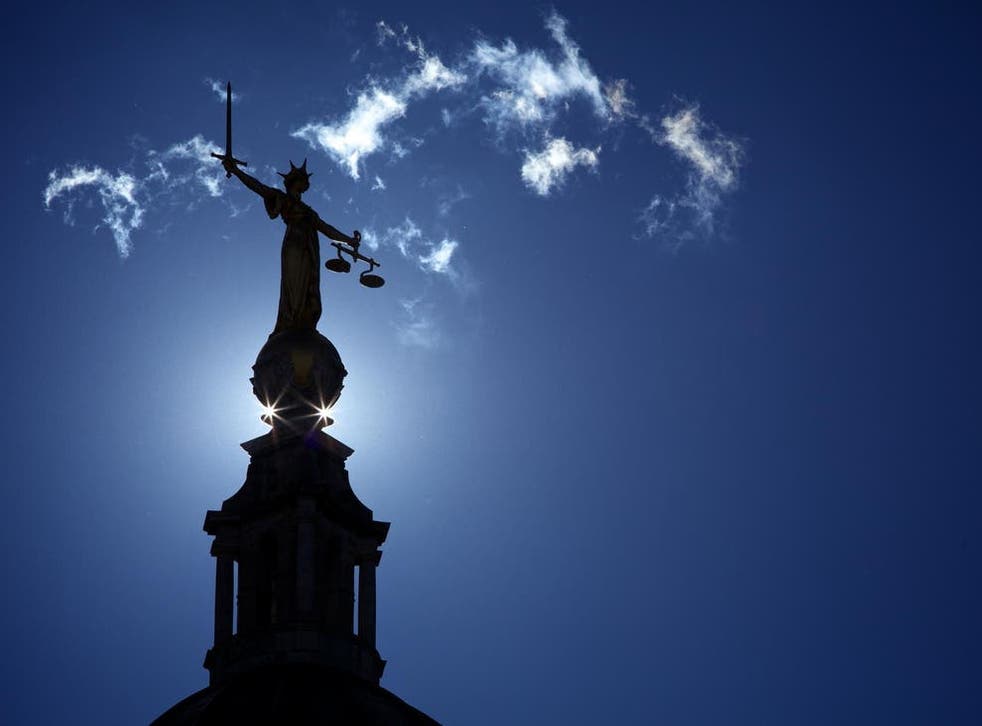 Court backlogs are having "major consequences for victims and witnesses", a watchdog has found, as criminal trials are being scheduled for 2023.
HM Crown Prosecution Service Inspectorate (HMCPSI) said delays worsened by the coronavirus pandemic affected people's ability to recollect events and could have an impact on their willingness to attend court to give evidence, which is a "major risk for public confidence".
"The challenges of the backlog and the increase in workload will have major consequences on the service provided to victims and witnesses," said a report published on Tuesday.
"In some areas, trial dates are now having to be set into 2023. Some victims and witnesses are being sent letters saying that the defendant has pleaded not guilty but that no trial date is available or has been set.
"We were told that this has happened even in cases with vulnerable victims. The impact on victims and witnesses in such circumstances cannot be underestimated."
The watchdog said some courts were listing multiple cases for the same time to "maximise valuable court time" but that the practice may "undermine the confidence of victims and witnesses" if hearings do not take place on the appointed day.
Its report was released days after the victims' commissioner for England and Wales told MPs rapists and other serious criminals were walking free because of victims dropping court cases.
The most recent statistics released by HM Courts and Tribunal Service show that by December, the number of outstanding criminal cases stood at more than 455,000, up from under 350,000 in December 2019.
The backlog in magistrates' courts peaked at 447,000 in July, before falling to 400,000, but the number in crown courts has continued to rise.
There were 55,189 outstanding crown court cases in December, an increase of 47 per cent in a year.
In the same period, the average time between a charge and a disposal in the magistrates' court almost doubled from eight to 14 weeks.
UK news in pictures

Show all 50
HMCPSI said the caseload for prosecutors was increasing at an "alarming rate" as a result, and that some Crown Prosecution Service (CPS) staff were "at breaking point".
The outstanding CPS crown court caseload had reached 64,500 by December, according to the report, which also highlighted how the backlog had grown by more than half in some areas.
But HMCPSI said prosecutors were managing to provide an effective service during the pandemic overall.
The report said the CPS had tried to mitigate the problem by moving staff and resources around as well as seconding self-employed lawyers to help with the workload, adding that support for the wellbeing of employees had been good.
Although the CPS, police, courts and the judiciary were working together to address the crisis, there was evidence of some bodies prioritising their own needs, the report added.
Chief inspector Kevin McGinty said: "The pressures faced by staff at the front line have been recognised, and the CPS has been innovative in how it has tried to manage and alleviate those pressures.
"This crisis and the greater delays in getting cases to court has the potential to further undermine any confidence victims and witnesses have in our ability to bring them justice."
In his last report before he retires at the end of the month after six years in post, Mr McGinty described the delays and backlogs in the justice system before coronavirus as "unacceptable".
He added: "Even before the pandemic struck, the system was too dependent on the hard work and goodwill of those who work in it. If it is to be a criminal justice system we all want it to be, it has to be appropriately resourced."
Register for free to continue reading
Registration is a free and easy way to support our truly independent journalism
By registering, you will also enjoy limited access to Premium articles, exclusive newsletters, commenting, and virtual events with our leading journalists
Already have an account? sign in
Register for free to continue reading
Registration is a free and easy way to support our truly independent journalism
By registering, you will also enjoy limited access to Premium articles, exclusive newsletters, commenting, and virtual events with our leading journalists
Already have an account? sign in
Join our new commenting forum
Join thought-provoking conversations, follow other Independent readers and see their replies