Court fees are a breach of human rights, says leading criminologist
Exclusive: Controversial new court fees deny defendants the right to a fair trial because they encourage the innocent to plead guilty, says the professor
Emily Dugan
Social Affairs Editor
Sunday 27 September 2015 21:54 BST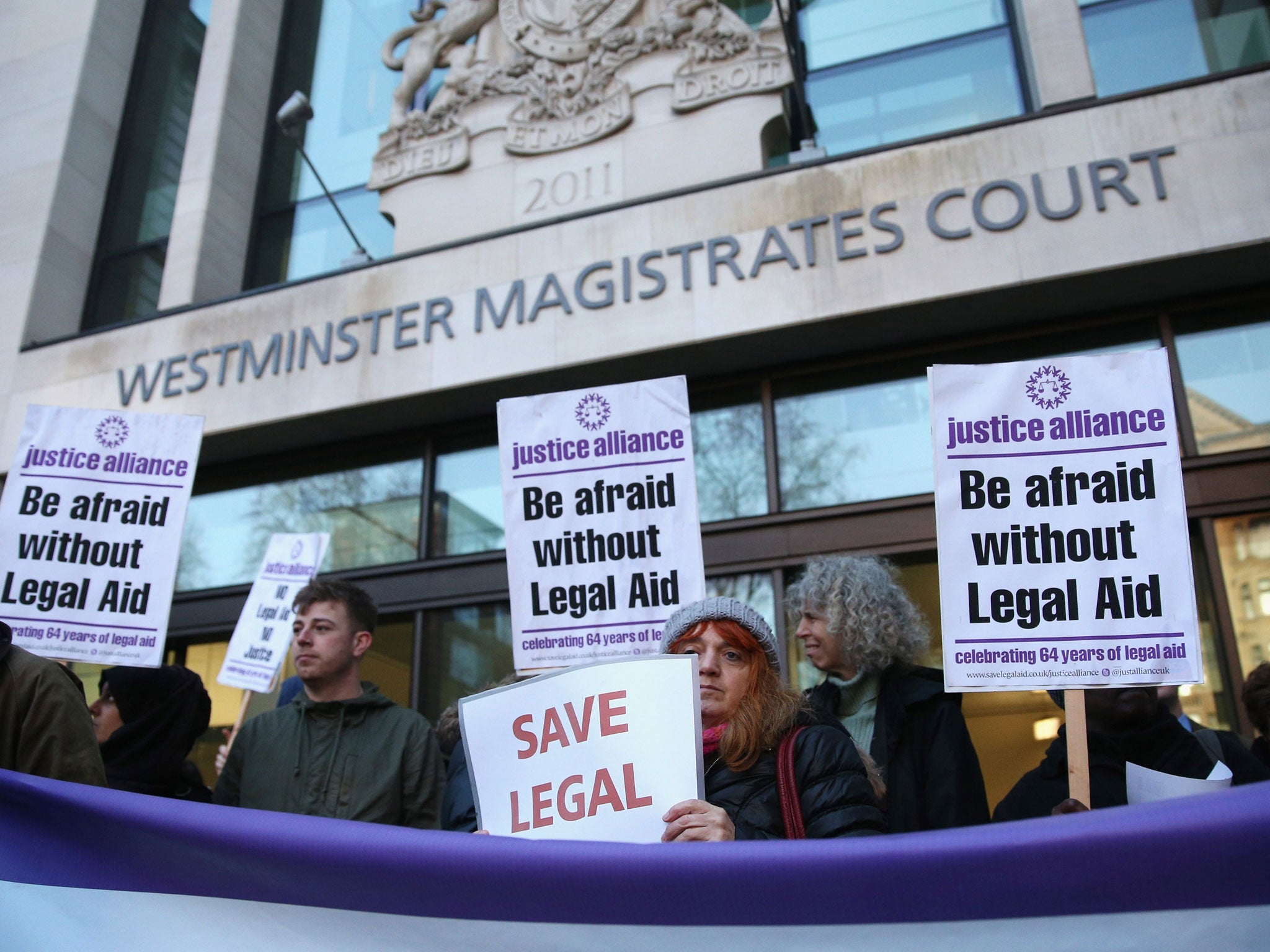 A government researcher and leading criminologist has spoken out against the criminal courts charge, branding it a "very unfair and unpleasant" piece of legislation that breaches human rights law.
Mike Hough, a professor of criminal policy at Birkbeck School of Law, said in an interview with The Independent that controversial new court fees deny defendants the right to a fair trial because they encourage the innocent to plead guilty. Professor Hough established the Home Office's British Crime Survey and recently did research for the Ministry of Justice.
Since it was introduced this year, the criminal courts charge has prompted a judicial revolt, with 50 magistrates resigning and several judges lambasting it from the bench. In recent weeks, The Independent has reported on growing opposition within the criminal justice system to the new levy.
The charge is applied to anyone found guilty and is not means-tested or adjusted according to the seriousness of the crime. In magistrates' courts it is fixed at £150 if someone pleads guilty at the start, but can rise to £1,000 if they are later found guilty.
Professor Hough said: "I do think it's a very unfair and very unpleasant bit of legislation that imposes very large costs on people without giving judges and magistrates any discretion to waive the charge where defendants clearly can't afford them.
"It strikes me that these mandatory charges are in conflict with the European Convention on Human Rights. How can you have the right to a fair trial if you can only have one if you can pay for it? Article six gives people the right to a fair trial. I can't see that you can have the right to a fair trial if you have to pay £1,200 to the court for it if you lose. It provides an added incentive to plead guilty even when you are innocent."
Speaking about this newspaper's campaign on the issue, Professor Hough said: "The Independent's articles have shown how unfair it is on poor people coming through the court. If you have somebody on benefits who's hit with, let's say, an £1,000 magistrates' court trial charge, the court's fines officer is going to spread it over time but it's going to be totally unpayable, especially when combined with a victim surcharge and possibly a fine. The idea that somebody in that position can deal with that combined level of fine is ludicrous."
On 30 September, Professor Hough will give a speech on the issue at the Centre for Justice Innovation (CJI) in London. "I was originally going to do a fairly straightforward talk on legitimacy in the courts, speaking about the usual strategies for building trust, such as the impact of decent and respectful treatment in court. But the more I thought about it the more I wanted to focus on court charges as potentially one of the things that risks destroying legitimacy and public trust in the system," he said.
He believes the new law may have been deliberately sneaked out as secondary legislation to avoid it being given greater scrutiny. "Like most people, I was taken by surprise by the charges," he said.
"I didn't realise they were planned until after they went live. The changes were buried as a secondary piece of legislation, coupled to some innocuous-seeming primary legislation. Secondary legislation does not have to go through any human rights assessment.
He added: "It's objectionable in the same way as the victim surcharge is objectionable, except on a much greater scale. When the victim surcharge was introduced in 2007 it was a symbolic payment of around £15. But in 2012 it was changed to be much more onerous. Defendants were charged a percentage of their fine, or £60 if they were given a community order. The charges were mandatory – and often bigger than accompanying fines. I have a suspicion that the Government thought that having got away with that, they felt able to bring in other charges."
Professor Hough's CJI speech will coincide with the deadline for submissions to a government consultation on the charge, which was introduced by then Justice Secretary Chris Grayling in April. The CJI will be submitting its own evidence against the new charge tomorrow.
Phil Bowen, director of the centre, said: "We're making two key points. Firstly, that the emerging evidence of how the charge is working in practice suggests that it's undermining defendants' perceptions of fairness in our courts. When trust in the justice system declines, people have been found to be less willing to obey the law. We'll warn that the charge could be storing up trouble for the future.
"Secondly, we're concerned with an aspect as yet overlooked, that the charge could lead to US-style plea-bargaining. Recent court cases have indicated that defendants are changing pleas from not-guilty to guilty to avoid hefty charges. We'll be drawing the committee's attention to evidence from the States that plea-bargaining can lead to wrongful convictions for innocent people. If this is the route our justice system is set to go down, it should be openly debated in public and subject to parliamentary scrutiny."
A Ministry of Justice spokesman said: "It is right that convicted adult offenders who use our criminal courts should pay towards the cost of running them. Offenders can pay in affordable instalments."