Families of disabled children pushed to 'breaking point' during pandemic
Children in crisis: Surge in demand for disability support services among families prompts calls for more funding to ensure children and their parents are not left 'isolated' by additional pressures
May Bulman
Social Affairs Correspondent
Thursday 10 December 2020 07:36 Comments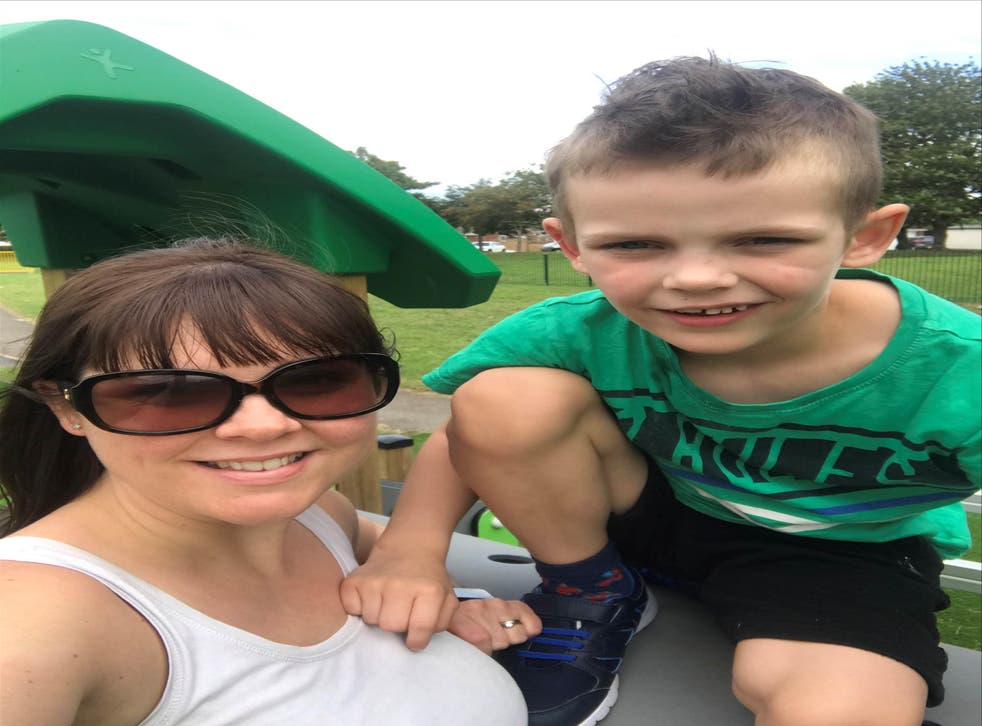 Families with disabled children have been pushed to "breaking point" during the pandemic, as parents have been unable to access support that was in place before the Covid-19 outbreak.
A surge in demand for family support services, recorded by one of the UK's largest disability charities, has prompted calls for more funding to ensure that children and their parents are not left "isolated" by the additional pressures brought on by coronavirus restrictions.
Figures provided to The Independent by Scope reveal an 18 per cent rise in referrals to the charity's support services in the first five months of the pandemic.
The charity's online service, which brings parents of disabled children together, reached 261 new people – more than it would normally see in a whole year – while the number of parents accessing the website for information and advice surged by 79 per cent over the same period.
The rise in demand comes at a time when Scope's profits from retail, fundraising and donations have dipped considerably because of the pandemic.
One parent who has received charity support this year is Sarah Collier, 38, who lives with her husband and two sons, aged five and seven – the latter of whom was diagnosed with autism when he was four.
Ms Collier, a solicitor from North Yorkshire who was on furlough between April and September, used to take her children to soft play centres and National Trust parks, which provided "big open spaces to expend some energy", but these options are currently not available.
She explained that she was under additional pressure because, under lockdown restrictions, she has been unable to rely on family friends for childcare
"My children have different needs and want to do different things. Before the pandemic, we were already limited on what we could do, but now it's even harder," said Ms Collier.
"Having the children at home day in, day out during the first lockdown and trying to think of different things to do that would give them some exercise was really difficult. My youngest has just started school and he wants to learn and do different things, whereas my other son wants everything to be very structured.
"I've tried to stay away from seeing the Facebook posts of stereotypical families exploring the area together. The reality for us is that we can't go to anywhere busy, or where I can't watch them both at all times. We can't just go walk around a town or a city."
Ms Collier said she felt "very isolated" by the experience, but that if she hadn't been able to access the support from Scope, things would have been "a million times harder".
"It's really tough on parents. You don't get a break and it's hard to balance everything. It's almost like a second job," she added.
"I'm not surprised by the rise in people like me needing help. It's so important just for somebody to listen and to feel supported and have a bit of guidance about particular problems."
An Ofsted report published last month into the impact of the first lockdown found that some children had lost basic skills and learning as a result of school closures and restrictions on movement.
The report found that the pandemic had presented "serious and far-reaching" challenges for families with children with special educational needs, with some feeling "isolated" from existing services.
Louise Gillard, team leader of Parents Connect at Scope, said the coronavirus crisis was having a "disproportionate impact" on the wellbeing of families with disabled children.
"Every day, mums and dads got in touch, saying they have nowhere else to turn – they are at breaking point. Families have told me they are feeling left behind, lonely and overwhelmed with anxiety," she said.
"The impact of lockdown has seen their behaviour regress, as their impairment means they simply cannot process what is happening, so are reverting to behaviours they may have exhibited when much younger."
Ms Gillard said the charity had seen regression in disabled children's sleep and had received multiple crisis calls from parents around children's increasingly challenging behaviour, particularly for those with sensory or autism spectrum disorder-type conditions.
"It's vital that families have somewhere to turn. Funding for our family services has never been so important and Scope is urging the public to dig deep and help raise the funds that allow us to keep being there for those who need us," she added.
Stephen Kingdom, campaign manager at the Disabled Children's Partnership, which has seen an increase in demand for support among beneficiaries of its member organisations, said the pandemic had had a "devastating" impact on disabled children and their families.
UK news in pictures

Show all 50
He cited a recent survey of more than 3,400 parents by the organisation, showing that many were still waiting for support they had had for their disabled children to be reinstated, and that almost a quarter of disabled children had been unable to return to school full-time.
"When the country locked down in the spring, many families saw vital support taken away and they were left isolated and abandoned," Mr Kingdom said.
"The government, local councils and the health service must take action to ensure the right support is in place for children and families, therapies, medical support, mental health services and support with caring, such as short breaks."
The government has been approached for comment.
Register for free to continue reading
Registration is a free and easy way to support our truly independent journalism
By registering, you will also enjoy limited access to Premium articles, exclusive newsletters, commenting, and virtual events with our leading journalists
Already have an account? sign in
Join our new commenting forum
Join thought-provoking conversations, follow other Independent readers and see their replies