Man thanked by Queen for Covid community work fighting for right to remain in UK following Home Office 'error'
'Pillar of the community' Vimal Pandya, 41, subjected to 'procedural unfairness', lawyer alleges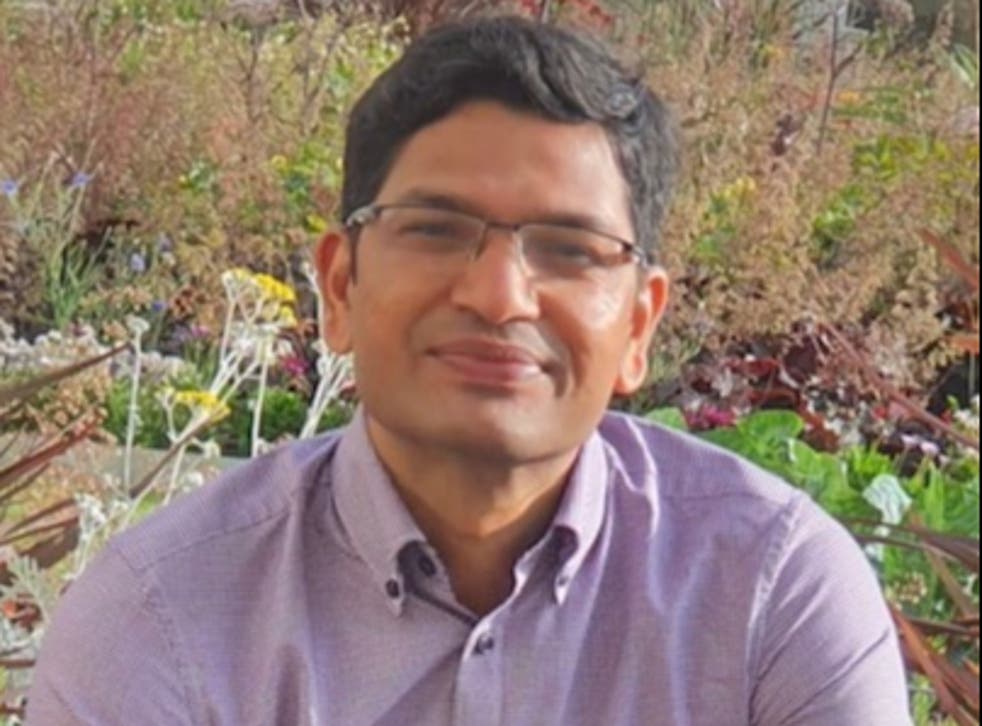 A man awarded royal recognition for his efforts to support his local community in south east London during the pandemic is fighting to ensure his right to remain in the UK, following a years-long struggle allegedly sparked by a Home Office "administrative error".
Vimal Pandya, aged 41, has been described as a "shining light" and "pillar of the community" by residents in Rotherhithe, after working 18 to 20 hours per day during the first lockdown to ensure elderly and vulnerable people received food and essential supplies, which he delivered by foot.
His efforts were such that Mr Pandya received a letter last February from Sir Kenneth Olisa, the Queen's personal representative in London, thanking him for going "above and beyond the call of duty" to support his community.
Mr Pandya told The Independent that the correspondence was "the best thing that's ever happened to me", adding that it was "not even like a dream come true, because I can't dare to dream like this".
Three months later, he was detained for questioning by immigration officers after officials appeared at the shop from which he ran his royally-recognised operation, Mr Pandya said – an event he described as leaving him feeling "afraid, anxious, and stressed going outside the house".
Now, local residents are rallying to support him in return, after the Home Office requested further evidence supporting his efforts to regularise his immigration status, to be submitted by 14 January. More than 2,800 people have signed an online petition in support of his case in the past week.
Mr Pandya's lawyer said he has applied to the Home Office to grant his client leave to remain in the UK on human rights grounds, so that he can "try to rebuild his shattered life and study and progress", after a series of alleged missteps by officials saw Mr Pandya become trapped in a web of bureaucracy.
Arriving in the UK in 2011 from India, where he worked as a stockbroker, Mr Pandya enrolled at a Home Office-approved college offering immigration sponsorship for foreign students, where he studied with the aim of continuing his financial career in Britain.
Despite losing nearly £3,500 after the Home Office revoked its approval of a college offering a more advanced course which he had next applied to, Mr Pandya eventually managed to enrol at a different institution, and was granted leave to remain until March 2015.
But upon landing at London City Airport in April 2014 after spending two weeks in India, where he went to accompany a family friend's daughter requiring medical treatment for tuberculosis, Border Force officials told him that the college he was studying at had seen its right to sponsor foreign students revoked two months earlier.
Neither the college nor the Home Office had informed him of this change, he alleges – despite him continuing to attend each of his classes in the run-up to his emergency trip, for which he received approval from the college.
Both his passport and biometric residence permit were seized at the airport. Mr Pandya's visa was curtailed until June 2014 and he was given temporary admission to remain in the UK so long as he reported to the airport twice every month.
But despite repeated and costly attempts to resume his education at another institution and thus regain immigration sponsorship, he was ultimately unable to do so without his seized documents or a Home Office curtailment letter, which he alleges that he never received.
In the ensuing legal fight with the Home Office, Mr Pandya said that his parents, who live in India, chose to sell their home there to help him pay for legal representation. When combined with his administrative and education costs, Mr Pandya said he has spent tens of thousands of pounds in his bid to stay in the UK.
After nearly seven years of reporting to City Airport every fortnight and "constantly seeking legal advice to regularise" his immigration status, Mr Pandya said that officials turned up in Rotherhithe and took him to the airport for questioning on 18 May 2021.
"I got very, very anxious and depressed, I didn't know what to do," he said. "I didn't tell anybody around the community what happened, people were wondering where I was … but it was really embarrassing to tell anybody that I [was] going through some sort of immigration problem."
UK news in pictures

Show all 50
But served with a Home Office notice the following day asking him if he would like to make further representations on his case, he has recently confided in his friends and neighbours, who are now doing what they can to support him.
"With their honest hearts they want to help me out of this situation and I'm feeling really proud that I'm part of such a great community who really cares and gives you lots of respect," Mr Pandya said.
"Honestly, I have no words to explain what it means to me and how it feels, because I have never experienced anything like this," he added.
Mr Pandya's lawyer, Dr Bernard Andonian, of Gulbenkian Andonian Solicitors, told The Independent that he believes the Home Office's alleged failure to advise him of the revocation of his college sponsorship licence and to give him time to look for another college "amounted to procedural unfairness and was an error of law".
Dr Andonian said that a previous decision from the Supreme Court in 2011 supported Mr Pandya's case, adding that Mr Pandya will be able to lodge an appeal if the Home Office returns an unfavourable verdict, and is not under any current threat of removal.
People living within his local community have expressed distress at Mr Pandya's situation and are calling on the Home Office to ensure that he can remain in the UK.
Among them is Diane Ferguson, 70, who lives in the building adjacent to Mr Pandya's home and who told The Independent: "This guy does so much for the community, he doesn't deserve this.
"This anxiety that he's going through, the stress and worry and appointments with solicitors, it's a very long and drawn-out situation where he hasn't been fairly treated and has been kept in the dark … He's just such a lovely person, he deserves to be here."
And Tom Chivers, a local Southwark resident, said: "During the 2020 lockdown my young family and I saw more of Vimal than we did of our closest relatives. He was a shining light in the darkness of the pandemic, providing a friendly welcome as well as practical assistance to vulnerable and shielding people in our community."
He added: "I call on the Home Office to revoke their decision and to allow Vimal to continue serving the people of Rotherhithe — his home for 11 years — as he has done so bravely during the toughest time in our living memory."
A Home Office spokesperson said: "We are committed to an immigration policy which welcomes those in genuine need but which deters illegal immigration, prevents the abuse of benefits and services and removes immigration offenders from the UK.
"Immigration abuse hurts everyone, putting vulnerable migrants at risk of exploitation, undercutting honest employers, cheating legitimate job seekers and defrauding the public purse. Individuals have the opportunity to make themselves known to the authorities if their right to work or live in the UK is expiring."
Register for free to continue reading
Registration is a free and easy way to support our truly independent journalism
By registering, you will also enjoy limited access to Premium articles, exclusive newsletters, commenting, and virtual events with our leading journalists
Already have an account? sign in