MPs rebelling against coronavirus tiers should try 'carrying bodies to the mortuary', says Liverpool mayor
Joe Anderson talks family tragedy, mass testing, Tory 'pipsqueaks' – and how his city was pulled back from the Covid brink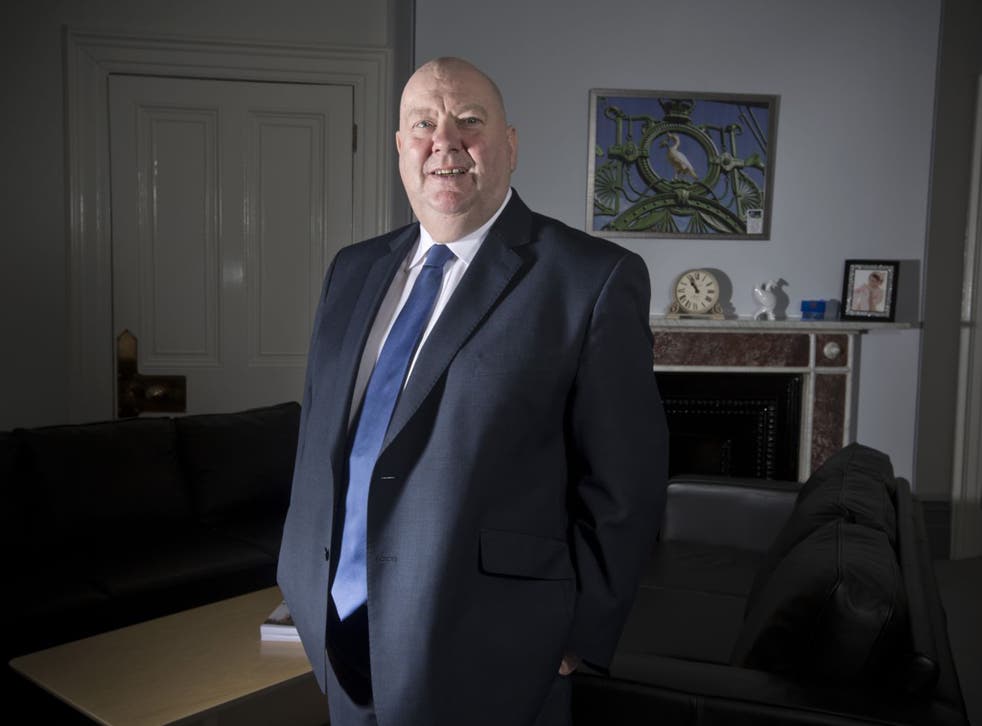 It is Friday morning and Joe Anderson, the directly elected mayor of Liverpool, should, by rights, be feeling relatively satisfied.
Twenty-four hours earlier, the city he leads became the first and so far only region of England to have dragged itself out of the toughest coronavirus restrictions.
When the national lockdown ends next week, Liverpool – which in October had the country's highest Covid-19 rates – will be one of the few patches of the north where contagion is considered low enough for it to be placed in bracket two of the government's new three-tier system.
A combination of mass testing and an early acceptance of previous restrictions – both vigorously demanded by Anderson – have brought the deadly bug under some control here. Rates currently stand at 138 cases per 100,000. Barely four weeks ago, they were skyrocketing at 680.
But, despite this, when the 62-year-old first picks up the phone to The Independent for a conversation ostensibly about what's gone right, he's fuming.
Specifically, he is fuming that a growing group of Tory MPs, led by Steve Baker, are rebelling against that tier system.
"When I hear this fella arguing we should let Covid rip, this little pipsqueak," he says, "I say to him, you come up here and work as a porter in the Royal Liverpool Hospital and you see the people that are dying and then tell us we should just allow this to continue and not have a tier structure. You have a shift carrying the bodies up to the mortuary …
"Come up here and talk to the doctors, and nurses like the one who had to ring me at quarter to ten on a Friday night to tell me my brother had died. You do a shift with them, Steve Baker."
It is a theme he will come back to repeatedly over a 90-minute conversation: "You have to put the lives of people first," he says. "It's the number one priority. Then, of course, the economy is important. But, first of all, what are you if you don't prioritise lives?"
Anderson is speaking today from the terraced house where he has lived for decades and worked since March.
The place – a big 1900s family home – has two living rooms and, when coronavirus struck in spring, he converted one into a makeshift mayor's office: three computers, two desks and innumerable papers everywhere.
For the time being, he continues to lead this city of half a million people from here rather than his suite at the famed Cunard Building. His age, weight and heart condition all make him vulnerable to Covid-19. "I'm a fat grandad-of-six," he says at one point. "And you can quote me on that."
Few leaders, if any, have had to deal with the savagery of this pandemic to the same extent as him. The deadly bug has brought devastation to both his city and family.
His older brother Bill died in October just days after contracting the illness while having a flu jab. The 70-year-old woke up one morning short of breath and was in hospital by 2pm. His wife tried to phone Anderson who declined the call because he was in a Zoom meeting about skyrocketing infections. By the time that had concluded, Bill was in intensive care. "By 10.30pm, he was dead," says the mayor. "We never spoke."
The last time they had seen each other was at their other brother Henry's funeral just six weeks earlier. He himself had died following a long battle with cancer.
"I've done my fair share of shedding tears when I go to bed at night and say my prayers," says Anderson. "I'm no tougher than anyone else. And I'll shed more before this is over."
Some people have asked him if his own experience has inspired him to fight this virus harder.
"I tell them no," he says bluntly. "I wouldn't insult my brother's memory by saying that because what inspires me is the same as always: trying to do my best for the people of this city. And I know that sounds like the kind of thing a politician would say. But it's the truth. It's the truth. This is my city and I'll always do my best for it."
Anderson has run Liverpool City Council for 10 years now. This one-time sailor, one-time pub landlord, one-time social worker is the longest serving leader here since the Fifties. When he stands for re-election in 2021, it is almost certain he will win again.
His tenure has, residents say, been a mixed bag. He has overseen the building of 17 schools, helped create or improve 70 acres of green space and negotiated a new city region deal that brought more devolved powers. Yet critics say he has cut too many council jobs – at least 3,000 – and often puts development before heritage. In 2018, he was interviewed under caution by police as part of a corruption inquiry.
All the same, his leadership will perhaps now always be defined by Covid-19.
At worst, he may be remembered, he acknowledges, as a leader who accepted a Conservative government imposing restrictions, in October, that shuttered large parts of the city and caused irreparable economic damage – all while Labour leaders up the road in Manchester fought tooth-and-nail against the very same measures."I took a political kick in for that decision and it was painful," he says. "People saying I was fit to burn… I had to have police patrols coming past my house because I was getting threats."
He knows, he adds, how hard it was for businesses to be told they had to close. But he says: "The virus was out of control. We had to put the genie back in the bottle because someone had pulled it out, and that wasn't me; that was the government."
He points to the city's NHS as proof his decision was correct. For a period in October, hospitals here were running at 95 per cent capacity. The situation was so bad, one senior medic, Oliver Zuzan, told the BBC the whole system was "hanging by a thread". Now those numbers have come right down. The health service stayed standing.
Crucially, too, perhaps, it was in those October conversations with the government that Anderson says he first raised an intriguing possibility with Boris Johnson's then chief adviser Sir Edward Lister.
"We were discussing resources for dealing with Covid and I told him we needed the armed forces," he says. "His mouth dropped: a Labour mayor asking a Tory government to send in the army."
Within days, Matt Hancock was in touch. He asked if Liverpool would be interested in piloting a mass testing scheme which would see 2,000 soldiers deployed to the city. The programme, the health secretary explained, would aim to screen every single resident as often as they wished at more than 30 specially set-up sites. "I grabbed it with both hands," says Anderson.
Debate rages even now about the merits of the scheme – which has seen 200,000 tested since it started three weeks ago. There are questions about its cost, accuracy rates and ability to reach poorer neighbourhoods.
Yet one statistic stands out: some 995 people here have been detected as having the virus through testing. By effectively taking those individuals out of circulation early, the city has, Anderson argues, been able to drive contagion down.
The result is that, bizarrely, Liverpool has become a sort of poster child for a Tory government policy. Anderson, meanwhile, has been repeatedly praised by both Johnson and Hancock. How does that sit?
"Look, I've been on the end of austerity since 2010, dealing with a Tory government that doesn't care about my city," he says. "But this isn't about political colours… I don't get pleased or displeased about what they say as long as I'm confident in my skin I'm doing the right thing. Which I am."
All the same, for his part, he has no similar reciprocal praise. He blames mistakes repeatedly made by Johnson and Hancock for the UK having one of the world's worst death tolls. Their attempts to return life to normality in the summer was, he says, especially egregious.
"They told people go back to work, go shopping, go out to eat, go back to university, all unfettered," he says. "They told us to do all of the things that the virus thrives on."
People died because of that?
"Absolutely, absolutely they did. There's no question of that… Thousands."
A failure to have an earlier autumn circuit breaker also added unnecessary deaths, he feels. His brother Bill, he says, would still be alive today if action had been taken sooner. How does he work with a government he believes effectively caused the death of his own brother?
"It makes me angry," he says. "But I don't believe that Boris Johnson or Matt Hancock are evil. I don't believe they deliberately done what they did by commission. It was through incompetence, making [wrong decisions]."
His own thoughts are now turning towards Christmas.
Even with Liverpool moving into tier two from 2 December – meaning pubs can open and small crowds can watch sports events – he has already cautioned the city to live with care, and to keep getting tested.
He won't be rushing out to watch his beloved Everton; nor will he and wife Marg, a care worker, be seeing any of their five children or six grandchildren.
"We'll drop presents at the bottom of the garden," he says. "Wave through the window."
Doesn't he miss them?
"Every day," he says. "It's a parent's and grandparent's worst nightmare. It's horrible, for me as a grandad but also to know that it's being replicated all over the city."
But he says Liverpool has suffered too much pain to relax.
Some 1,876 have died in the region's hospitals after testing positive for coronavirus and, whatever happens, that number will go up over the next few months.
"It's about limiting that," he says. "We shouldn't just be thinking about this Christmas, but next Christmas and the one after that. We're getting close to a vaccine. We just have to stay safe until then."
Register for free to continue reading
Registration is a free and easy way to support our truly independent journalism
By registering, you will also enjoy limited access to Premium articles, exclusive newsletters, commenting, and virtual events with our leading journalists
Already have an account? sign in
Register for free to continue reading
Registration is a free and easy way to support our truly independent journalism
By registering, you will also enjoy limited access to Premium articles, exclusive newsletters, commenting, and virtual events with our leading journalists
Already have an account? sign in
Join our new commenting forum
Join thought-provoking conversations, follow other Independent readers and see their replies