Covid drives 700,000 Britons into poverty, study finds
'At a time of crisis, government action can protect many of those who are vulnerable', Tory peer says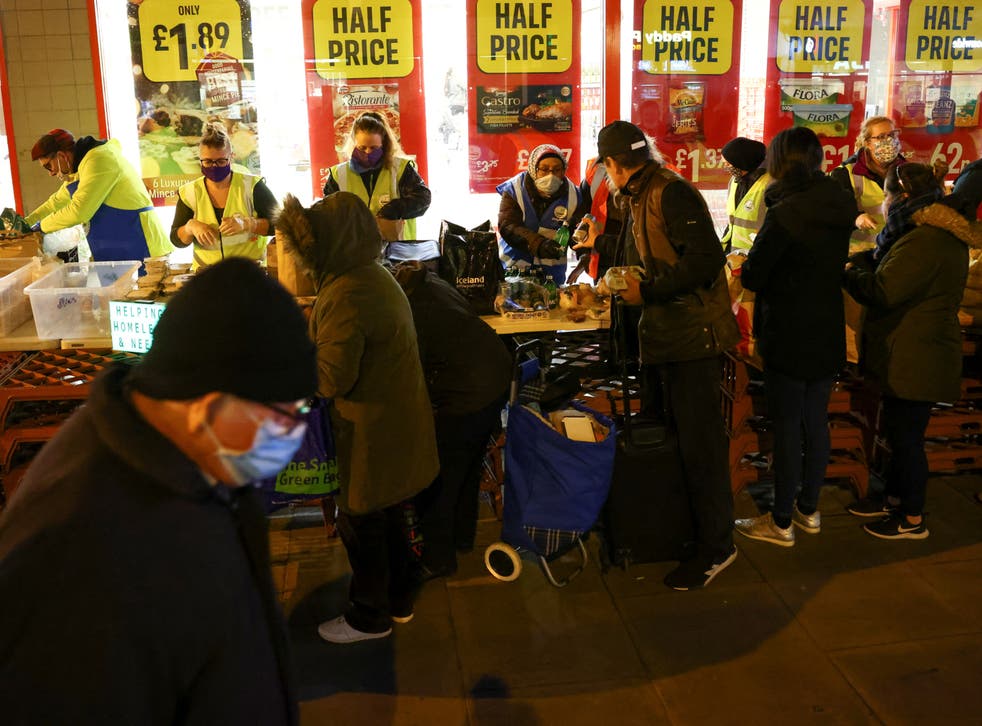 Almost 700,000 people in the UK have fallen into poverty during the nation's coronavirus  outbreak, analysis has suggested — with the number half of what it could had the government not temporarily increased the rate of universal credit.
Research from the Legatum Institute found there were 690,000 additional people in poverty in the UK amid the economic fallout caused but the pandemic — bringing the total number of people below the poverty line to some 15m, or 23 per cent of the population.
And a further 690,000 would have joined them were it not for a £20 uplift in support from Universal Credit that was rolled out by the Chancellor in April — a measure that is due to end in just over four months time.
This uplift, and suspending the minimum income floor, has "insulated many families from the economic impacts of Covid-19", the report found.
The study used the independent Social Metric Commission's methodology for measuring poverty, which the government is currently using to develop and release experimental statistics.
UK news in pictures

Show all 50
Tory peer Baroness Philippa Stroud, Legatum's chief executive, said: "Given the well-documented impacts that the pandemic is having on jobs and earnings for families right across the UK, it comes as no surprise that poverty is rising.
"However, our analysis shows that, at a time of crisis, government action can protect many of those who are vulnerable to poverty. But it needs to have the right tools and the right information at its disposal.
"To ensure this continues as we begin to adapt to life after, or living with, Covid-19, there is a clear need for a comprehensive anti-poverty strategy to be placed at the heart of the UK's Covid-recovery response."
The rise in poverty has been most prevalent among working-age adults, the analysis found, while benefit increases have meant some groups, such as single-parent families, have seen a fall in poverty.
The Legatum Institute said this suggests the impact on children may be more muted than anticipated, with a rise in poverty of an estimated 120,000 children.
Helen Barnard, director of the Joseph Rowntree Foundation, said of the Universal Credit uplift: "We should be proud of our country's decision to protect those on the lowest incomes through our social security system — it's the right thing to do.
"But it makes it all the more disappointing that the Chancellor has stayed silent on whether this lifeline will stay in place beyond April, leaving millions to wait out the winter in fear and uncertainty.
"There is no conceivable scenario in which this support will not be needed, and inaction risks a sharp rise in poverty.
"It's not too late for the chancellor to do the right thing," she added.
Additional reporting by agencies
Register for free to continue reading
Registration is a free and easy way to support our truly independent journalism
By registering, you will also enjoy limited access to Premium articles, exclusive newsletters, commenting, and virtual events with our leading journalists
Already have an account? sign in
Register for free to continue reading
Registration is a free and easy way to support our truly independent journalism
By registering, you will also enjoy limited access to Premium articles, exclusive newsletters, commenting, and virtual events with our leading journalists
Already have an account? sign in
Join our new commenting forum
Join thought-provoking conversations, follow other Independent readers and see their replies