'This is not over': Van-Tam says autumn and winter will be 'bumpy' as record number are pinged by app
New estimate suggests 60,000 deaths have been prevented by vaccination campaign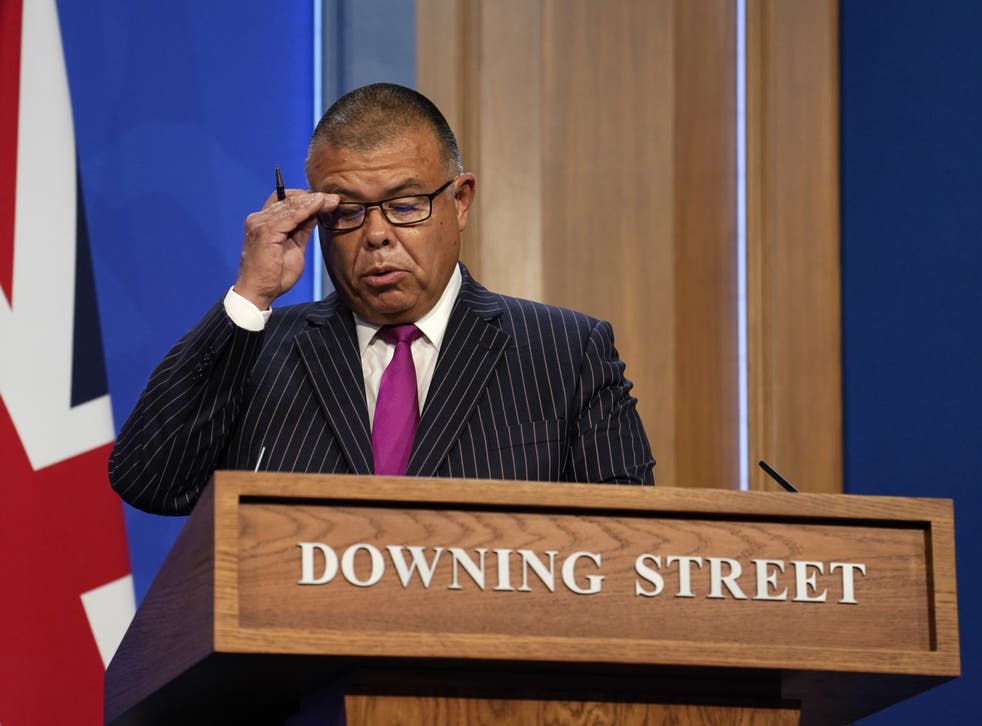 Around 60,000 coronavirus deaths and 22 million infections have been prevented by the UK's vaccination programme, according to new official figures from Public Health England (PHE).
And PHE estimated that some 95.5 per cent of the adult population now have antibodies to Covid-19 from either infection or vaccination, raising hopes that the country may be moving towards "herd immunity".
Deputy chief medical officer Jonathan Van-Tam called the programme a "truly massive" success. But he issued a warning that the pandemic is not yet over, dismissing the recent claim of an unnamed senior minister that the Covid crisis was "all over bar the shouting".
"I wish it were so," said Prof Van-Tam. "This is not 'all over bar the shouting'. I hope the worst is behind us, but I think it's quite possible we will have one or two bumpy periods in the autumn and winter."
Prof Van-Tam was speaking as daily positive cases rose for the second day in succession, reversing a week-long trend of falling numbers.
A total of 31,117 coronavirus infections were reported on Thursday, up almost 3,500 on the previous day. Meanwhile, deaths continued on their upward trend, with 85 reported on Thursday, bringing the official total to 129,515, and the seven-day tally of 499 up almost 30 per cent on the previous week.
An additional 932 people were admitted to hospital, adding to the pressure on the NHS, which has a total of 5,056 hospital beds – and 765 mechanical ventilation beds – occupied by Covid patients in England alone.
It is thought that the recent dip in recorded cases from the peak of 54,674 on 17 July may reflect the passing of a wave of infections linked to gatherings to watch Euro 2020 football matches.
Government scientists believe that another upward spike caused by the removal of lockdown restrictions on 19 July may be about to show itself. Throughout the pandemic there has been a time-lag of around two weeks between infections and positive tests.
Meanwhile, the so-called "pingdemic" has showed no sign of abating, with a record 689,313 alerts sent to users of the NHS Covid-19 app in the week to 21 July, telling them to self-isolate for 10 days after coming into close contact with someone who has tested positive for coronavirus.
UK news in pictures

Show all 50
Downing Street said that 260 daily testing sites are now up and running, where key workers can get clearance to skip isolation in order to get on with their jobs. Hundreds more are due to come on stream in the coming days, as businesses clamour for help to cut the number of absent staff, but the full complement of 2,000 promised by Boris Johnson may not be in place until the end of August.
Communities secretary Robert Jenrick urged people to isolate if they are advised to do so, saying there "isn't very long to go" until 16 August, when all fully vaccinated contacts who test negative can avoid isolation.
"I appreciate that it is a significant number of people, and it can be frustrating, but the app is doing what we asked of it," he said.
But new figures from the Office for National Statistics suggest that one in four young adults who test positive are not following guidance to self-isolate for 10 days.
Answering questions from the public on the BBC, Prof Van-Tam said nobody knew if there would be a full fourth wave of Covid in the UK, but added that as summer ended things would get tougher.
Not only would colder temperatures and more indoor gatherings create better conditions for the coronavirus to spread, but it would also allow the resurgence of other respiratory viruses which normally flare up during the winter, he said.
As a result, it is just as important for people to get their flu jabs as well as any booster Covid vaccinations in the autumn and winter, he added.
Earlier this month, the Joint Council on Vaccination and Immunisation (JCVI) issued interim advice to the NHS to begin preparations for a Covid vaccine booster programme from September for over-50s as well as all adults who would normally qualify for the flu jab.
Some 215,214 Covid vaccinations were reported on Thursday, made up of 43,873 first jabs and 171,341 second doses. The total number of people who have received two doses stood at 37,782,252 (71.4 per cent of the adult population) and one dose at 46,733,115 (88.4 per cent).
PHE's Covid-19 vaccine surveillance report estimates that the programme of jabs has directly averted more than 52,600 hospitalisations as well as preventing between 21.3 and 22.9 million infections and between 57,500 and 62,700 deaths. The previous estimate on 7 July put the number of infections prevented at 11 million and the number of deaths avoided at 37,000.
Health secretary Sajid Javid said the figures were "fantastic to see".
"That's hundreds of thousands of people whose loved ones have been protected thanks to the vaccines' remarkable protection," said Mr Javid, who recently recovered from a mild Covid infection despite having received both jabs.
"Day by day, jab by jab, we are building a wall of defence which is protecting our nation against the threat of this virus. Make sure to get the jab if you haven't already, and play your part in this historic effort."
PHE consultant epidemiologist Dr Jamie Lopez Bernal urged everyone invited for a second jab to book their appointment.
"These figures show the vaccine programme's remarkable impact on saving lives and reducing the spread of the virus," he said.
"As cases have increased, the true scale of protection from the vaccine programme has become clear. Everyone that has come forward for their vaccine has played a part in this vital effort."
Join our new commenting forum
Join thought-provoking conversations, follow other Independent readers and see their replies