Covid vaccine plan for 12 to 15-year-olds to begin in schools in England
Children aged 12 and over will now be offered the vaccine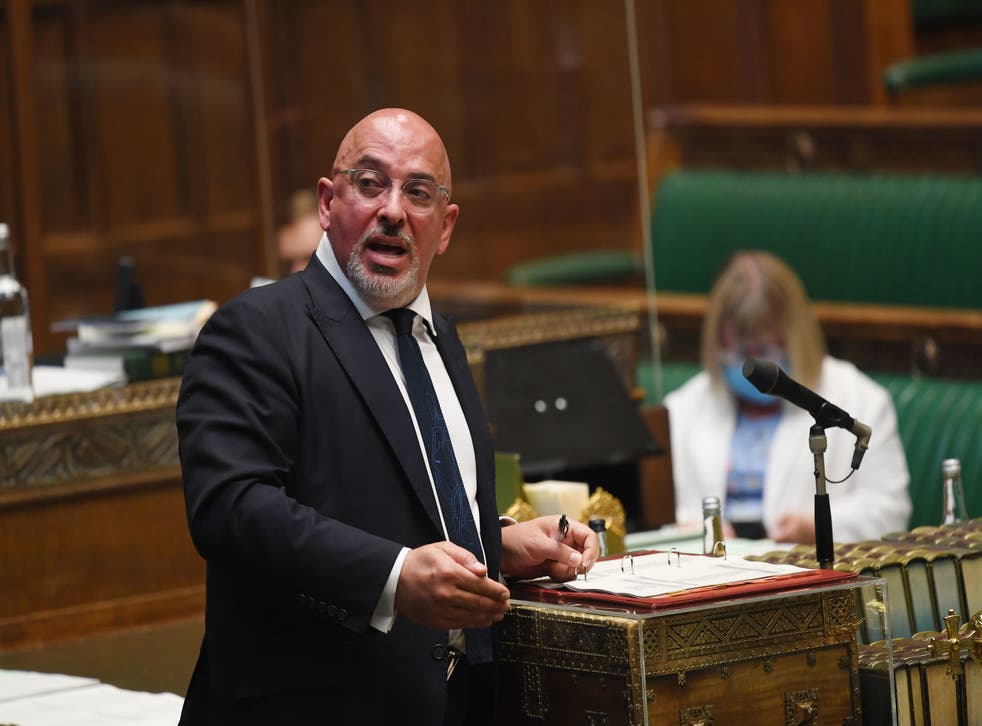 All children aged 12 to 15 in England will be offered one dose of Covid-19 vaccine as early as next week, ministers have confirmed, hours after the UK's chief medical officers said the jab would help reduce disruption to education.
Vaccines minister Nadhim Zahawi said three million eligible teenagers will be offered a first Pfizer jab as soon as possible as part of in-school vaccination services, and that children will be able to overrule parents who do not want them to get the jab if they are deemed "competent".
The issue of consent drew anger from backbench Tory MPs, with one even calling for the resignation of England's chief medic Chris Whitty.
Mr Zahawi added: "The consent process will be handled by each school in their usual way and will provide sufficient time for parents to provide their consent.
"Children aged 12 to 15 will also be provided with information usually in the form of a leaflet for their own use and to share and discuss with their parents prior to the date of the immunisation and that scheduled time for it."
Mr Zahawi told MPs in the House of Commons that the rollout would move "with the same sense of urgency we've had at every point in our vaccination programme".
Scotland, Wales and Northern Ireland have yet to confirm exact plans.
The decision comes despite the Joint Committee on Vaccination and Immunisation (JCVI) previously refusing to recommend the rollout of the vaccination for children aged 12 to 15. In their ruling, the JCVI claimed that the virus presents a very low risk for children and that inoculation would offer only minor benefits.
However, the chief medical officers told a Downing Street press conference on Monday that there were other benefits, including reducing the disruption to the school term.
Professor Wei Shen Lim, from the JCVI, said there was "no conflict" between the two positions as the JCVI had looked at jabs from a purely clinical perspective.
Contrastingly, the decision by the CMOs had taken into account the "extremely powerful" evidence on the impact of the pandemic on children's education, as well as the risks to their mental health from missing school, he said.
Professor Whitty told the news conference it had been a "difficult decision" regarding vaccinating children but CMOs would not be recommending the jabs "unless we felt that benefit exceeded risk".
Mr Zahawi said further JCVI guidance was needed before any decision on a second dose.
He added: "In a sense, what we're not trying to do is say to children 'you must, must, must, must, must' but what we're saying is that we think on balance the benefits both at an individual level and in terms of wider indirect benefits to education and through that to public health are in favour, otherwise we would not be making this recommendation."
The question of vaccinating teenagers has proved controversial within the Conservative Party. A letter sent to Professor Chris Whitty - signed by three former ministers and the chairman of 1922 Committee Graham Brady - warned him to make a "recommendation based on the potential harms and benefits to children of the vaccine itself".
Sir Iain Duncan Smith, a former Tory minister, told the Commons on Monday night that the decision risked sparking "family disputes" if parents do not consent to their child being vaccinated.
"This is a real problem for us, it will lead to disputes in families and real problems about children's mental health in the opposite direction as they are put under pressure," he said.
Marcus Fysh, Conservative MP for Yeovil, even called on Professor Whitty to resign following the decision.
He tweeted: "Sorry to have to say it but the Chief Medical Officer Chris Whitty does not deserve the confidence of the country in deciding to vaccinate teenagers without good clinical reason. He should resign."
Join our new commenting forum
Join thought-provoking conversations, follow other Independent readers and see their replies