Craft beer: Former financier on why he quit the City to become a hop grower
The story of UK hop growing over the past century is one of a painful contraction, but the industry's fortunes are shifting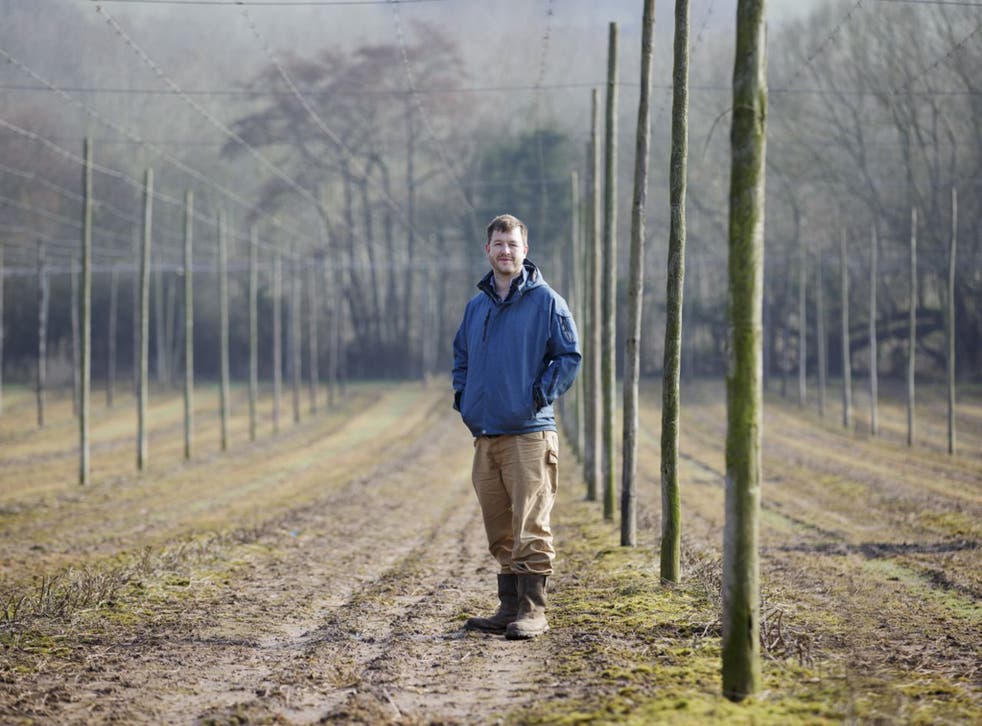 Not so long ago, the only use for the long, tarred poles used to support the hop plants that once flourished in Herefordshire's Frome valley was to saw them up as fence posts.
The story of British hop growing over the past century is one of a long and painful contraction – total acreage in the UK of the shrub, whose heady-perfumed green flowers flavour pints worldwide, has shrunk from 72,000 acres to barely 2,000.
But in a muddy field alongside the River Frome, a long line of newly erected poles and rows of fragile seedlings poking out of the ground is evidence that the fortunes of British hops are shifting. After giving up a City career in technology investments to take over his cousin's fruit farm on the Herefordshire-Worcestershire border, Will Kirby is in the process of becoming Britain's first new hop grower for a generation.
In the coming weeks, the 34-year-old will begin the delicate task of "stringing" the expensive wire and timber frame required to give hops something to climb on to, and then train the four strongest shoots from each plant upwards – twirling them clockwise up each string so they grow with the trajectory of the sun.
If all goes to plan, he will be harvesting his first six of a planned 30 acres of hops by September and in so doing join the exclusive club – there are fewer than 50 of them – of British hop growers.
Mr Kirby told The Independent on Sunday: "It's both exciting and a little terrifying. They have a saying around here that 'you get scratched' by hops – you graze yourself on a plant, the oil gets into your blood and you're hooked.It's a fascinating, fun crop to be involved in and it's a small, nice group of people who grow it. I felt I wanted to do something to help arrest the decline of British hop-growing."
The father of two is part of a renaissance for the nation's hard-pressed hop growers, driven by the boom in craft brewing and demand for the key ingredient required to flavour the tastebud-slapping beers it produces.
Largely thanks to "small brewers relief" – a tax break brought in by Gordon Brown in 2002 to slash the duty paid by breweries making fewer than 10 million pints a year – Britain now has 1,500 producers of craft beers, the highest per capita in the world. The sector accounts for about 7 per cent of a UK beer market whose growth to £9.6bn by 2020 is largely expected to come from craft-style brews.
Such has been the success of microbrewers in challenging the bland hegemony of multi-nationals they are now being bought up by the big players. Two London-based pioneers in the field – Camden Town Brewery and Meantime – were snapped up by AB InBev and SAB Miller respectively last year amid criticism that their owners had sold out on the artisanal ideals of the craft movement.
But whether produced by a global conglomerate or an entrepreneurial hipster in a gritty urban brewhouse, the craft brewers share a single need – hops, and lots of them.
Ben Adams, a technical adviser for Worcestershire-based hop merchant Charles Faram, said: "These 'hop forward' beers can use anything from five to 10 times more hops than more traditional beers. As the market grows we are seeing a big demand for the particular types of hops that give these beers their flavours. But there are not enough being grown around the world. Where 20 years ago, people were grubbing up hops, growers are now replanting and for the first time in many years we have got people coming into hop-growing."
The poshest beers

Show all 10
Hops are broadly divided into two categories – "alpha" or bittering hops, which are added at the first stage of beer-making to give an ale its characteristic sourness; and "aroma" hops, which provide the more subtle variations from the citrus and tropical fruit flavours favoured by craft brewers to the floral notes of a traditional bitter.
Many of the aroma hops sought by craft brewers come from America, Australia and New Zealand. But a range of factors, including a poor harvest in the US, has deepened the global shortage, leaving brewers without long-term contracts scrabbling for supplies. The price of one in-demand hop – Centennial – has almost doubled in a year from £17 per kilo to £32.
Higher prices are encouraging investment and brewers are increasingly providing decade-long contracts, which make hop-growing viable. According to the British Hop Association, at least a quarter of hop acreage in the UK – concentrated in Kent, Sussex, Herefordshire and Worcestershire – has been replanted.
Hops are notoriously susceptible to disease, including the dreaded "wilt" which can wipe out fields for three years, or infestation by aphids, which can destroy a crop within a week.
But as Mr Kirby says: "I could have rented out the land for an attractive amount but where would be the satisfaction in that? It might go wrong but that is part of the risk. I'm passionate about it."
Register for free to continue reading
Registration is a free and easy way to support our truly independent journalism
By registering, you will also enjoy limited access to Premium articles, exclusive newsletters, commenting, and virtual events with our leading journalists
Already have an account? sign in
Register for free to continue reading
Registration is a free and easy way to support our truly independent journalism
By registering, you will also enjoy limited access to Premium articles, exclusive newsletters, commenting, and virtual events with our leading journalists
Already have an account? sign in
Join our new commenting forum
Join thought-provoking conversations, follow other Independent readers and see their replies