Man who hit wife with bat and made her drink bleach spared jail after judge says she was 'not vulnerable'
Domestic violence charities accuse judge of 'shocking ignorance', saying ruling sends out 'dangerous message' that could discourage victims from coming forward
May Bulman
Monday 27 March 2017 19:16 Comments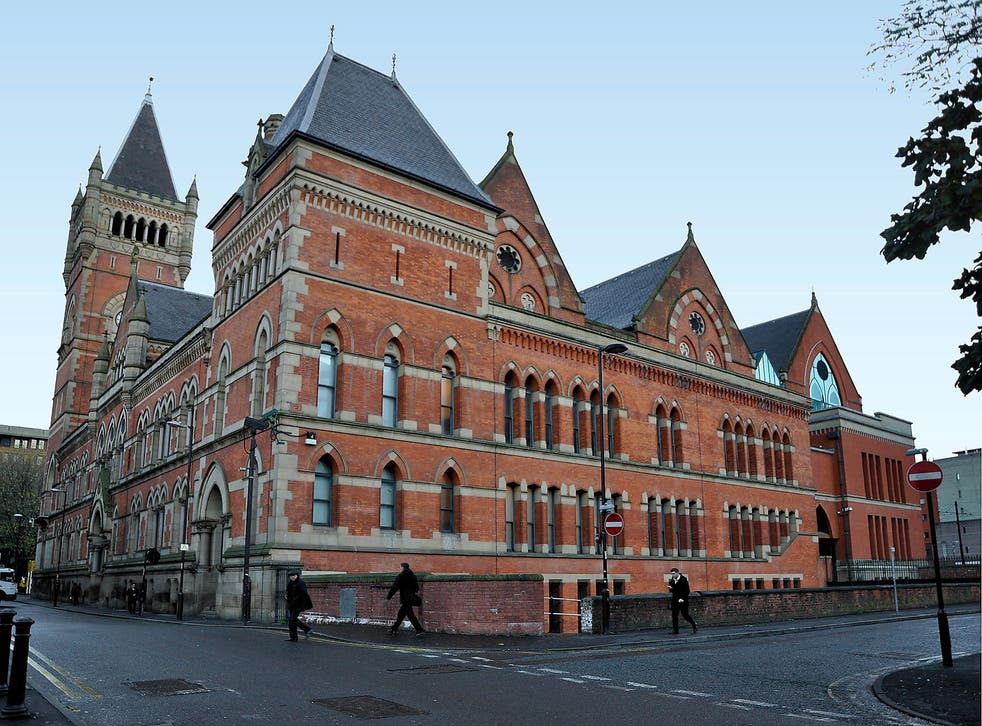 A judge has been accused of "shocking ignorance" after he ruled that a man who poured bleach down his wife's throat and beat her with a cricket bat would not be jailed on the grounds that she was not "vulnerable".
At a hearing in Manchester Crown Court, Judge Richard Mansell QC ruled that cricketer Mustafa Bashir, 34, would be spared from jail despite admitting assault occasioning actual bodily harm against his former partner, because he was "not convinced she [was] a vulnerable person".
Domestic violence charities have warned the ruling sends out a "dangerous message" that could discourage victims of domestic abuse from coming forward, telling The Independent it is a "complete fallacy" for judges to believe such abuse only affects certain women.
Judge Mansell heard that Mr Bashir had hit his 33-year-old wife Fakhara Karim with a cricket bat during a jealous outburst, and on a separate occasion held the 33-year-old by the neck, poured bleach down her throat and forced her to take tablets while ordering to kill herself.
Ms Karim reportedly told the court how her confidence was crushed by her jealous lover, who berated her for wearing westernised clothes and called her friends "English slag girls".
But the judge said he did not believe the 33-year-old receptionist was vulnerable because she was "an intelligent woman with a network of friends" and had a university degree.
Sentencing Mr Bashir to an 18-month jail term suspended for two years, Judge Mansell ordered him to attend a workshop entitled 'building better relationships', pay £1,000 costs and said he was banned from contacting Miss Karim indefinitely under the terms of a restraining order.
Announcing his verdict, Judge Mansell added that his decision was in part informed by the claim that Mr Bashir had prospective employment prospects at Leicestershire County Cricket Club — something the club has since denied, saying "bemused" by the claims, branding the allegations "completely false".
Forbes top 20 most powerful women in the world

Show all 20
In a statement, the club said: "Leicestershire County Cricket Club are aware of stories that have been published this morning regarding Mustafa Bashir. The club are bemused by these stories.
"Any references to Mustafa Bashir signing or being approached to sign for Leicestershire County Cricket Club are completely false. The club have never spoken to Mustafa Bashir or an agent, nor offered a contract to the player."
Responding to the ruling, Mary Mason, CEO of Solace Women's Aid, warned that the ruling sent out a "very dangerous message" to both victims and perpetrators, saying it would make victims feel they may not be believed.
"This case gives a very dangerous message to both victims and perpetrators of domestic violence," Ms Mason told The Independent.
"It seems to be suggesting that a perpetrator of domestic abuse isn't really a perpetrator if his wife is intelligent and has a network of friends, and it's looking at each of those incidents as disassociated incidents instead of looking at it as a pattern of abuse that has clearly gone on over a period of time.
"One of the things that a lot of victims of domestic abuse say is that they've not been believed because either they're well educated, or they're well-dressed, or they're middle class or they speak English.
"The woman herself said that she felt humiliated and now feared for her life, saying she doesn't she how she could trust another man again. She herself has been through something very damaging and has clearly been made more vulnerable because of him.
"The judge is creating an atmosphere that will make a lot of women feel unable to take action because they won't be believed."
Sandra Horley CBE, chief executive of UK charity Refuge, meanwhile said the judge had shown "shocking ignorance" around the issue of domestic violence against women, and had "perpetuated damaging myths" that domestic violence only affects certain people.
"Judge Mansell's comments – that he was not convinced of the victim's 'vulnerability' – show a shocking ignorance around the impact of domestic violence on women," Ms Horley said. "What a woman does for a job, her level of education or the number of friends she has makes no difference; for any woman, domestic violence is a devastating crime that has severe and long-lasting impacts.
"There are still so many myths and misconceptions surrounding domestic violence. People often think that it only happens in poor families on council estates, but the truth is that domestic violence affects women of all ages, classes and backgrounds.
"Rather than perpetuating damaging myths, the judiciary must be better trained to understand domestic violence."
Another domestic violence charity, Women's Aid, responded in a similar vein by saying it was a "complete fallacy" to believe such abuse only affected certain women, and urging that judges better understand the nature of domestic abuse and its impact on victims.
Thousands attend Women's March on Washington

Show all 18
Polly Neate, Chief Executive of the charity, said: "The horrific assaults and controlling behaviour that Fakhara Karim endured are completely unacceptable; and a softer sentence on the basis that 'she is not a vulnerable woman' is shocking.
"It is a complete fallacy that only a certain type of woman can become a victim of domestic abuse. In fact, perpetrators target women of all ages from all sections of society. Abusers often isolate their partners from family and friends, undermine their confidence or take control of their money as a way of ensuring they can control them.
"This is why it is so important for judges to understand the nature of domestic abuse and the impact on victims. There should be zero tolerance of perpetrators and absolutely no excuses."
Register for free to continue reading
Registration is a free and easy way to support our truly independent journalism
By registering, you will also enjoy limited access to Premium articles, exclusive newsletters, commenting, and virtual events with our leading journalists
Already have an account? sign in
Join our new commenting forum
Join thought-provoking conversations, follow other Independent readers and see their replies