'Overwhelmed' justice system failing victims of crime, CPS chief warns
Exclusive: Max Hill KC says a barrister shortage has left the CPS 'ringing around' to find lawyers for trials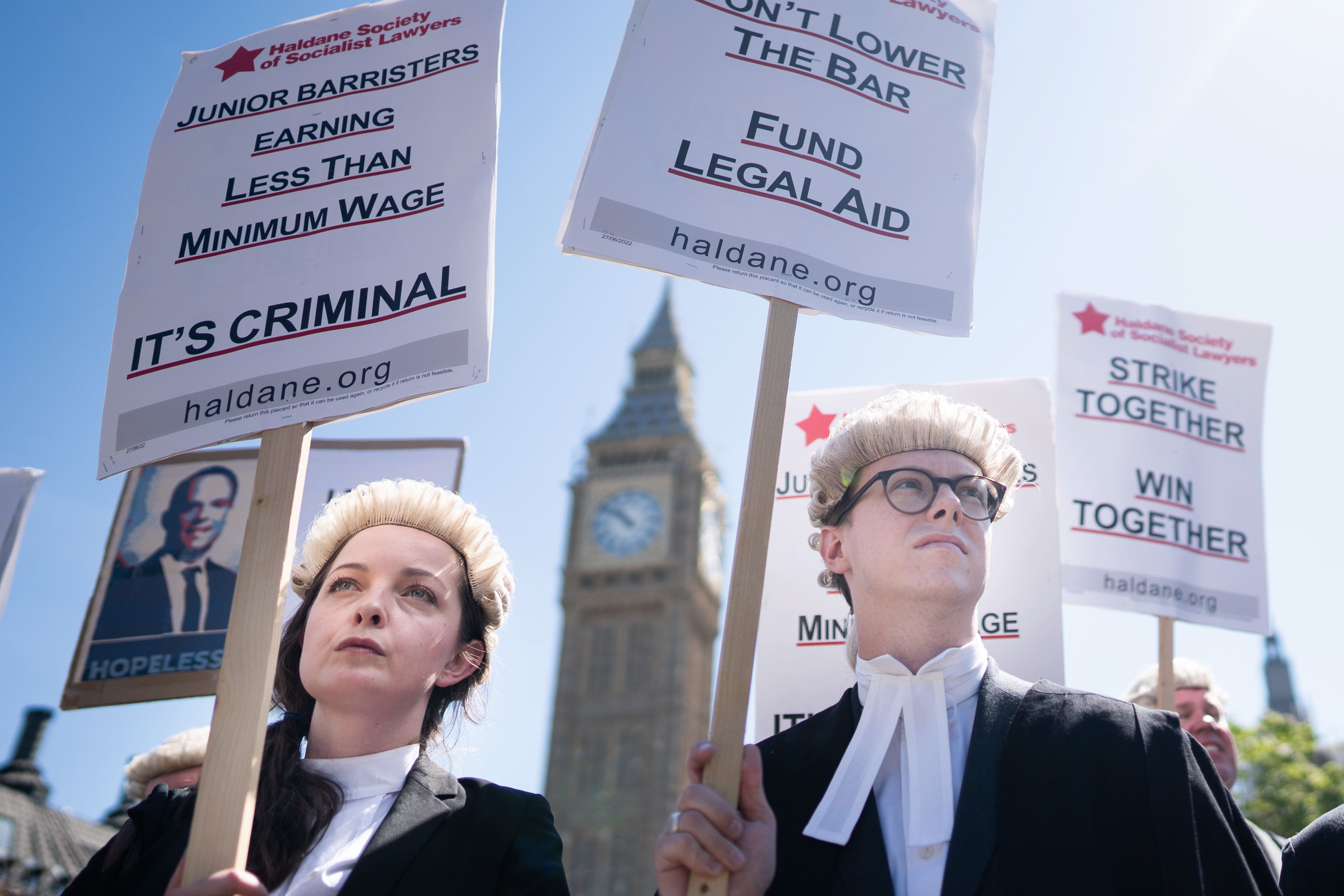 The criminal justice system is "overloaded", with a shortage of barristers worsening lengthy delays that damage both victims and defendants, the director of public prosecutions has warned.
Max Hill KC, the head of the Crown Prosecution Service (CPS), said officials have resorted to "ringing around" independent barristers trying to find someone to represent them for some court hearings.
He warned that some victims were dropping out of cases because they are "unable to stay with a process that takes months or years", after the waiting time for trials rocketed.
"This is not their fault," he told The Independent. "It is a fact that with delay through an overload of cases and other resourcing issues it is often taking far longer than we would like to assess, investigate and then prosecute cases."
It now takes more than a year on average between a crime being committed and the end of crown court proceedings, while for rape the figure is a record two-and-a-half years.
The shadow justice secretary, Steve Reed, told The Independent: "After 12 years of Conservative failure, the criminal justice system is in tatters and our communities are less safe.
"Following chronic mismanagement, we have the highest courts backlog on record and CPS staff numbers are dwindling, leaving the system powerless to keep up with the skyrocketing volume of cases. Victims are waiting years for justice, and criminals are getting off the hook."
There are around 60,000 outstanding cases in crown courts across England and Wales, and 335,000 in magistrates' courts, while trials are being scheduled for 2024. When they do finally take place, figures show a rising number are having to be delayed again because of a lack of available barristers.
While the government condemned defence lawyers for striking over pay in the summer, hundreds of cases were also pushed back because no prosecution barristers were available. Almost 500 trials could not go ahead on the scheduled date because there was no prosecutor in the past year, compared to just 151 in the previous 12 months.
Mr Hill said independent barristers were free to choose what work they take, and "there are times when we do find it very difficult" to find suitable representation. He said the CPS sometimes resorts to "literally ringing round sets of barristers' chambers, trying to place the brief", adding: "These are difficult times. We do have an overloaded system, it's not easy."
He is calling for the increase in fees won by defence barristers' through their industrial action to be matched for prosecutors, who are now being paid less. Mr Hill said parity was "necessary", adding: "Advocacy needs to be rewarded in the same way, whether you defend or prosecute."
Barristers strikes: Criminal barrister says she sometimes earns minimum wage
Kirsty Brimelow KC, chair of the Criminal Bar Association, told The Independent that barristers were "not prepared to prosecute in cases where their fee is about 20 per cent less than their defence counterpart". She added: "There needs to be an immediate increase of prosecution fees to match the deal secured by the defence."
Ms Brimelow said she had been told of a sexual offence case moved from November to summer 2023 because there was no prosecutor, and another delayed until the end of 2023. "Investing in victim support is meaningless if the government does not pay sufficiently for the barristers required to conduct the cases and deliver justice," she added.
Delays to trials have worsened overcrowding in prisons because of the rising number of people being held on remand, forcing the government to trigger emergency provisions to use police cells as overflow capacity. The Fair Trials campaign group said "structural solutions" were needed, such as changes to the way crimes are prosecuted and sentenced, to ease pressure on the criminal justice system.
Senior legal and policy officer Griff Ferris said: "The criminal justice system is completely broken. It is unable to hold trials within a reasonable time, case backlogs are at record highs and record numbers of people are held on remand awaiting trial, including hundreds awaiting trial for several years.
"It's completely unjust to hold people in prison awaiting their trial because of systemic failings that the government has long been warned about and done nothing to address."
An unknown number of prosecutions have been dropped because victims traumatised by long delays have withdrawn support for cases, and there is concern about the effect on witnesses' memories.
A court transcript obtained by The Independent shows a rape victim whose case did not go to trial for three years struggling to answer detailed questions, telling the court: "It was three years ago, so it's hard to sort of recollect exactly what would have been said."
Mr Hill said allowances "need to be made for the passage of time", as well as the impact of trauma on victims' memories. He said that in rape cases, the highest level of victim drop-out happens during police investigations, and the CPS "moves as fast as we can" after having cases referred. The CPS is trying to increase its size, launching recruitment campaigns for specialist rape and sexual offence teams, as well as for prosecutors and legal staff.
The Ministry of Justice said it had lifted a cap on the number of days courts can sit on, which drove up backlogs before the Covid pandemic, and was using video hearings and increased magistrates' sentencing powers to speed up justice.
A spokesperson added: "Delivering swift access to justice for victims is our absolute priority and we are investing almost half a billion pounds to reduce the number of outstanding cases and improve waiting times for victims.
"To ensure victims feel supported through the process, we are also recruiting 1,000 independent sexual violence advisers, quadrupling funding for support services and, this month, launched a 24/7 rape and sexual abuse helpline."