Criminal records: Supreme Court victory for man forced to reveal childhood caution to prospective employer
Justices ruled that the requirement to reveal had been a breach of the man's right to private life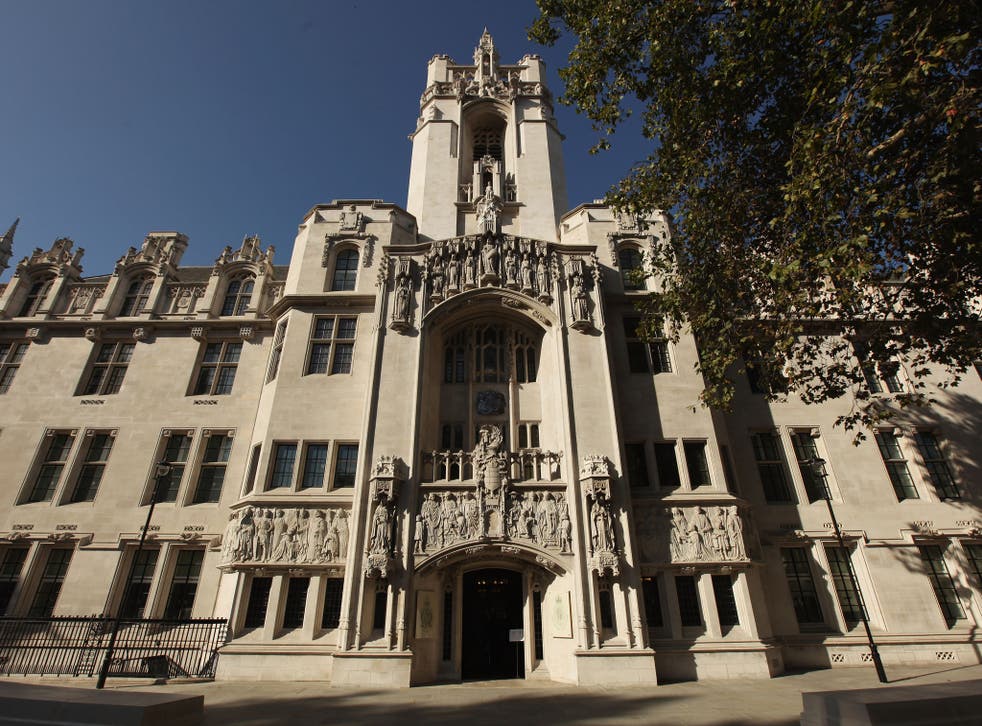 A man forced to reveal a childhood police caution for cycle theft to a prospective employer has won a human rights fight in the Supreme Court.
Five Supreme Court justices ruled that the requirement to reveal had been a breach of the man's right to private life, following a hearing in London.
Home Secretary Theresa May - and Justice Secretary Chris Grayling - asked Supreme Court justices to consider whether disclosure requirements were compatible with human rights legislation following rulings in the High Court and Court of Appeal.
Three appeal judges had said legislation requiring job applicants to disclose all convictions was a breach of human rights law.
And the Supreme Court upheld that decision today.
Three Court of Appeal judges had said that provisions of two pieces of legislation were incompatible with Article 8 of the European Convention on Human Rights - which enshrines the right to private and family life.
Mrs May and Mr Grayling introduced amendments in the wake of the Court of Appeal ruling.
But they maintained that the appeal court decision was wrong.
And their lawyers had asked for a Supreme Court ruling so that the "correct position" could be established.
A High Court judge had initially ruled in favour of the Home Office but that decision was overturned by the Court of Appeal.
Judges had been asked for rulings after campaigners called for reform of blanket provisions requiring applicants to disclose all convictions and cautions.
Lawyers representing a man who had applied for a part-time job with a football club and then for a university sports studies course had launched the case in the High Court.
They complained that police warnings he received following the theft of two bikes when he was 11 had been unreasonably disclosed when he made the applications years later.
The issue hit the headlines a decade ago following the murders of Holly Wells and Jessica Chapman - both 10 - in Soham, Cambridgeshire. School caretaker Ian Huntley was convicted of murdering the girls.
Education authority officials said they had not been aware of the full extent of Huntley's past involvement with police - and the case led to procedures being tightened.
Lawyers for Mrs May and Mr Grayling argued that the appeal court ruling was too broad and "surprising".
They said the ruling could affect hundreds of thousands of recruitment decisions where convictions were "plainly relevant".
And they said future policy should be "informed" by a Supreme Court decision.
The Equality and Human Rights Commission welcomed today's ruling.
Rebecca Hilsenrath, chief legal officer for the Equality and Human Rights Commission, said: "This judgment sensibly recognises, as did the Court of Appeal, that people should not be haunted forever by minor childhood offences, in a way which might prevent them from becoming productive members of society and from engaging in their chosen field of employment.
"A warning given for a relatively trivial offence committed many years ago by a child, who has not re-offended, has no relevance to how that person could be safely employed to work as an adult.
"The Government has already acted to rectify problems identified in the 1997 Police Act. We will be monitoring the operation of the new 'filtering' mechanism to assess whether any particular individuals are disadvantaged."
PA
Register for free to continue reading
Registration is a free and easy way to support our truly independent journalism
By registering, you will also enjoy limited access to Premium articles, exclusive newsletters, commenting, and virtual events with our leading journalists
Already have an account? sign in
Register for free to continue reading
Registration is a free and easy way to support our truly independent journalism
By registering, you will also enjoy limited access to Premium articles, exclusive newsletters, commenting, and virtual events with our leading journalists
Already have an account? sign in
Join our new commenting forum
Join thought-provoking conversations, follow other Independent readers and see their replies